The office market in Vancouver (and beyond) remains a bit ambiguous so, accordingly, Chard Development is shifting its latest project from a commercial office building into a rental development.
Planned for the Mount Pleasant neighbourhood of Vancouver, the project is set to rise at 2520 Ontario Street and 2-24 E Broadway and has been dubbed 8 E Broadway, according to renderings and application documents published along with the rezoning application on Tuesday.
---
The site is occupied by a three-storey commercial building originally constructed in 1959, according to BC Assessment. According to Chard, the building is currently vacant, but was formerly occupied by a Mighty Riders bicycle shop and physiotherapy clinic above.
The site is currently zoned for commercial and retail uses, thus, Chard is seeking to rezone the site to CD-1 (Comprehensive Development) in order to allow for residential use.
Chard submitted its original development permit application in March 2022 to construct a 12-storey building with ground-floor retail and office space above.
Now, the proposal is for a 14-storey building that would include 152 market rental units, with a suite mix of 55 studios, 42 one-bedrooms, 38 two-bedrooms, and 17 three-bedrooms.
Although the proposal has changed, the height and density have not — 148 ft and 7.5 FSR — with Chard saying they decided to do this in order to "allow for expedient supply of rental housing while respecting the work already done by the community, City, and applicant team."
"Our team is committed to providing the right product in the right place at the right time," Chard Development said in a news release in late August. "We believe this change to rental housing — with community-serving retail at grade — serves a greater purpose than the previously proposed office usage, particularly given the impending completion of the SkyTrain Millennium Line extension project along Broadway."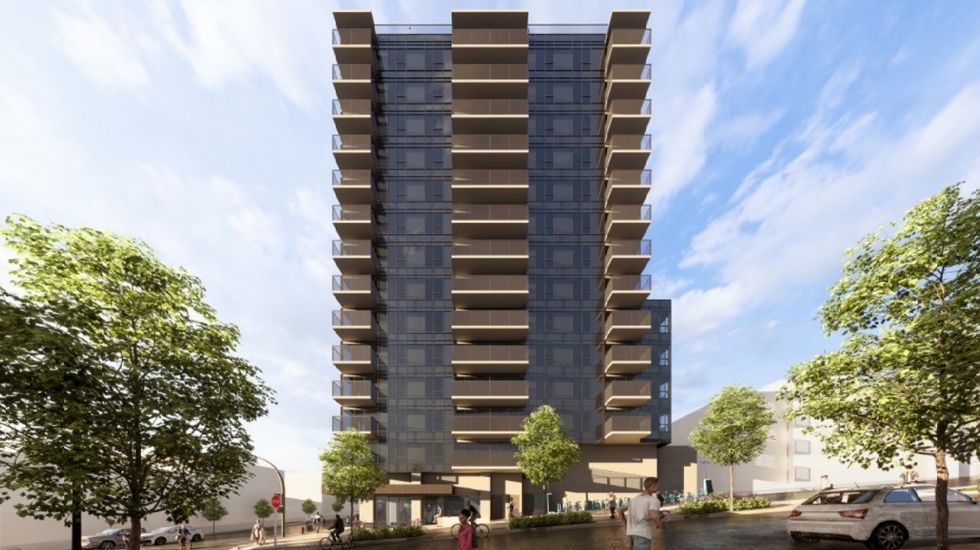 View of 8 E Broadway from Ontario Street.(MCMP Architects / Chard Development)
According to the City of Vancouver, however, the proposal is non-compliant because it "requests consideration of a second storey of residential uses," which deviates from current policy. Under the Broadway Plan, sites within the "Broadway Shoulder Area East - Area B" that opt for the secured rental route must include "a minimum of one level of non-residential uses above the ground floor" — two levels of non-residential use, in other words.
Chard's proposal currently proposes 4,222 sq. ft of retail space, but only on the ground floor.
"To facilitate development of a shorter, lower density development than potentially allowed — and to again support timely delivery of much-needed housing — no additional level of non-residential use is proposed above the ground floor," Chard said in the August news release. "100% of the floor area above the ground level is dedicated to residential uses."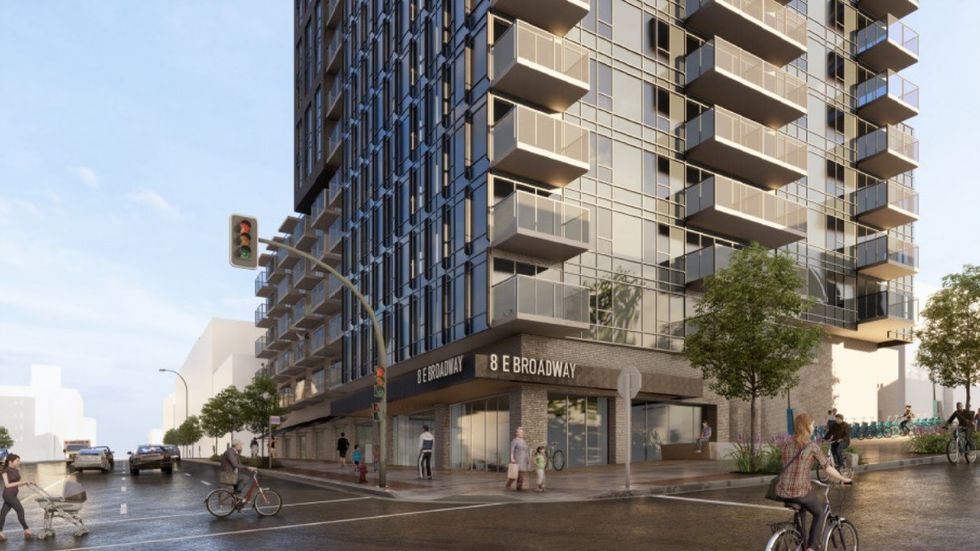 View of\u00a08 E Broadway from Broadway-Ontario intersection. (MCMP Architects / Chard Development)
The proposal also includes 6,327 sq. ft of amenity space, across a fitness centre, bicycle workshop, storage rooms, and rooftop terrace. The building will also include a two-level underground parkade with 74 vehicle parking spaces and 320 bicycle parking spaces.

Vancouver-based MCMP Architects is serving as the architect of the project, who also stressed their intent to make few changes to the design in order to respect the work that's already been done.
"This residential proposal thoughtfully incorporates the design considerations of the previous rezoning conditions and respects the work done to date to respect the existing neighbourhood context," the architects said. "The design also draws inspiration from the architectural elements found in Mount Pleasant, such as the use of brick and the fine-grained articulation at-grade, creating a harmonious blend with the existing surroundings."
The City of Vancouver is hosting its Q&A period for the 8 E Broadway project from Wednesday, January 10 to Tuesday, January 23.

The previous design (left) and current design (right) for 8 E Broadway.(MCMP Architects / Chard Development)
Future Developments