---
Despite soaring interest rates and worries of an impending recession, Canadian retail continued to outperform much of the world in early 2023.
Although spending dipped slightly in the first quarter, Canadian retail sales increased 2.4% year over year in Q1 2023, according to Colliers's 2023 Retail Outlook Report.
In comparison, U.S. retail sales were up 1.6% annually, while the U.K. experienced a 3% decline. The Euro Area as a whole saw retail sales dip 4.1% year over year.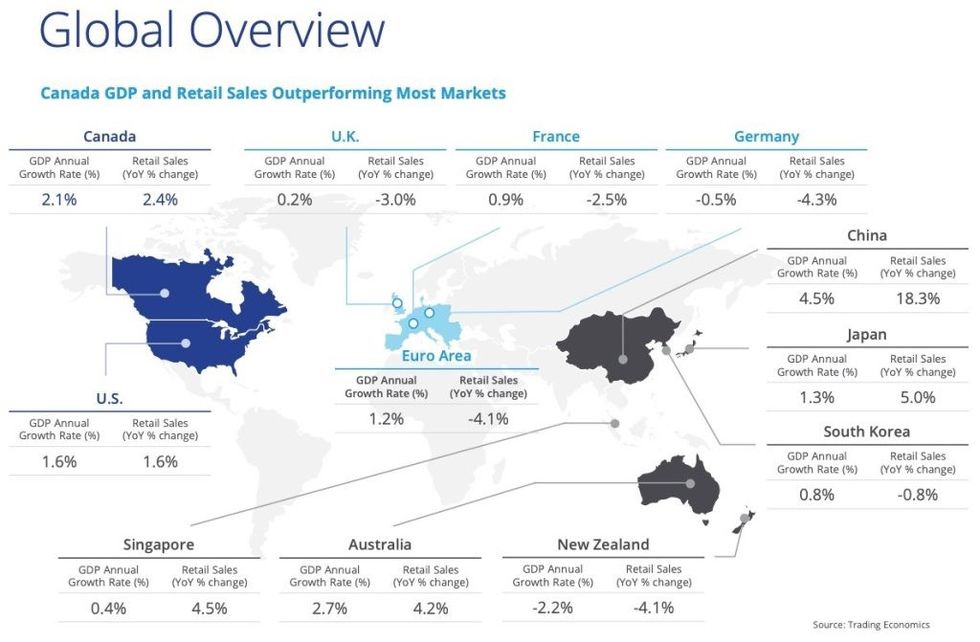 Colliers
On a provincial level, retail sales increased in every province expect for British Columbia, which posted a 0.3% annual decline. Alberta experienced the largest gain, with retail sales rising 10.2% year over year, while Ontario saw a modest increase of 2.8%.
According to the report, the discrepancy between the provinces can be attributed to the "significant" number of Ontarians relocating to Alberta in search of affordability.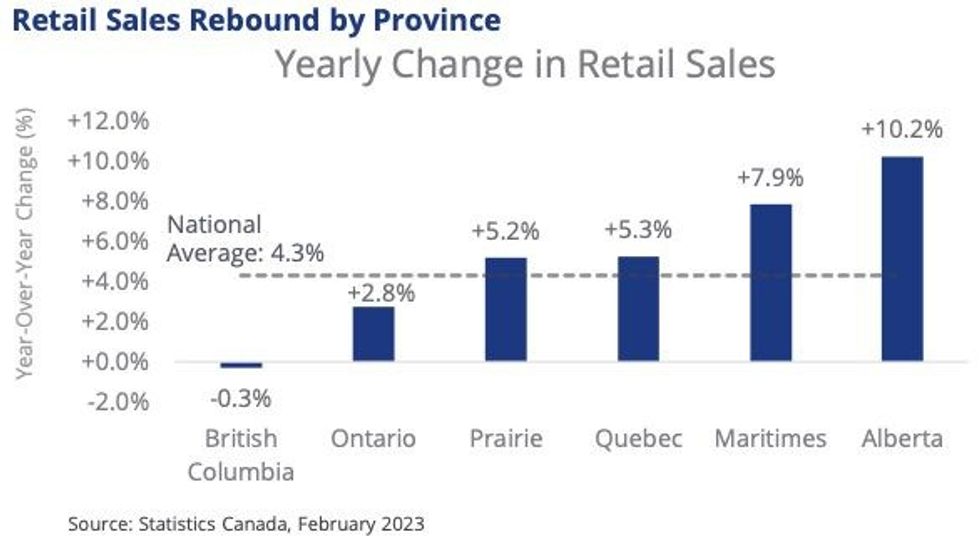 Colliers
The resiliency of the Canadian consumer stems from higher savings rates than were seen pre-pandemic, as well as the continued release of pent-up demand for travel, hospitality, and entertainment.
While there has been a "pullback" since interest rates began to rise in Q2 2022, experts expect retail spending to begin rising again in Q3 2023. Said rising rates don't entirely spell disaster for the sector, the report notes, as the Bank of Canada's goal of reducing inflation and housing costs will bring spending power back to the consumer.
"Overall retail spending is maintaining a consistent trend, reflecting Canada's strong population growth and robust labour market," the report reads. "Favourable 'fundamentals' are the driver for consistent growth in the retail sector until at least 2025."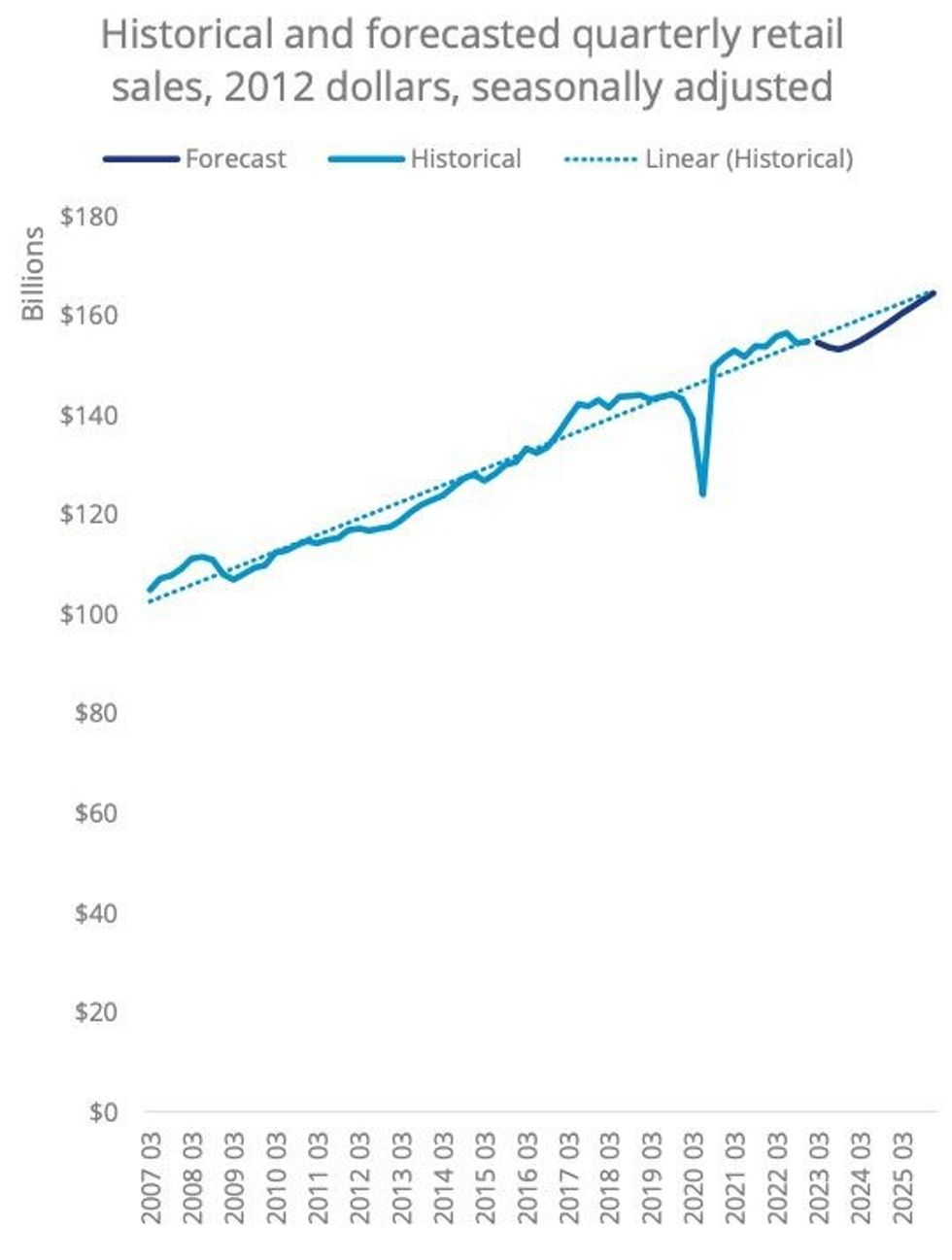 Colliers
Despite the exit of large occupiers such as Nordstrom and Bed Bath & Beyond, there has been a surge of new retailers stepping in to take their place. Colliers highlights the rising number of quick-service restaurants -- Harvey's and Mary Brown's Chicken both have large expansions in the works -- as well as consumers' increased interest in vintage shopping, with Goodwill announcing plans for 40 new stores in Q1.
These new stores will likely not be in shopping centres, though. According to the report, the development of enclosed centres has been slowing for decades as shopping habits change. Most major malls are now at least 50 years old, which opens the door for redevelopment and repurposing properties.
As such, the outlook for new construction in retail is "subdued," with development funds focused on the industrial and housing sectors. Lingering COVID-era concerns about capacity limits and lockdowns have dissuaded investment in retail, which has historically been held on a long-term basis by institutions.
With consumer spending strong, vacancy rates have declined from their pandemic-era peaks in most asset types, while rents have reached record highs.
In Q1 2023, neighbourhood and super regional vacancy rates hovered around 7%, while community vacancy rates sat at an all-time low of 4%. At 10%, regional vacancy rates have fallen 5% since 2021.
Provincially, vacancy rates have reached single-digits in B.C., Ontario, Alberta, and Quebec. Redevelopment pressures in the former two have led to weaker assets being converted.
Colliers
While rents have edged up across all asset types, super regional retailers saw rents rise 23% year over year in Q1. The highest retail rents can be found in Ontario, which are closing in on $35 psf., while B.C., Alberta, and Quebec saw rents surpass $25 psf. in Q1.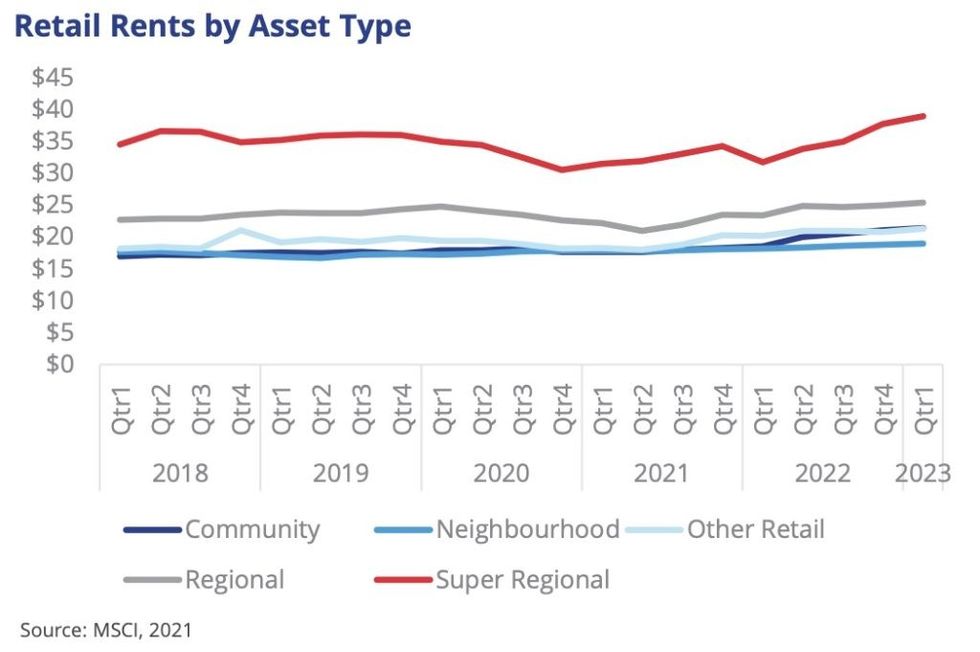 Colliers
As a result of the post-pandemic momentum, 2022 was the second-highest year of retail employment growth in the last 15 years. However, as efficiency and automation gain traction, and big-box stores exit the market, the share of overall employment has declined, reaching a record-low of 14.2% of the Canadian workforce in 2022.
Retail