Between faltering inventory and rising interest rates, affordability has taken a hit across Canada.
Over the last 18 months, the Bank of Canada has delivered 10 interest rate hikes, bringing the overnight rate from a historic low of 0.25% to a historic high of 5%. While inventory has risen over the same time period — from 1.8 months to 3.4 months — it remains well below the long-term average of five months.
---
Although the initial shock of rate hikes led to price declines in the latter half of 2022, the springtime resurgence, and preceding pandemic-era gains, have kept prices elevated.
To determine how affordability has evolved over the past five years, Zoocasa compared home prices from August 2018 and August 2023. In addition to the composite home price, the report also breaks down price changes by property type, including single-family homes, townhouses, and condo apartments.
Canada-wide, the composite home price has risen from $541,900 to $750,100, a difference of $208,200 in just five years. The cost of a condo is up by $120,600, townhouse prices have risen by $204,300, and a single-family home costs $241,600 more than it did in 2018.
Of the 18 cities and regions included in the report, the largest price jumps were recorded in a trio of Ontario regions.
In the Greater Toronto Area, the composite home price in August 2023 sat at $1,141,400, a $386,200 increase from August 2018. A single-family home now costs $1,365,200 — a $469,900 jump in just five years — while townhouse and condo prices have risen by $300,500 and $229,300, respectively.
Barrie and District and Hamilton-Burlington also saw composite home prices increase in excess of $300,000 from 2018 to 2023.
Regarding individual property types, and outside of the GTA, Halifax-Dartmouth reported the most significant increase in the cost of a condo, at $214,200, while Kitchener-Waterloo experienced the largest jump in townhouse prices, at $295,000.
Greater Vancouver saw the biggest jump in single-family home prices, which rose $432,200 to $2,020,500. The composite home price in the region rose $209,800 to $1,208,400 — the highest in the country.
Meanwhile, property prices in the Prairies have seen much more muted growth over the last five years.
The smallest increase across Canada was reported in Edmonton, with the composite home price edging up by just $21,300 to $374,100. While single-family home prices rose $30,800, townhouse prices remained unchanged, and the cost of a condo actually dropped by $22,400 from 2018 to 2023.
Composite home prices have risen by less than $25K in Regina, by less than $63K in Saskatoon, and by less than $69K in Winnipeg. They now stand at $313,100, $378,300, and $345,700, respectively.
Further east, Quebec and St. John's also reported price increases of less than six figures. From 2018 to 2023, composite home prices rose by $96,500 in the former and by $52,100 in the latter. Despite experiencing a $123,200 increase, Saint John harbours the most affordable composite home price in Canada, at $298,300.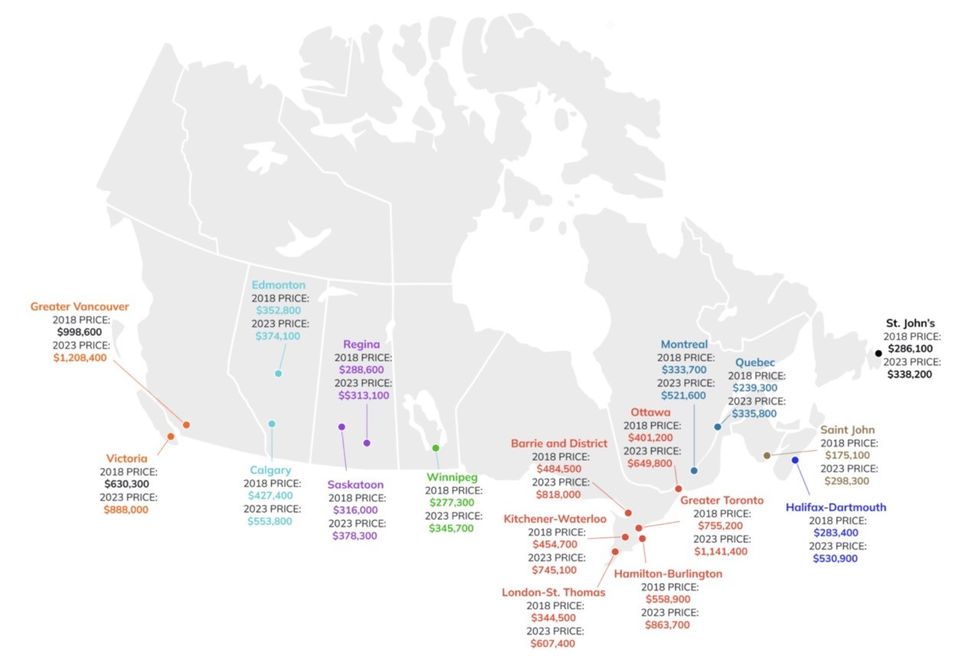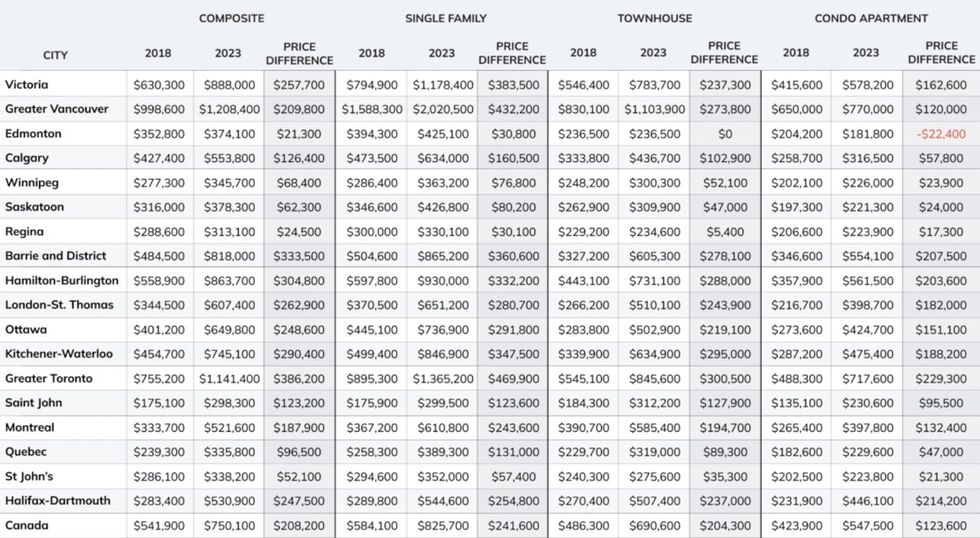 Zoocasa
Real Estate News