---
With employment edging up and gas prices on the rise, Canadians have been increasingly returning to public transit.
According to recent data from Statistics Canada, urban transit networks across the country recorded an estimated 121.5M rides in March, the highest monthly number of trips since February 2020, before the onset of the COVID-19 pandemic.
READ: More Delays? Eglinton Crosstown LRT Builder Plans to Sue, Stop Working With TTC
The figure represents 73.8% of March 2019 public transit ridership levels and, although it falls short of the pre-pandemic benchmark by 43.2M trips, it marks an annual increase of 36.5%. Just 89.0M trips were taken across Canada in March 2022, while 55.0M were taken in March 2020.
On a monthly basis, urban public transit ridership rose 11.2% in March, which StatCan noted is higher than the seasonal increase of just over 7% that was seen during the two years prior to the pandemic.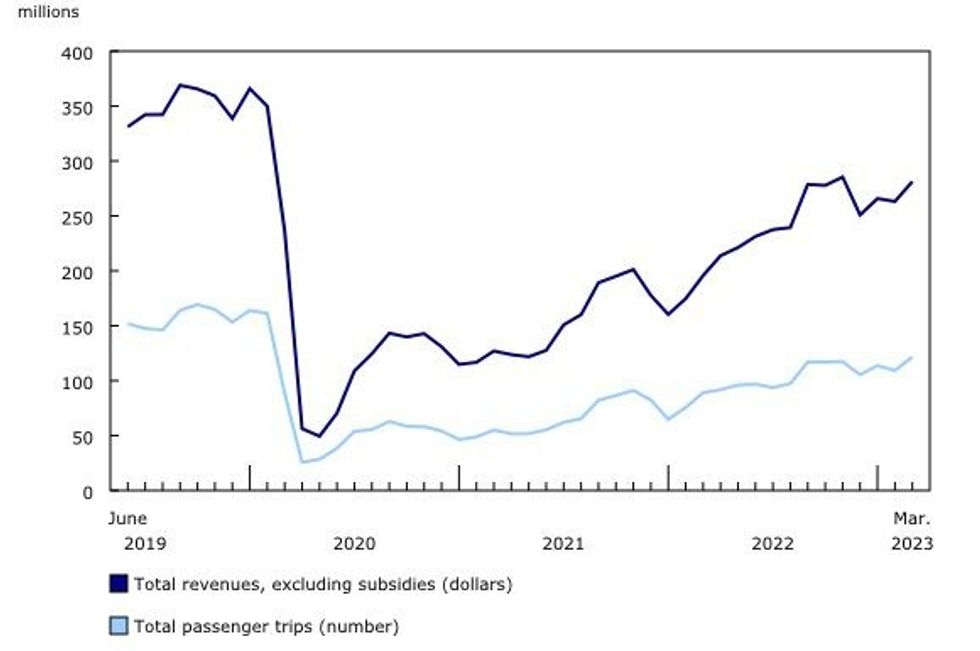 Statistics Canada
The rise in ridership can be partially attributed to strong job growth. According to StatCan's Labour Force Survey, employment increased by 0.2% on a monthly basis in March, while the unemployment rate held steady at 5.0%. At the same time, the price of gas rose 1.2% nationally.
With Canadians returning to their daily commute, transit agency's operating revenues hit $281.3M in March, an annual increase of $85.6M, but still $59.8M below March 2019 figures.
Transportation