Despite numbers falling 20% from August, Canada's homebuilding activity remained strong in September, the federal housing agency said Thursday.
Canada Mortgage and Housing Corporation (CMHC) said the seasonally adjusted annual rate of housing starts -- which are defined as the beginning of construction work on the building where the dwelling unit will be located -- was 208,980 units in September, down from 261,547 units in August -- though this is still in line with average numbers in 2019.
---
READ: RE/MAX Claims CMHC is 'Fear-Mongering' in Housing Market Forecast
CMHC says the decrease in housing starts was driven by weakness in Ontario and British Columbia and lower starts in condos.
However, the six-month moving average of the monthly seasonally adjusted annual rates of housing starts (SAAR) rose slightly to 214,647 in September, up from 212,609 in August.
"The national trend in housing starts was largely unchanged in September," said Bob Dugan, CMHC's chief economist. "Multi-family starts have been very volatile in recent months, partly reflecting the impact of COVID-19."
"High levels of multi-family starts in July and August were largely offset by lower levels in September, leaving the trend largely unchanged. This pattern was particularly evident in Ontario, including Toronto."
However, Dugan says he expects national starts to trend lower by the end of 2020 as a result of the negative impact of COVID-19 on economic and housing indicators.
Here in Toronto, there were 654 single-detached home builds started, an impressive 98% increase from the same time last year. However, all other dwelling starts were down 12% year-over-year, reaching just 2,137 in September.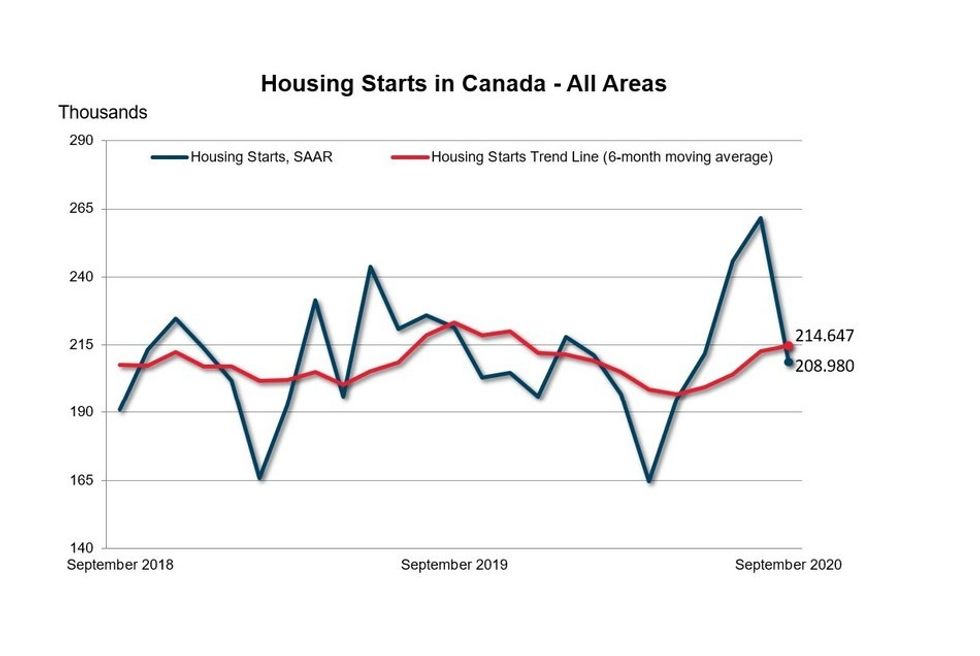 Housing Starts in Canada - Canada Mortgage and Housing Corporation
According to September's numbers, the annual pace of urban starts declined 21.1% to 195,909 with starts down in eight of 10 provinces. What's more, CMHC says rural starts were estimated at a seasonally adjusted annual rate of 13,071 units.
The pace of urban starts of apartments, condos, and other types of multiple-unit housing projects decreased by 27% to 146,005 units in September, while single-detached urban starts increased by 3.4% to 49,904.
In Ontario, housing starts were down by nearly 37,000 units to 78,700, while activity on the west coast fell by 10,900 units to 30,700 units. Homebuilding activity was also down in Quebec, dropping by 7,500 to 48,000 units.
However, some Prarie provinces saw increases, with Alberta driving higher starts with an increase of 5,700 housing starts to 24,800 units, offsetting losses in Saskatchewan and Manitoba. Starts were also down in Atlantic Canada, with declines occurring in every province but Nova Scotia.
You can read the full report here. 
Real Estate News