---
Sidelined buyers returned to the market in full force at the start of 2023, driving up sales of luxury homes across Canada.
Between Q4 2022 and Q1 2023, activity increased in nine of the 15 markets included in RE/MAX Canada's 2023 Spotlight on Luxury Report, as pent-up demand hit a breaking point and supply remained constrained.
The most significant jump was seen in Hamilton-Burlington, where activity increased 38.7% on a quarterly basis. Luxury sales rose 33.8% quarter over quarter in Calgary, and 21.4% in Greater Vancouver, while the Greater Toronto Area saw a more modest increase of 4.0%. In contrast, luxury sales fell 67.9% in St. John's and 29.8% in Edmonton on a quarterly basis.
"In most of our major cities, the story is very similar: Inventory is incredibly tight. Demand is starting to put upward pressure on prices. We saw better sales in the first quarter this year," Christopher Alexander, President of RE/MAX Canada, told STOREYS.
"Coming off of the turmoil we saw from April to September last year, it's a big improvement. The consensus is that the market bottomed out in January, and we're moving in a positive direction."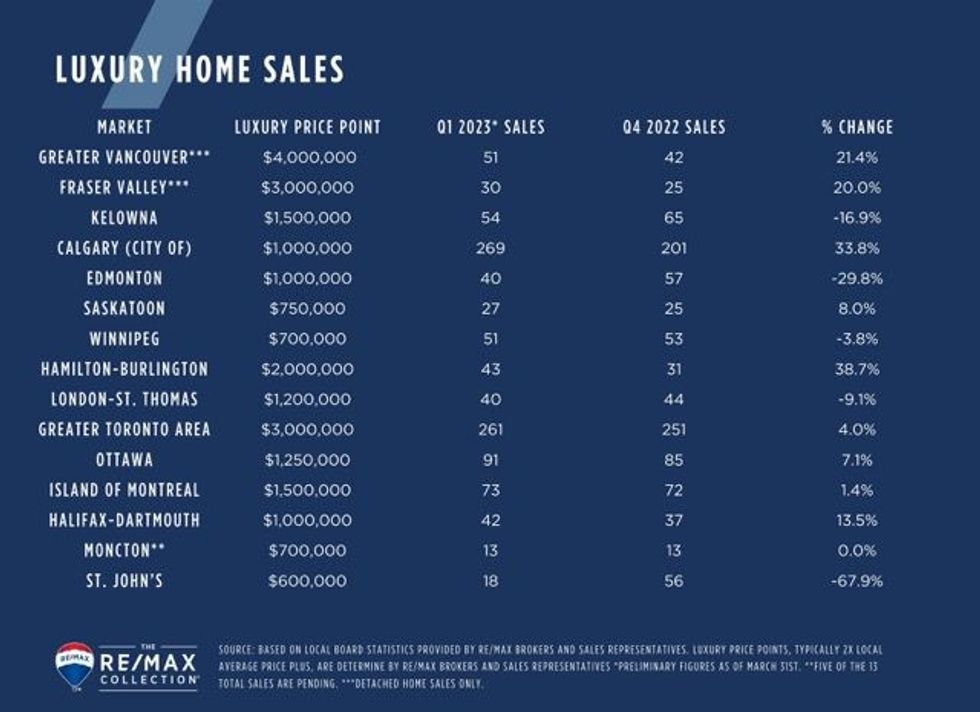 RE/MAX Canada
Buyers have newfound confidence thanks to looming interest rate cuts, but the lack of supply has proven challenging. When homes are put up for sale, especially those that are newly built or turn-key, they sell incredibly quickly and amid fierce competition, Alexander said. Bidding wars are "back in a big way."
Although sales remain below the peak seen in early 2022, activity is expected to continue on a "slow but steady" upward trajectory in Q2. Until inventory increases modestly, though, activity will remain muted.
"Until we have the product coming to market, I don't see sales getting back up to historic levels. We never got the flood of distress sales that many thought we would after interest rates rose so dramatically in such a short period of time," Alexander said.
"What I'm hoping for is some normal spring activity that brings more product to the market so consumers have more choice. [That will] get some of these logs thorough the jam and get the market flowing again. I do think that's going to happen. Everybody is hoping for more listings to come to market."
The lack of supply will help keep prices afloat, with Alexander predicting a moderate increase of 5% across Canada's luxury markets in 2023. Although the price increase is relatively mild, especially in the luxury segment, affordability has been heavily impacted by rising interest rates.
While getting shovels in the ground faster would remedy the supply shortage, Alexander noted that governments need to find "out of the box" ways to draw sellers to market, such as altering or removing the land transfer tax or introducing rebates.
"Unfortunately we're seeing the same story that we started the year with, with limited inventory and demand creeping back in," Alexander said. "It's going to get even harder for buyers. It's really a shame."
Real Estate News