Despite rising rents and property taxes, Canada's annual rate of inflation edged down in October.
According to Statistics Canada's latest Consumer Price Index (CPI), inflation rose 3.1% year over year in October, down from 3.8% in September. On a monthly basis, the CPI edged up 0.1%.
---
The annual deceleration was largely driven by falling gasoline prices, which declined 7.8% due in part to an ongoing base-year effect. Lower refining margins spurred a 6.4% monthly drop at the pump.
Although they remained elevated, grocery prices continued to slow in October as well, increasing 5.4% annually due to a 5% drop in the price of fresh vegetables.
Overall, the price for goods decelerated in October, rising 1.6% annually, but the price for services put upward pressure on headline inflation with a 4.6% increase.
A significant driver of the latter was the price of rent, which rose 8.2% year over year on a national basis, on the heels of a 7.3% jump in September. Locally, the largest increases were seen in Nova Scotia (14.6%), Alberta (9.9%), British Columbia (9.1%), and Quebec (9.1%).
Property taxes and other special charges, which are priced annually in October, rose 4.9%, marking the largest national increase since October 1992. The acceleration was a significant driver of the monthly increase in the CPI.
Property taxes rose in every province except for Manitoba — which recorded a 0.3% annual decline in October — as municipalities sought higher budgets to cover rising costs. The largest annual increases were seen in British Columbia (7.5%), Prince Edward Island (6.3%), and Nova Scotia (6.2%).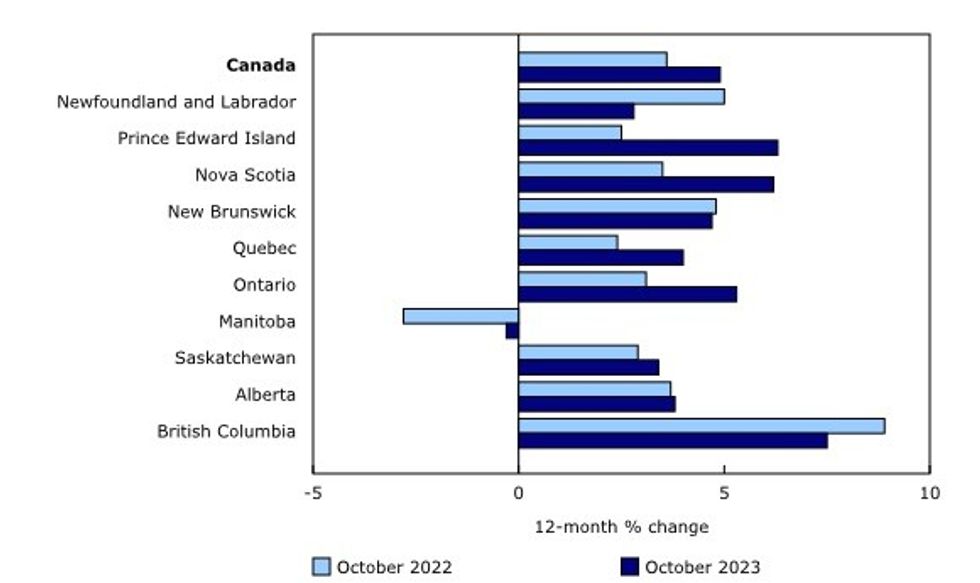 Property taxes, 12-month percentage change./Statistics Canada
Although inflation remains above the Bank of Canada's 2% target, the bank's preferred measures of core inflation registered improvements in October — CPI trim fell to 3.5% on an annual basis, while the CPI median dropped to 3.6%. On a three-month annualized basis, the measures slowed to 3.1% and 2.7%, respectively.
To economists, including BMO's Douglas Porter, RBC's Claire Fan, and Desjardins's Randall Bartlett, October's inflation print is a "step in the right direction" that, along with evidence of slowing economic demand and rising unemployment, should keep the BoC on hold.
The trio predicts interest rate cuts will begin next year, although their expectations of timing vary from the middle of 2024 to the latter half of the year.
Economy