---
Following months of rapid-fire activity, Canada's red-hot housing market finally showed signs of cooling in April, as home sales fell 12.5% from the all-time record high set in March -- mirroring what's currently happening in Toronto's housing market.
On Monday, the Canadian Real Estate Associate (CREA) released its April housing market stats, which revealed home sales posted month-over-month declines in close to 85% of all local markets, including in virtually all of BC and Ontario.
However, it says sales in April were still a record for the month and up 256% compared to a year ago when the pandemic brought Canada's housing market to a near standstill.
April's results come as the number of newly listed homes fell 5.4% compared with March. However, CREA says in a market with historically low inventory, where sales activity depends on a steady supply of new listings each month, suggesting the slowdown in sales may be partially about the availability of listings instead of only a demand story. Subsequently, new listings were down in 70% of all local markets in April.
"While housing markets across Canada remain very active, there is growing evidence that some of the extreme imbalances of the last year are beginning to unwind, which is what everyone wants to see happen," stated Cliff Stevenson, Chair of CREA.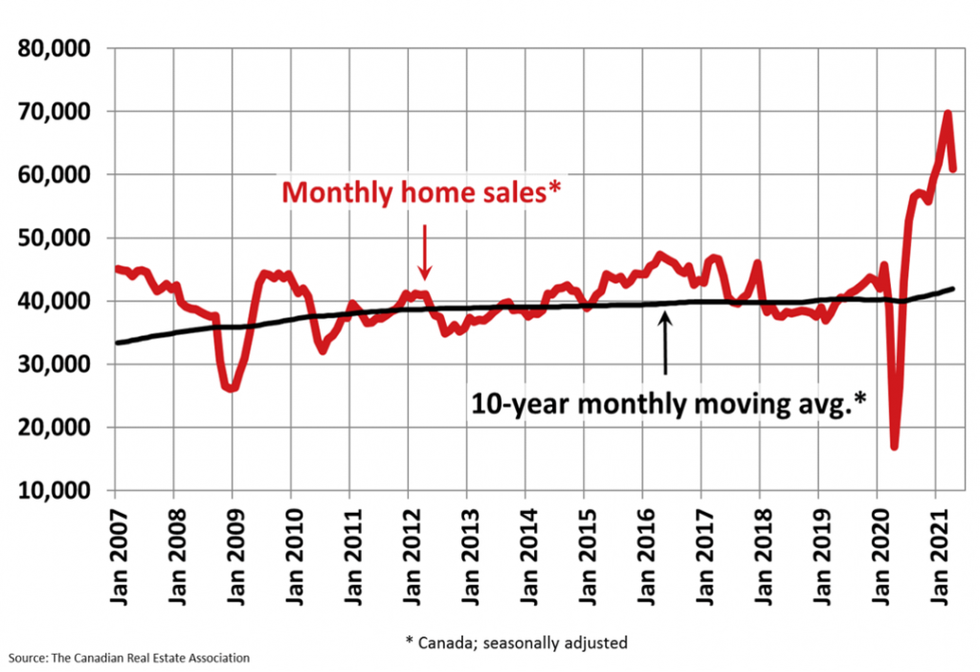 CREA April 2021
"That said, the slowdown in sales activity between March and April was at a time that COVID cases, including very concerning variants, hit their highest levels ever and many jurisdictions enacted fresh lockdowns, making it harder to get a clear read on the underlying levels of demand and supply," said Stevenson, who added, "2021 may be another year where some of the spring market gets pushed into the summer by COVID-19."
While the number of home sales is slowing, price gains are still rising at a record pace. The actual national average home price was slightly under $696,000 in April, up 41.9% from the same month last year.
That said, we need to remember that the national average price dropped by 10% month-over-month last April as the higher-end of every market effectively shut down for a couple of months. "That will serve to stretch these year-over-year comparisons over and above what is actually happening to prices until around June," said the association.
CREA says excluding Greater Vancouver and the Greater Toronto Area cuts more than $144,000 from the national average price.
Hash Aboulhosn, President of Windsor, Ontario-based Edison Financial, says," despite a slight dip from the all-time high, real estate markets across the country remain incredibly strong."
"During the pandemic, Canadians have discovered the true value of [the] home and realized the things that would make their living space complete -- whether that is more room, a larger yard or a home office. My hope is that more owners will choose to list their home, so eager buyers have more choices and a great possibility of finding what's perfect for them," said Aboulhosn.
Shaun Cathcart, CREA's Senior Economist noted, that "home sales were up by more than 250% on a year-over-year basis in April and the average price of those sales was up 42% – the biggest gains ever – which of course means that they were both down, from last month anyway."
"While we still have a ways to go, measures of market balance have finally turned a corner and monthly price growth has decelerated. I believe we've all wanted to see the temperature turned down on this market after the last year, and it looks as though that is finally happening," added Cathcart.
Homes