Construction intentions edged up across Canada in August as shovels got in the ground on several large institutional projects.
According to new data from Statistics Canada, the total monthly value of building permits rose 3.4% to $11.9B in August, driven in part by the construction of a new correctional facility and a new university building.
---
As such, the growth was led by the non-residential sector, with total permit values jumping 14.8% month over month to $5B.
The institutional component led the growth, rising 45.2%, or $630.2M, while the commercial component increased 8.6%, or $165.8M. Meanwhile, the value of industrial building permits dropped 13.9%, or $146.9M, in August.
Construction intentions were centred in Ontario and British Columbia, which saw permit values rise 28.5%, or $503.8M, and 45.5%, or $326.2M, respectively.
In addition to the aforementioned correctional facility, which is in Thunder Bay, and the university building, located in Kelowna, other notable high-value permits issued in August include a new arena in Whitby and hospital renovations in Toronto and Vancouver.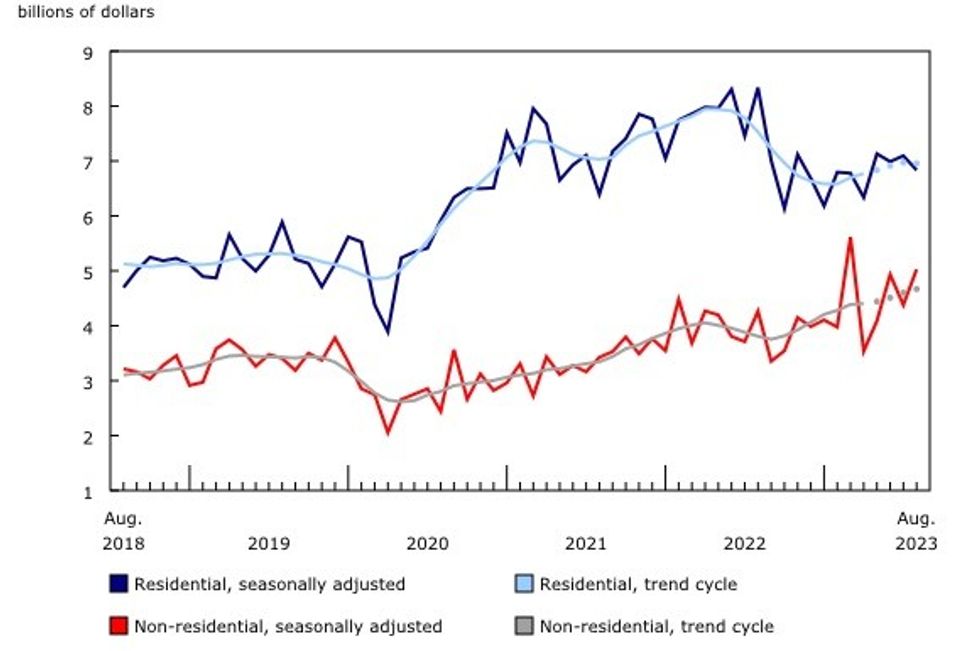 Value of building permits for the residential and non-residential sectors.(Statistics Canada)
Although Ontario spurred much of the growth seen in the non-resident sector, it contributed greatly to the decline seen in residential construction.
The total monthly value of residential permits fell 3.7% to $6.8B in August, led by weaker multi-unit construction intentions in Ontario — the province reported a 15.8%, or $315.6M, drop. Significant declines in multi-unit intentions were also seen in Manitoba (44.9% or $90.3M), Quebec (7.9% or $57.1M), and Nova Scotia (27.3% or $29.9M).
Nationally, the multi-family component fell 9.5% month-over-month, to $3.9B. Meanwhile, the value of single-family home permits rose 5.5% to $2.9B in August, marking a fourth consecutive monthly increase after a year of decline.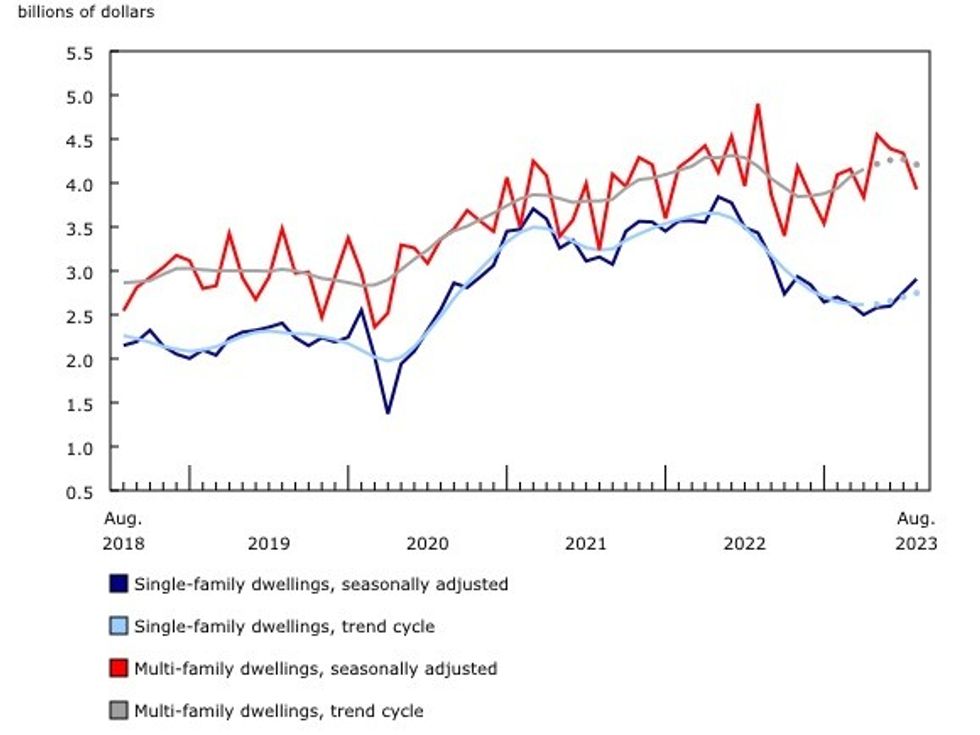 Value of building permits for the single-family and multi-family components.(Statistics Canada)
Real Estate News