Real Estate News
Listed Luxe: One of Toronto's Famous "Bridge Suites" Hits the Market for $4.5M
Whether you're walking through CityPlace, cruising down Spadina, or driving into Toronto along the Gardiner, chances are, you've caught a glimpse of the mysterious Concord Bridge Suites hovering above the city skyline.
Hailed globally as an "architectural feat," the Bridge Suites are luxury living at its finest, to say the least. And now one of the elite residences is being publicly offered for the first time since the structure was built in 2012.
Located at 21 Iceboat Terrace in the heart of Concord CityPlace, the awe-inspiring Bridge Suites are the country's highest — and largest — suspended residences and are located in the 'Skybridge'. The Grand Bridge Suite, listed at $4,550,000, is the largest of the two residences and spans 4,168 square feet in its entirety across three floors.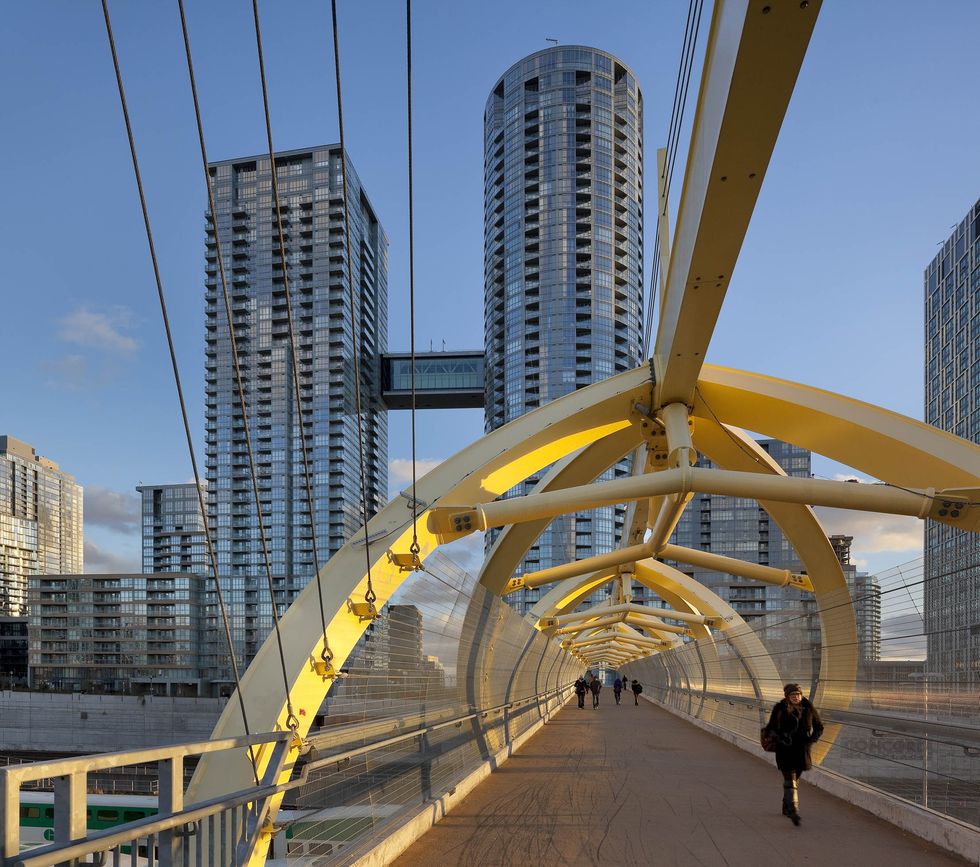 At 30 storeys up in the air, the Skybridge is 23 feet tall and stretches 130 feet in length, the same length as a Boeing 737 commercial jet. (It also weighs an impressive 430 tonnes.)
The bridge itself acts as a link between two 38 and 43-storey residential towers, and, as one of the highest sky bridge residences in the world, it is part of a condo complex on former rail lands near the downtown waterfront.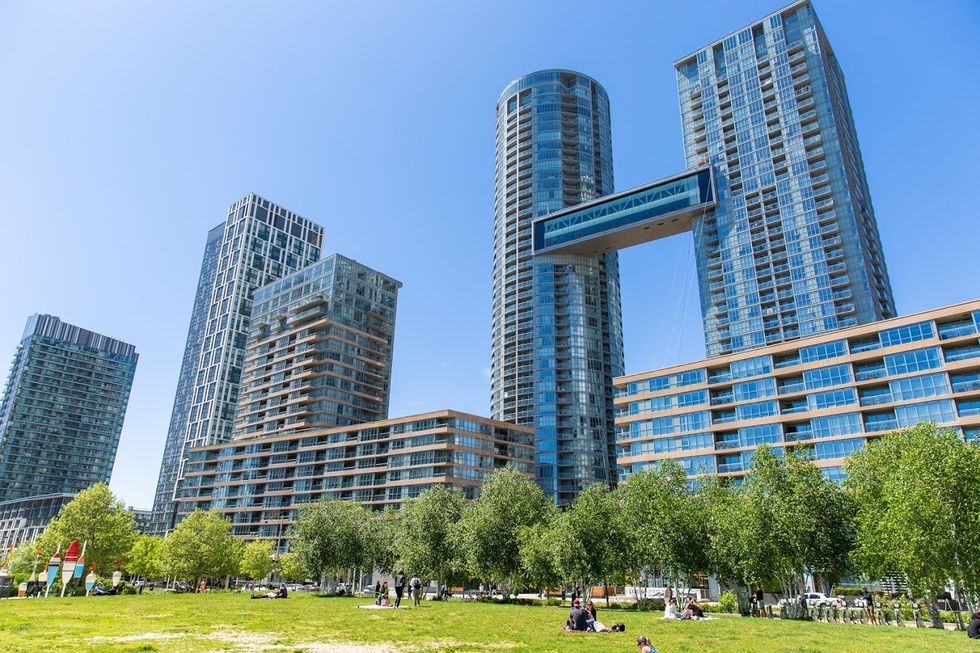 Inside the bridge, the luxe pad boasts 10.5-foot ceilings, 3-bedrooms, 3-baths, and a sprawling 823 square foot rooftop terrace where you can take in obstructed lake and skyline views that you won't find anywhere else in the city, making this residence sure to impress anyone that steps foot inside.
READ: Listed Luxe: Contemporary Mansion Featured in 'A Simple Favor' Asking $5.5M
Designed by Vancouver-based LIV Design Studio, the entire space features a timeless design and is adorned with luxe finishes and furnishings, which all come with the purchase, making moving into this pad a breeze.
"This project was unlike any other due to the true uniqueness of the space," said Olivia Lam, Principal, LIV Design Studio. "The architecture is so unique that creating the right balance of program and timelessness was a welcome challenge." 
The main floor is home to the impressive kitchen that hosts MIELE appliance sets, with KOHLER stainless steel sinks, and GROHE faucets, rich chocolate cupboards, and marble countertops.
Beyond the kitchen, you'll find a spacious, open-concept dining and living area that's equipped with a double-sided electric fireplace — perfect for cozying up to with a glass of wine in hand on a cold winter's night.
Upstairs, you'll find the master retreat, complete with his and hers closets, a den, and an enviable and spacious spa-like ensuite that includes a Japanese smart toilet, a steam shower, and a spacious tub where you can take in the breathtaking views of the lake.
There are also two other bedrooms and bathrooms spread out across the home, an indoor bar — that can be easily accessed from the rooftop terrace — in-suite laundry, a reading nook and piano room, and access to a private garage that has space for three vehicles and premium storage space.
Specs:
Address: Suite 3306, 21 Iceboat Terrace
Bedrooms: 3
Bathrooms: 3
Size: 4,168-sq.ft, with an additional 823-sq.ft terrace
Price: $4,550,000
Property taxes: $12,299 (2020)
Maintenance fees: $1,897.25 / month
"Rarely in a city can you point in the sky and say definitively, 'I live there,' however, the uniqueness of this residence makes it very hard to miss," said Isaac Chan, Vice President, Sales and Marketing at Concord Adex. "The Bridge Suites have long sparked intrigue from Torontonians and we're excited to pull back the curtain and finally give everyone the grand tour of this incredible space."
This is truly life at the top, and it's waiting to be lived in… just see for yourself.
ENTRYWAY
KITCHEN / DINING ROOM
BEDROOMS
DEN
BATHROOMS
MASTER BEDROOM / CLOSETS
PARKING