Toronto
Urban Living
Banksy is Back Where he Belongs
While tagging public spaces with graffiti isn't always something property owners and city officials encourage, Menkes Developments recently spent hundreds of thousands of dollars to add some graffiti (art) to the publicly accessible PATH connection at One York.But for Menkes that was a small price to pay when the graffiti in question has been appraised at close to a million dollars and was stencilled by the world renowned, anonymous British artist known as Banksy.
Referred to as Guard with Balloon Dog, Banksy reportedly applied the whimsical stencil to the rear facade of a vacant building at 90 Harbour Street in 2010, when the artist visited the city following the release of his film, Exit Through the Gift Shop.  The piece was one of seven created and attributed to Banksy during his weekend visit (of the six other pieces he created that weekend, only one remains, located in an alley near Church and The Esplanade).
In 2011 the Harbour Street property (Banksy stencil and all) was purchased by Menkes for redevelopment.
Prior to the building's demolition, company executives insisted the Banksy work (and the limestone panels upon which it was applied) be protected and preserved.  Menkes then had the piece professionally restored in anticipation of ultimately reintroducing it to the public realm, in a location befitting its stature as a significant piece of contemporary art.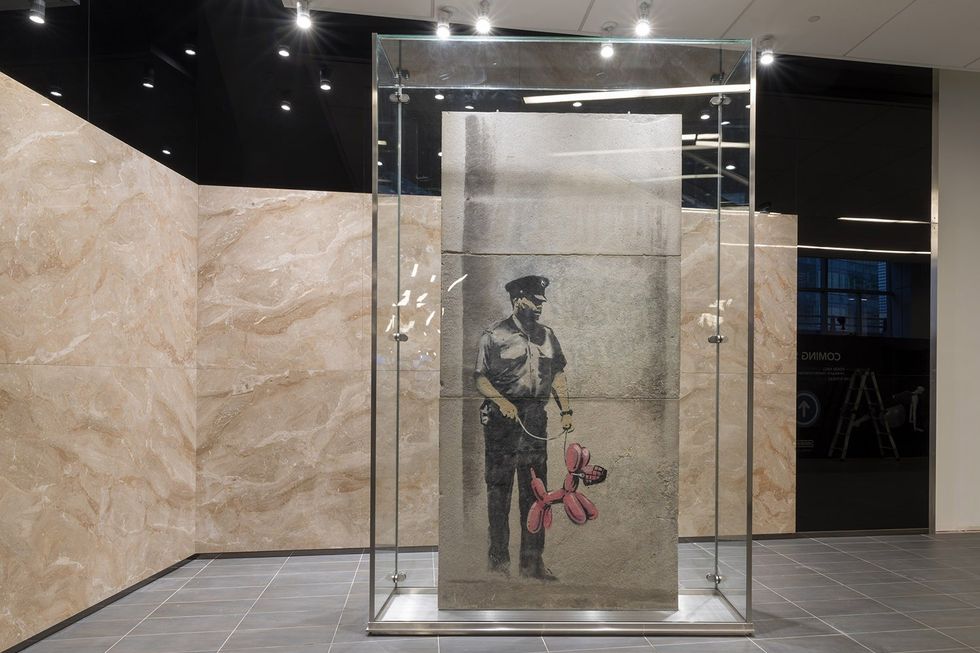 The second-floor PATH connection adjacent to One York was ultimately selected as the spot to display Guard with Balloon Dog, and a companion art piece commissioned by Menkes, called Speculum. Created by Canadian-designer Johnson Chou,  Speculum and Guard with Balloon Dog were unveiled at a media event earlier this week.
Determined not only to share this art installation with the public, Menkes also wanted to share the story of the lengthy and detailed process involved in protecting, preserving, restoring and installing the Banksy.
Earlier today, the company posted a video to its Youtube channel called Restoring Banksy, which shares that story.
Check out the video below, or experience it in person in the PATH anytime you like.