Real Estate News
Average Rents in the GTA Up 11% Year Over Year
As a sign of the times, the rental market in the Greater Toronto Area (GTA) is alive and well. 

In fact, average monthly rents in the GTA increased 11% year over year in February to $2,206, according to the latest Bullpen Research & Consulting and TorontoRentals.com's Toronto GTA Rent Report. 
Since April 2021, the average rent has increased month over month for 10 of the last 11 months in the GTA, as the rental market recovers from the pandemic-related shake-up that saw the region's rents drop significantly. The average monthly rental rate had declined every month from January 2020 through to March 2021, the majority of which marked the thick of the pandemic and its lockdowns.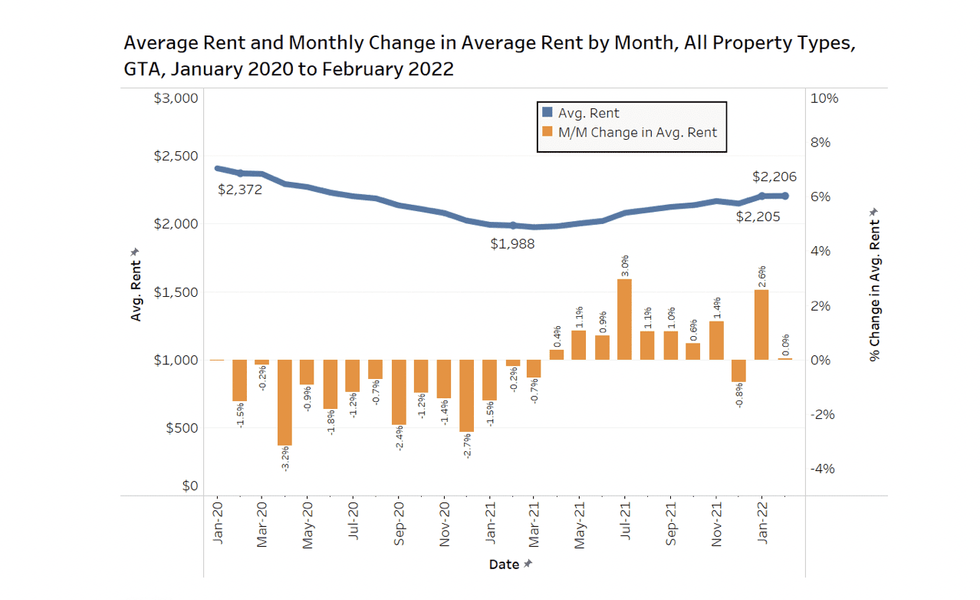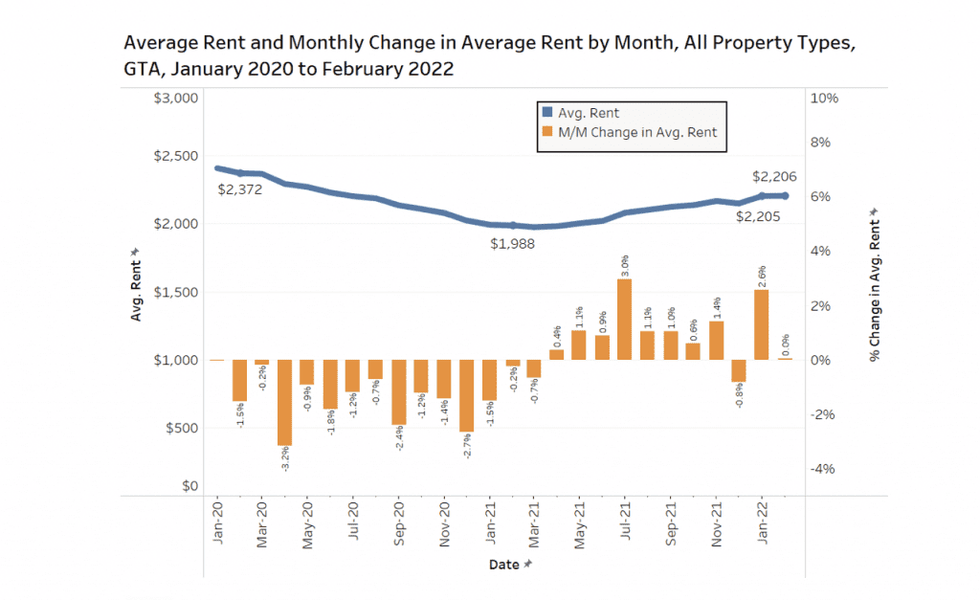 According to the report, the upward trajectory of rents will probably continue through the spring as the market wakes up from its COVID-19 hibernation and people slowly start to return to the office.
Tellingly, Toronto had the highest average monthly rent in February for condo rentals and apartments at $2,317 — a year-over-year increase of 15.7%. Toronto had higher rents in January and February than the rest of the GTA for all bedroom types, with one-bedroom units going for $2,040 in Toronto, 20% more than the average rent in the GTA for a one-bedroom at $1,706.
"The early pandemic prediction that cities would die has clearly proven incorrect, as average rental rates are shooting back up again in Toronto's downtown core," says Ben Myers, president of Bullpen Research & Consulting. "Queen West, King West, the Entertainment District, the Financial Core, the Downtown East, Riverdale, and Leslieville are all seeing big rent increases year over year between 12% and 16%, driven by tenants returning to downtown, and new residents leasing their first suite in Toronto."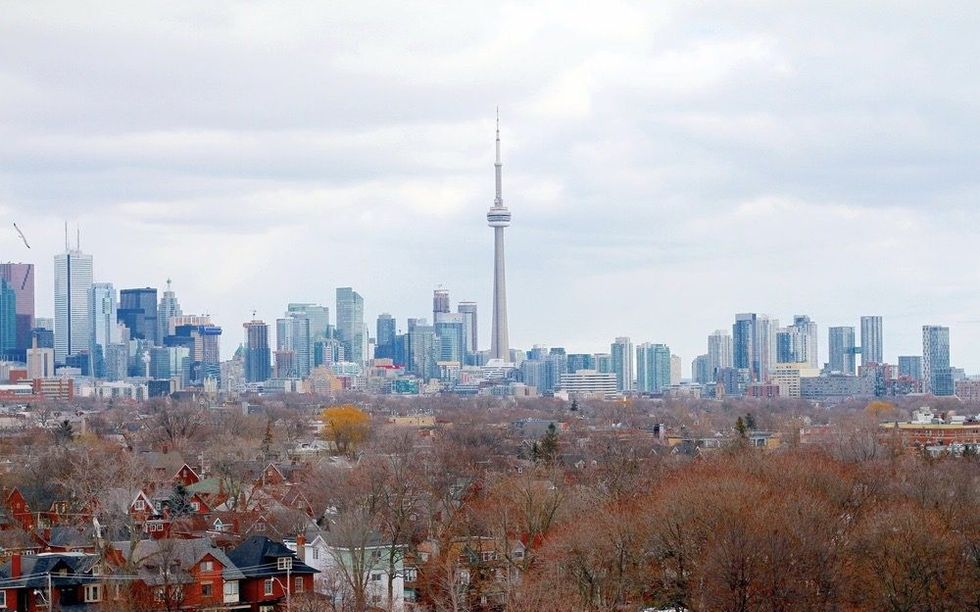 Outside the concrete-filled downtown core, Richmond Hill also saw a notable hike in rents for condos and apartments, up 27% year over year to $2,367 per month.
Other GTA cities and areas with annual increases in rents in February for condo rentals and apartments include: Etobicoke, up 11.9% to $2,156; Vaughan, up 9.7% to $2,015; York, up 7.3% to $1,974; Mississauga, up 6.6% to $2,089; Markham, up 5.9% to $2,024 and Brampton, up 5.7% to $1,924.
Generally speaking, GTA condo apartments in the first two months of the year saw average monthly rents rise almost 21% year over year to $2,484. For two-bedroom condo rentals in the GTA, the average monthly rent increased by 19% annually to $2,896, while one-bedroom condo rents were up by 18% year over year to $2,183 in February. Meanwhile, three-bedroom GTA condo apartments experienced the highest annual increase year over year for average monthly rents — up 29% to $3,725 in February from $2,879 in February 2021. 
Average monthly rents for single-family homes in the GTA also increased more than 20% in the first quarter so far.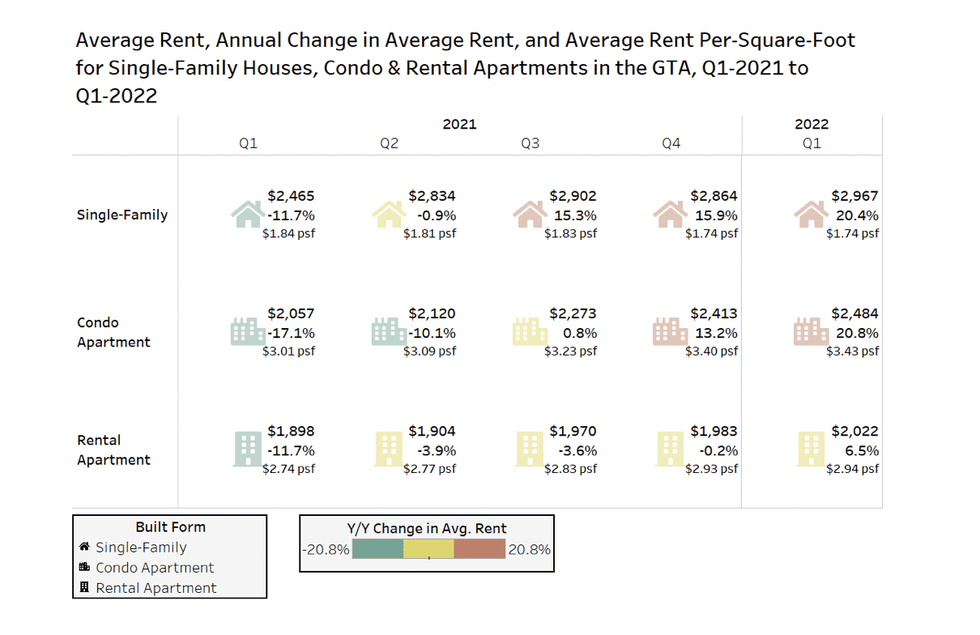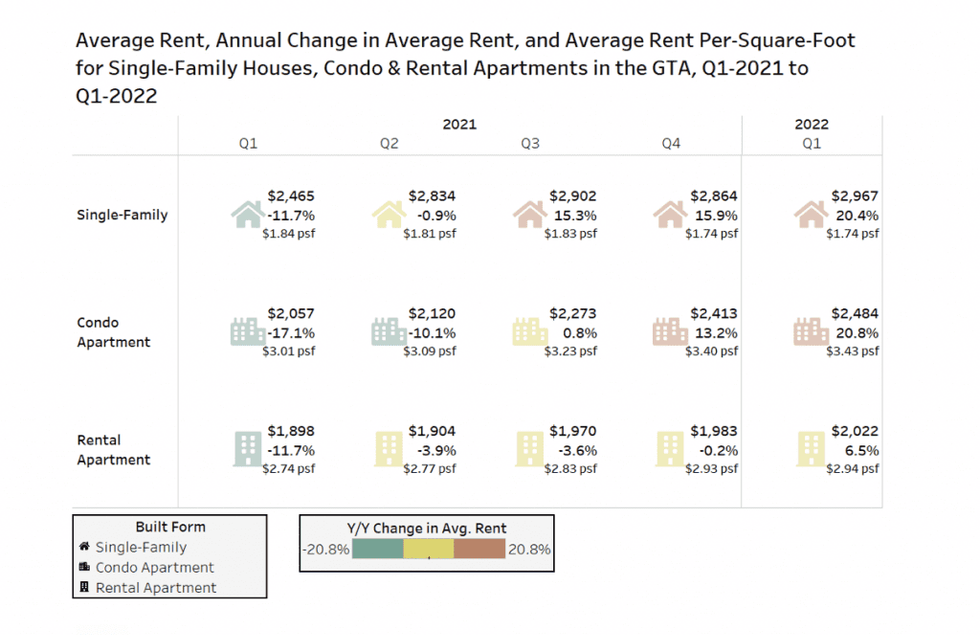 There are, however, a few areas outside of the downtown core that are seeing average rental rates decline annually; for example, Thornhill and Rexdale. According to the report, areas just north of downtown Toronto — including the L4L, L3T, M2H, and L3R postal codes — experienced notable declines in average rent per-square-foot, suggesting that tenants are looking to move back downtown and away from suburban areas post-pandemic.
With respect to rents, the GTA's current climate is not unlike the situation experienced throughout the rest of the country. Rents are climbing nationwide; with a 6.2% hike year over year.