Real Estate News
Average Rent for Condos in Downtown Toronto Drops 16% Year-Over-Year
The pandemic and its impacts have continued to weigh on the rental market both locally and across the province. And as economic uncertainty looms for many paired with the fear of moving for health reasons due to an uptick in positive COVID tests,  rental demand continues to decline.
According to the TorontoRentals.com and Bullpen Research & Consulting latest Toronto and GTA rent report, the average monthly rent in the GTA has declined for the ninth straight months to $2,185 in August, and is down 10.8% year-over-year.
The report says both one-bedroom and two-bedroom units in the GTA are down around $200 from their peak levels last year, recording year-over-year declines of 9.5% and 7%, respectively.
READ: Ontario Officially Introduces Legislation for Province-Wide Rent Freeze
The report says landlords in the GTA were asking $2,582 per month for condo apartments in August of last year and now they are seeking $2,253 per month last month, a 12.7% annual decrease.
What's more, rental apartments have declined by 2.1% annually over the same period from $2,101 per month to $2,057 per month.
Overall, the rental market in the GTA continues to decline, but much of that decline can be attributed to a significant drop in demand for condo rentals downtown.
"Some less affluent young professionals are moving back in with their parents, while the more affluent are leasing their downtown homes to work from their cottage for the next year," said Ben Myers, president of Bullpen Research & Consulting.
"A Finder Research Group study found that 278,000 Canadian parents have moved in with their adult children in 2020. All of these factors continue to shift demand in the rental market away from the most expensive locations."
Here in Toronto, the average rent in the condo rental market is down 16% year-over-year, while rental apartments have seen average rents drop by 2.9% annually.
The average rent per square foot for downtown Toronto condos is down 10.6% annually, while rental apartments are down 8.9% year-over-year. However, it's important to note that average rents per foot in rental apartments have increased for three consecutive months.
According to the report, most of the postal codes in downtown Toronto have experienced declines when comparing January to August, with the most active postal code, M5V, seeing average rents decline by 11% to $2,360, with per-square-foot rents dropping from $3.95 per-square-foot to $3.62 per-square-foot, an 8.4% reduction.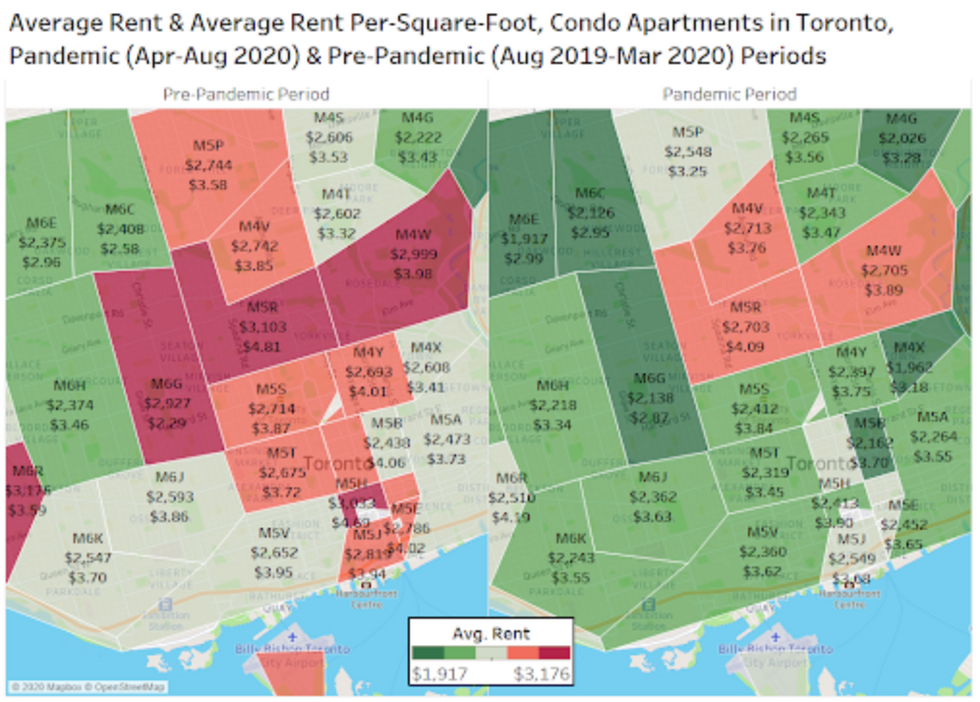 "The pandemic and the resulting work from home necessity has continued to put pressure on the downtown Toronto rental market," said Matt Danison, CEO of Rentals.ca.
"Less immigration, fewer students, and less need to be close to work is decreasing demand, in the face of increasing new condo and rental apartment completions."