GTA
Real Estate News
Dramatic Rent Declines in GTA Now Showing Signs of Levelling Off
After seeing average rent in the Toronto area plummet throughout 2020, it appears those drops are now showing signs of levelling off.
Case in point: average rent in the Toronto area dropped 16% between January and December 2020, while rents for all property types have fallen by less than 1% so far in 2021, according to the latest Bullpen Research & Consulting and TorontoRentals.com Toronto GTA May Rent Report.
While rent declines are levelling off now, this will be relatively short-lived, as prices are expected to begin heating back up by the fall.
"Look for continued flatness until the fall in Canada, and rents to start rising more rapidly at that time," said Ben Myers, president of Bullpen Research & Consulting. "The changes to the mortgage stress test and the sharp rise in house prices will encourage more people to continue renting and accelerate the late-year rent increase."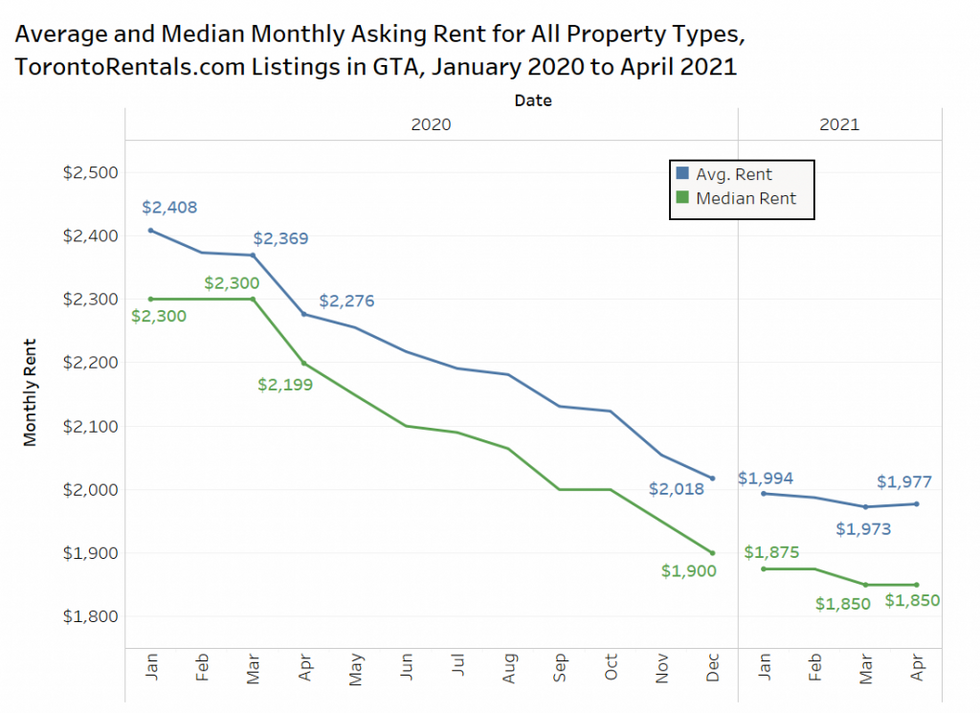 However, as you might imagine, just how much rent has declined does vary significantly by neighbourhood and, of course, by property and bedroom type and size.
READ: Canadians Can Now Pay for Their Rent With Bitcoin
In terms of per-square-foot rent (psf), for most of 2020, the average rent psf steadily declined, ending the year at $2.76 per square foot in December 2020. However, by April 2021, the average rent psf was $2.78. While April does represent a 13.7% decrease year-over-year, the average rent psf has stayed relatively stable throughout 2021 so far, ticking up $0.04 psf since January.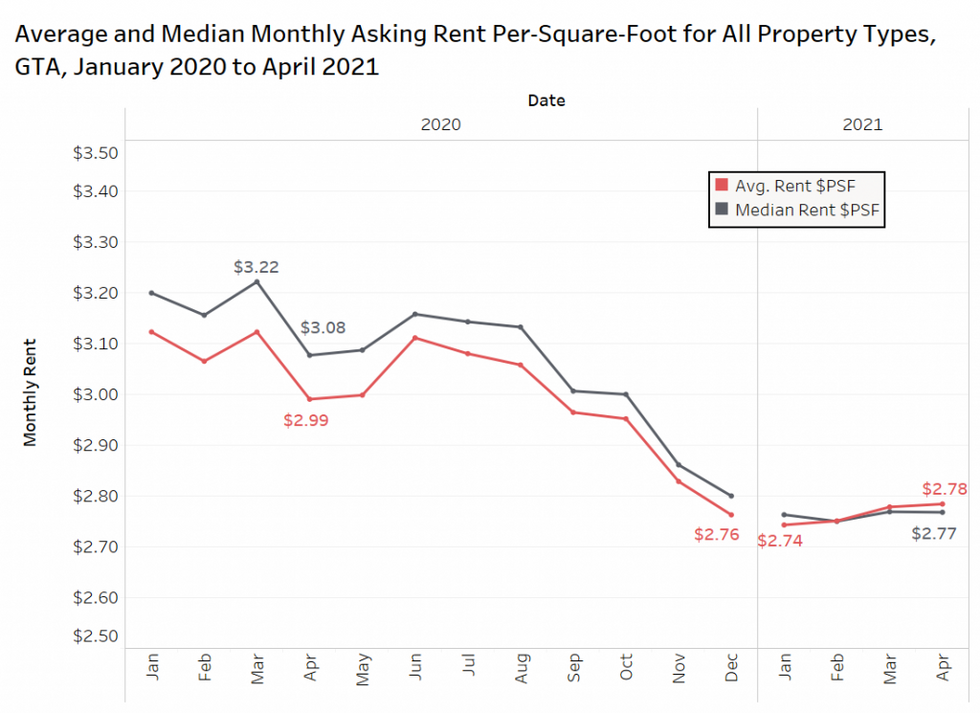 When looking at the different types of bedroom types, rental rates have notably diverged over the course of the past year. For example, average rents for four-bedroom units (primarily single-family dwellings) have increased, while the average rent for smaller units has decreased.
According to the report, this is due to tenants seeking larger properties as they continue to work from home while their children learn virtually, and as many prospective tenants look for properties with backyards.
That said, average rents for studios, one, and two-bedroom suites are all down over 15% annually, with studio rents sitting at $1,453 in April, $1,753 for a 1-bedroom, and $2,210 for a 2-bedroom. All three were down by around $250 from a year earlier. In comparison, 4-bedroom units experienced an annual increase in average rent of 10% in April.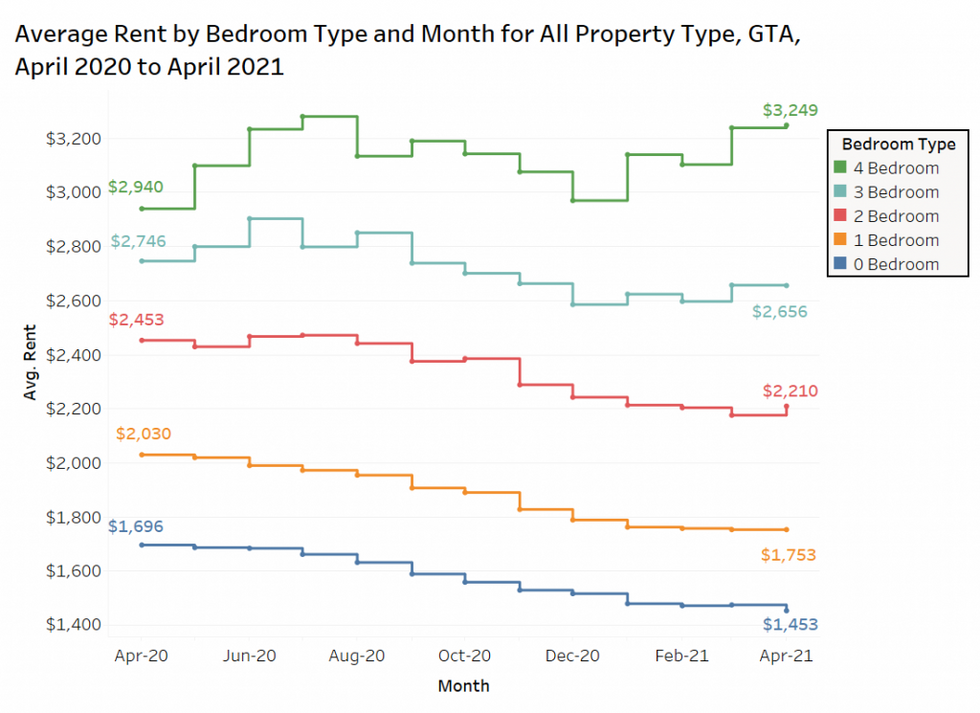 The report also looked at how rents have fluctuated for different property types. For example, the average rent for a single-family home in April was $2,823 for the month, representing an 8.7% increase from March and a year-over-year increase of 0.6%.
Last month's average rent for a townhouse reached $2,673, a month-over-month increase of 15.4%, representing the largest increase of all the property types.
Condo apartments were offered at an average monthly rental rate of $2,074 in April, a month-over-month increase of 1%, and an annual decrease of 11.8%. On the other hand, the average rent for purpose-built rental apartments was $1,895 per month, a 0.2% month-over-month increase, compared to a 4% year-over-year decrease.
Lastly, the average rent for basement apartments in April 2021 was $1,573 per month, representing a monthly increase of 3.5%, and a year-over-year decrease of 3%.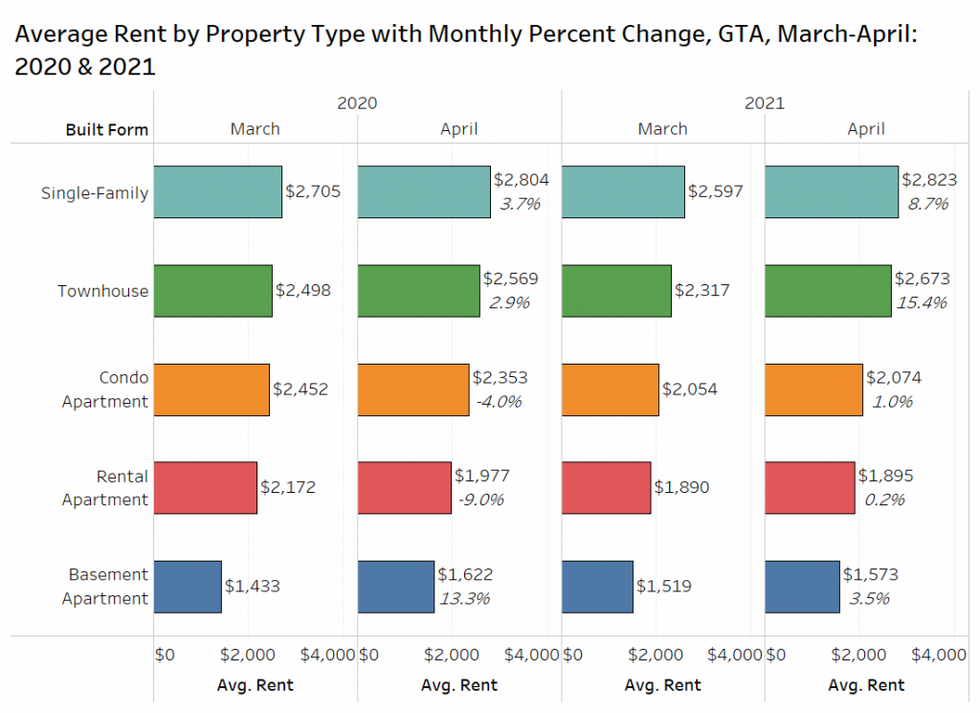 Of course, the declines in rents haven't been even across the board when it comes to different neighbourhoods in the region. This year's most expensive rent was in Rosedale-Moore Park at $2,308 per month, down 14% annually, while South Parkdale has the least costly rent this year at $1,669 — down 20% from January 2020 to April 2021.
In the Yonge and Eglinton area, where the average rent is $1,838 per month, the average rent has declined 13% year-over-year. High Park North had the lowest annual decline at 3%, while Yonge-St. Clair experienced the most significant decrease at 39%.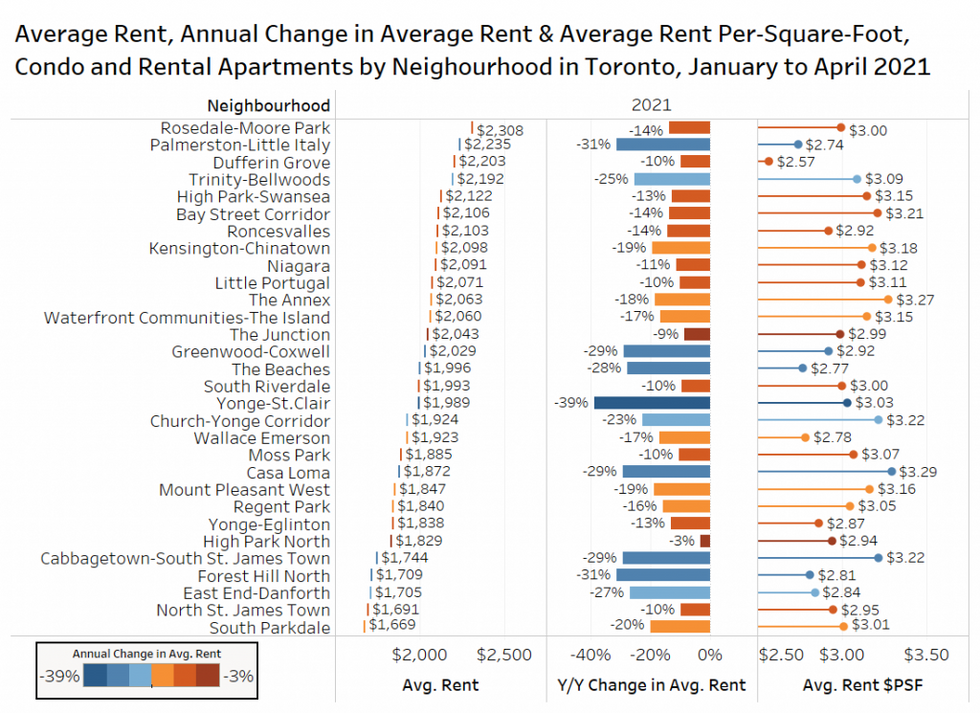 Despite more vaccinations and the inevitable end of the lockdowns in the GTA, the work-from-home trend looks like it's here to stay for many workplaces in 2021.
"This most likely means the rental rates for the smaller units in the downtown area will be slow to recover, while the rental rates for larger units in the suburbs will continue to be popular in the foreseeable future," said Myers.
In light of this, it's expected that rents will start to pick up in the fall, but it won't be until 2022 that we see a rapid rise in rental rates when the borders reopen, and university students return to the classroom.
With all of this in mind, if you've been thinking about entering Toronto's rental market, now might be the best time, as asking rents are poised to being increasing yet again in the next few months.