Real Estate News
Average GTA Rents Started to Flatten in March as Interest Rates Rise
Now that offices are no longer eerily vacant and Toronto's pre-pandemic vibrancy has returned to its restaurants and venues, average rents are starting to flatten, following recent hikes.

According to the latest Bullpen Research & Consulting and TorontoRentals.com Toronto GTA Rent Report, the average monthly rent in the Greater Toronto Area (GTA) increased 10% year over year in March to $2,182 from $1,975 in March 2021. Since April 2021, the GTA's average rent has increased month over month for 10 of the last 12 months. This follows a notable drop in rent prices in the thick of the COVID-19 pandemic. Average monthly rents declined every month from January 2020 to March 2021 when the GTA was under seemingly never-ending lockdown measures.
There is now positive news for (some) renters, however: average rents are now starting to show signs of flattening in the GTA, according to the report.
Moving forward, new housing completions are also expected to rise in the GTA in 2022, which will add more supply. Although the report highlights how rising inflation will drive up costs for landlords — who will in turn try to pass these on to tenants via higher rents — rents are not expected to continue to increase at the same pace experienced in the second half of 2021.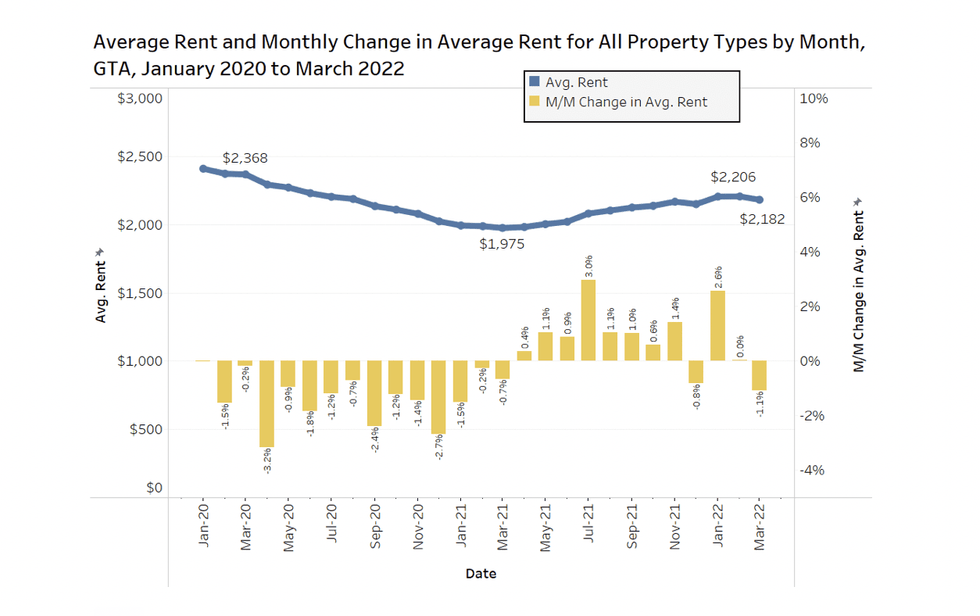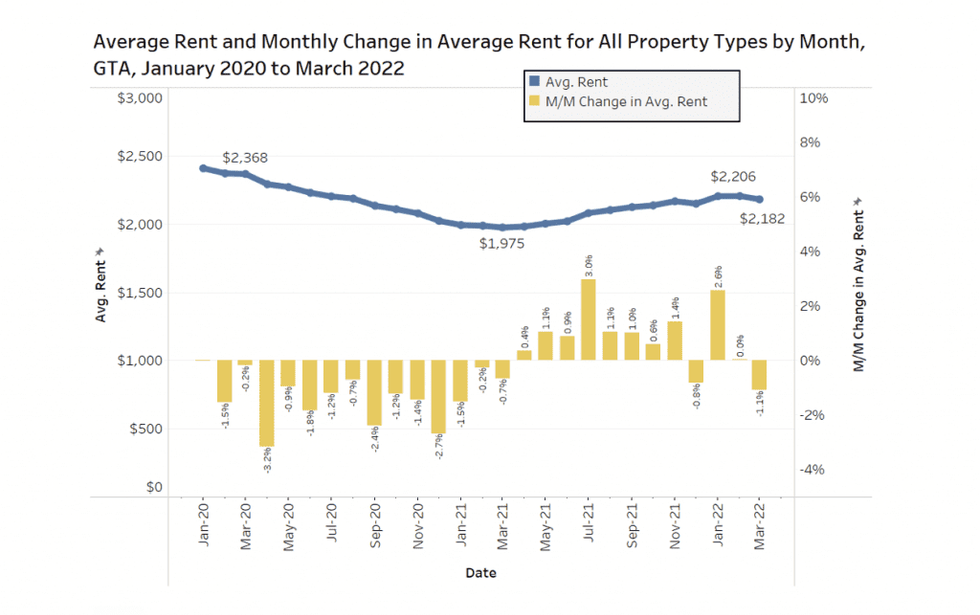 After the strong rent growth in the second half of last year, average rents in the GTA have now started to actually flatten, with most of the major municipalities experiencing monthly declines. The monthly declines are across the board by geography, property type, and bedroom count.
"After very strong growth in the second half of 2021, average rental rates in the GTA have flattened out, with this trend consistent across property types, bedroom types, and geographic areas," says Ben Myers, president of Bullpen Research & Consulting. "Bullpen and Rentals.ca still expect rents to increase in 2022, but at a slower pace than previously forecasted."
A majority of the municipalities in the GTA had slight declines in average monthly rents for condo rentals and apartments. Toronto rents saw a month-over-month decline of 0.4%; Mississauga had a monthly decline of 0.9%; Etobicoke average monthly rents declined by 2.6%; Scarborough experienced a monthly decline of 3.8% and Brampton monthly rents were down 5.4%.
"With interest rates rising, some prospective buyers are likely to stay in the rental market this year instead of buying," reads the report. "The colder weather in March could have dissuaded some tire-kickers from looking at property, as could have the sixth wave of COVID-19."
With that said, the spring market should see increased tenant demand, according to Myers — something that could cause condo rent prices to increase.
"With condo premiums rising from 15% to 35% in the major municipalities, the high end of the rental market is strong again and that could pull up rents in the near future," reads the report. In general, the price growth of GTA condominiums has outpaced apartments over the past year. In Mississauga, the average rent for condos ($2,627) in the first quarter of this year was 34% higher than the average rent for apartments ($1,955). In Scarborough, the margin of rents for condos over apartments in the first quarter was 27%; in Etobicoke, the difference was 26% and in Toronto, where the condo premium is lower, the average rent for condos still outpaced the average rent for apartments by 15%.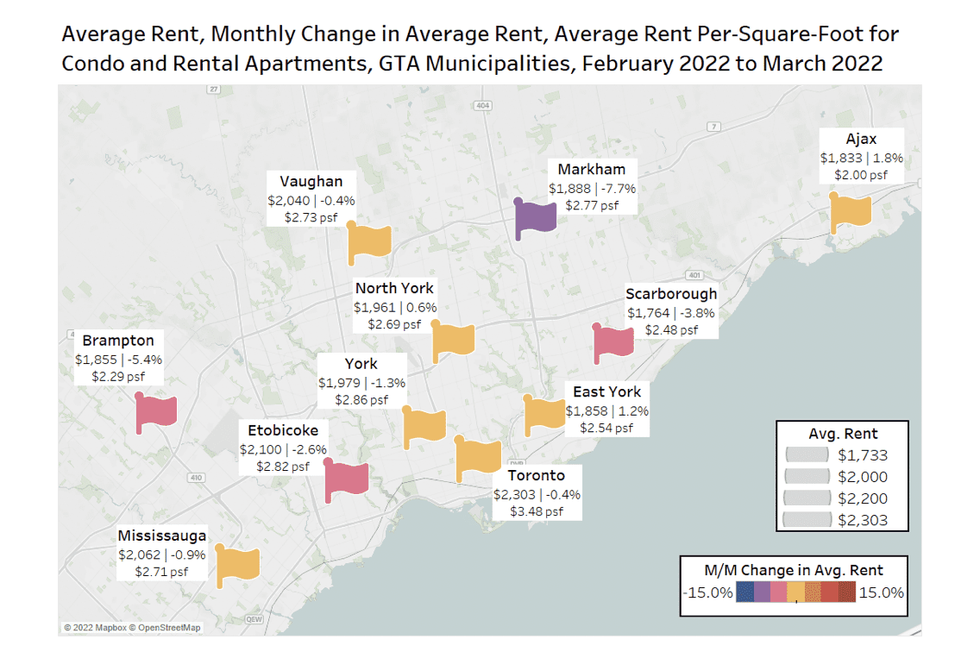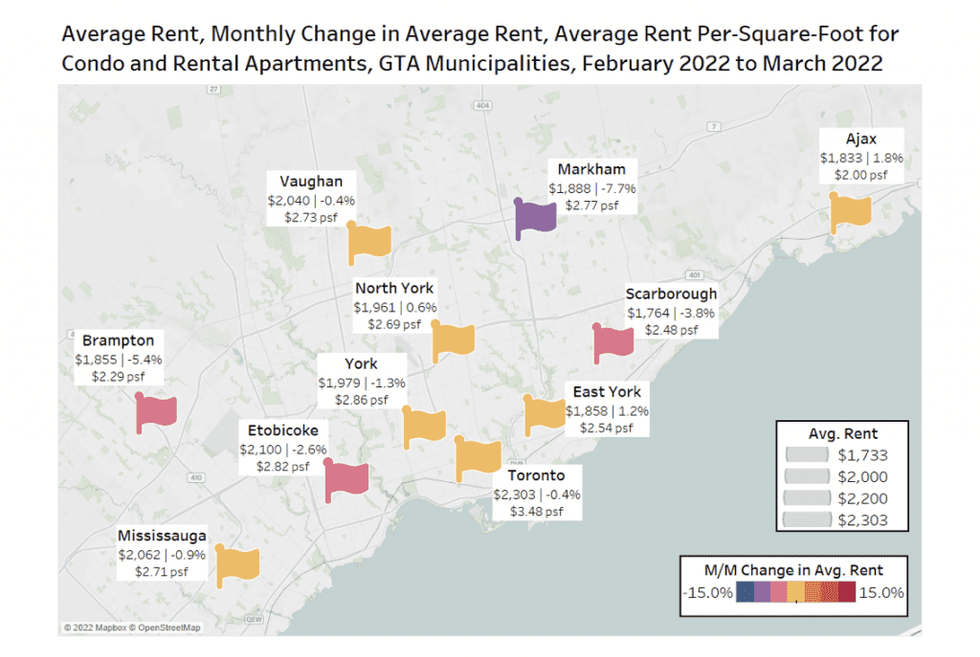 The report highlights how condos consistently rent for higher prices than apartments because they are newer with more amenities; but that this premium declined during the pandemic as demand for expensive prime condo projects close to employment centres plummeted. Rents for these condos have risen again, however, as live returns to downtown offices.
The report reveals that average rents for condominium rentals for studios, one-, two-, and three-bedroom units have risen significantly in March from January 2021.
Average monthly rent for three-bedroom condo rentals was $3,534 in March, up 30% from $2,716 in January 2021. Average rent for a two-bedroom condo in March was $2,819, up from $2,440 in January 2021; average rent for a one-bedroom in March was $2,161, up from $1,869 in January 2021 and average rent for a studio went from $1,552 in January 2021 to $1,719 in March.