---
Adi Developments -- the Oakville-based condo developer facing the first licence revocation enforcement from the Home Construction Regulatory Authority (HCRA) -- announced this morning that it has settled with the regulator, and may resume building and selling all new and existing projects.
The builder was notified of the HCRA's intent to revoke their building and vending licences on August 25, following an investigation into consumer complaints about cancelled contracts and unreturned deposits for their Lakeshore development (Nautique) -- a violation of the New Home Construction Licensing Act, 2017. The builder subsequently launched an appeal in September.
The regulator had also alleged that the builder had obstructed its investigation by providing altered and false purchaser contract documents; under the settlement, it is confirmed there are no findings or admissions as to any Adi entity having done so.
However, an admission by Adi Lakeshore that it failed to return purchaser deposits within 10 days of cancellation will require the builder to pay a $60,000 penalty to the HCRA, along with a voluntary payment of $2,585,674.58 to 141 purchasers of its Lakeshore development, in the form of interest accrued at a rate of 6%. It is the first instance of the HCRA applying an administrative monetary penalty.
"This benefit component represents the total amount of interest that Adi Lakeshore had already begun paying to affected purchasers starting in May 2022," reads Adi's release. The settlement is also predicated on the return of all deposits to affected purchasers, which Adi Lakeshore completed on November 14, 2022. 
As well, under the terms of the resolution:
As a condition on their licence, ADI Morgan Developments (Lakeshore) Inc., 4880 Valera Road Inc., and ADI Morgan Developments (Thomas Alton) Inc. cannot cancel any agreements unless the purchaser requests the cancellation first or is in default.
 
Any current or new licensees affiliated with the ADI Development Group within the next two years will be subject to licence conditions.
"There are rules that must be followed -- and consequences for failing to do so," says Wendy Moir, the HCRA's Chief Executive Officer and Registrar. "Monitoring and enforcing ethical behaviour has taken on added urgency in recent months amid growing concern over price escalations and terminations of purchase agreements."
"By requiring ADI Lakeshore to pay this money to the purchasers, we are ensuring that the builder did not benefit from breaching their licence requirements."
According to Adi, which has been operating for 15 years within the GTHA, the cancellation of units at its Lakeshore project was the first in its history, and "driven by a dramatic increase in construction costs which seriously jeopardized the project."
READ: As New Home Sales Plummet, Developers Get Creative in "Dead Market"
"These are unprecedented times for the development industry," Tariq Adi, CEO of Adi Developments, stated in a release. "We were facing cost escalations in the range of $43M which the project simply could not absorb. As a result, we had to seek additional financing and reconfigure the project in order to be in a position to complete it. Regrettably, however, the situation forced us to cancel purchase agreements, which we hated to do because our customers are the most important part of our business."
According to Adi, purchasers who chose to hang on to their Lakeshore units were given the opportunity to re-purchase them at approximately 20% below market prices, and were credited with $10,000 in "décor dollar" upgrades. Those who chose to not enter a new purchase agreement were given 6% interest on their deposits as a "gesture of goodwill." The builder states the Lakeshore project is currently 85% sold with construction underway.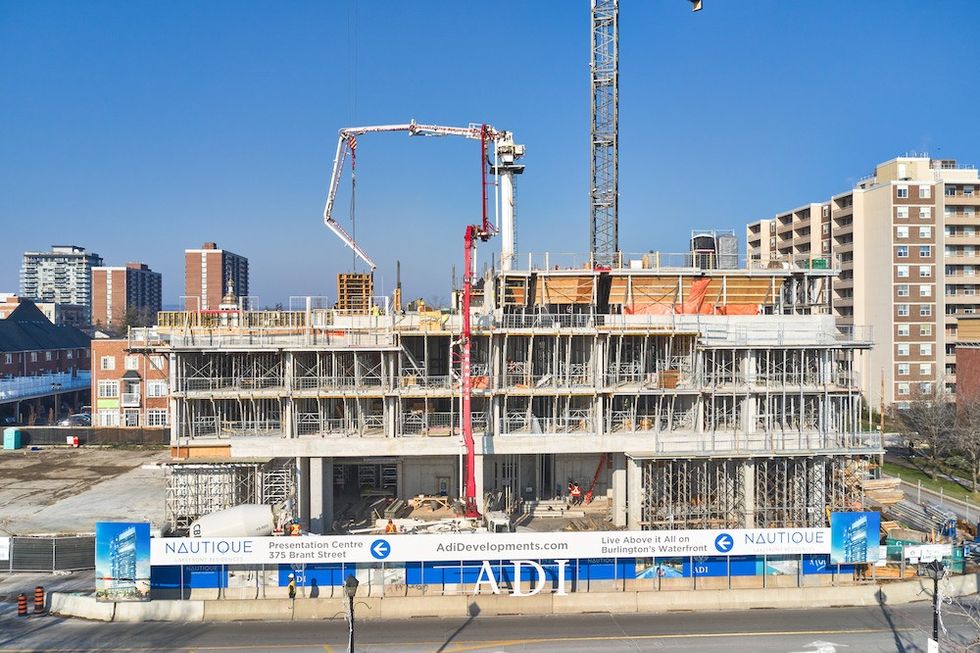 The Building Site of Adi Lakeshore's Nautique | Photo: Adi Developments
In an interview with STOREYS, Mr. Adi says he's "happy it's behind us," and that the company is excited to move forward after what were initially surprising allegations.
"We were taken aback by the allegation itself initially because -- and I'll quote what my wife said -- 'You don't even bud in line, how could they make an accusation like this?'" he says of the HCRA's accusation of obstruction. "It's definitely satisfying that they've dug deeper into it. We weren't aware that this was even a thing until the NOP came out, and so when it did come out, we had inquired to say, 'What's this allegation about, what's the basis of this?'"
The issue, he explains, came down to two "clerical errors" in which a 2015 sales schedule had been inadvertently sent to purchasers, rather than the correct 2018 version; an important detail that was later confirmed with the HCRA.
"The most important thing is, we honoured those deals for those customers," he says. "We had something different that was sent to us by the sales company, they had something different, but at the end of the day, the customer had that and that was the basis for it, and we're going to honour those deals."
As well, given the builder's unenviable position as the first enforcement case pursued by the regulator, Mr. Adi believes there "definitely can be an improvement in the process."
"At the end of the day, this is people's livelihoods," he says. "Adi employs over 200 people, they have children, they depend on us as a company to come to work, service our customers, we've got thousands of customers waiting for homes. This is something you don't throw lightly. And we're taking the steps necessary to give that feedback and really, now that we've gone through it -- and again, it's the first time for the industry, it's the first time for HCRA; I think we're in a position now where we can give that feedback and improve their process."
Condos