---
It's no secret that finding student digs in Toronto's downtown core is even more challenging than acing your final exam. As average one-bedroom rents hit $2,474 in September (a whopping 27.5% annual increase), and dedicated post-secondary student residences remain in short supply, finding adequate housing during the school year has become an acute issue.
A new proposal for a mixed-use tower steps from Toronto Metropolitan University (TMU) looks to alleviate some of this pressure. Plans have been filed with the city for a 43-storey build from Podium Developments on a lot spanning 396-398 Church Street, along with a townhouse assembly along 73-77  McGill Street. 
Designed by IBI Group, the tower will reach 141 m (including the mechanical penthouse), with a residential gross floor area of 28,782 sq. m. Dwelling space will be divided up into 463 units, comprising 47 bachelor, 229 one-bed, 147 two-bed, and 40 three-bed layouts.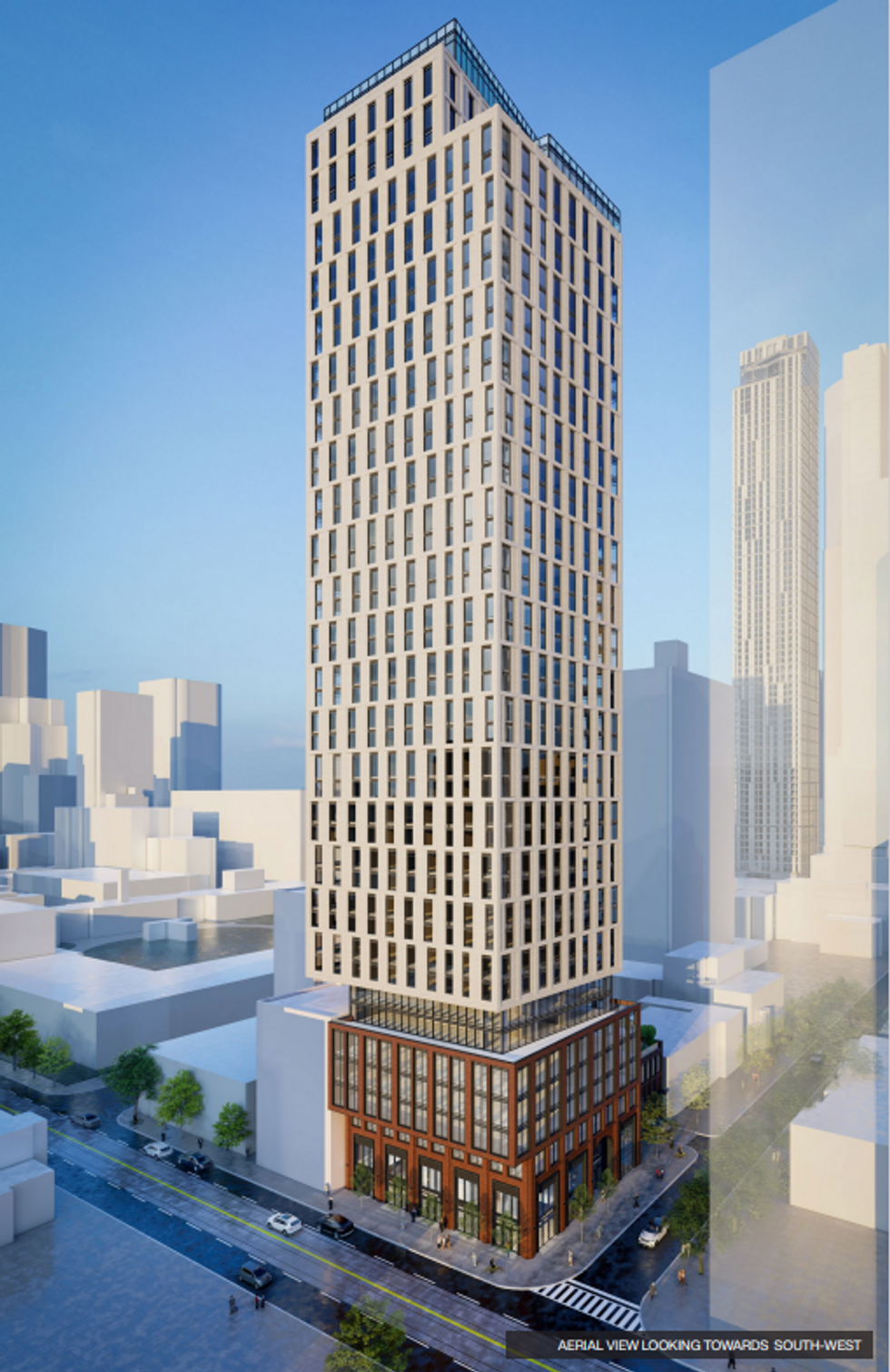 Rendering: IBI Group
Plans include a total of 1,322.8 sq. m of indoor amenities and 522 outdoor, along with 216 sq. m of retail space at grade. There will be 13 vehicle parking spaces, along with 417 bicycle spaces for residents (and an additional 62 short term spots).
Given its prime location, investing in the project was a "no brainer" for developer and financing partner KIN Capital Partners, Managing Partner Jacob Iftah tells STOREYS. 
KIN, which launched in 2020, purchased the site along with Podium and Secure Capital MIC; it is the latest addition to their rapidly-expanding portfolio, that includes master-planned communities on Rutherford Road and Steels and the 401, a mixed-use project near Weston Road and Lawrence, and a high rise at Bloor and Jarvis.
"We really do believe in the shortage of housing," he says, adding that ongoing student demand will support the site's value moving forward.

"You have one of the largest universities in the country, it has grown rapidly, there is an existing shortage of housing, and we know how much [students] are paying for bedrooms -- which are astronomical prices. We feel like this is a really good place to assist the community in creating more housing, and it really has a strong investment piece."
Current macroeconomic factors, such as skyrocketing interest rates, have chilled the development space in recent months. The latest data from the Building Industry and Land Development Association revealed condo and single-family new home sales plunged by 89 and 96% in September, respectively, as buyers took to the sidelines.
READ: As New Home Sales Plummet, Developers Get Creative in "Dead Market"
That hasn't deterred KIN, however -- Iftah says they take a contrarian view, finding today's investment fundamentals are better than ever, given the persistent supply and demand imbalance. New developer-friendly policies put forth by the provincial government don't hurt, either.
"We have a real housing crisis -- it's dead right now, and it's going to get worse as time goes by, especially in the next couple of years. So throughout the past six months, when a lot of companies have been essentially pencils down, we've been very active and we're continuing to be very active. We're looking at a lot of deals, constantly, because we really do believe in the fundamentals of Toronto," Iftah says.
"When we came into this investment there was this risk of inclusionary zoning that would really hurt the financial performance of the asset, but we decided to go with it anyway, and we're really happy that things have changed, and there's more backing from the provincial government to support housing."
While it's currently unclear whether the units will be offered below-market rate for the purpose of student housing, Iftah says that should a condo developer become the eventual builder of the site, the new units will boost supply via leases. This will help alleviate the severe shortage of student housing near the university; earlier this year, TMU (at the time Ryerson) cancelled the building of a dedicated student residence, much to the chagrin of the local student population, as purpose-built financials become harder to justify. It's for this purpose that KIN is looking to stay fluid at this investment stage.
"We didn't want to lock ourselves into one specific area that may or may not work by the time we finished zoning, so we keep our options open, so we allow ourselves that flexibility, so from an investment perspective, we're better protected," he says.
"Someone is going to build housing in that area that is going to eventually serve, at least, those students."
Future Developments