Twente Additive Manufacturing (TAM) is a machine developer and seller of printing equipment used to build 3D-printed homes and architectural elements. They are the only 3D-printed manufacturer in Canada and have the first 3D-printed house in the country, located in Procter, BC. 
---
3D printing, which is also known as additive manufacturing, is a process where computer numerically controlled (CNC) machines create a three-dimensional object. A digital model is made using a computer aided design (CAD) file. The file is then processed into layers ("slicing"), and the 3D machinery and printing techniques vary depending on the project. TAM's machines operate on a three-axis or six-axis CNC system and cost upwards of CAD$70,000.
"We develop different types of printers, whereas all of our competitors have their one printer that they are trying to get out on the market," says Ian Comishin, TAM's president and co-founder, to STOREYS. Comishin says there are only a handful of companies making ready-to-market 3D printers, with more than 30 startups looking to get into 3D printing for mass construction.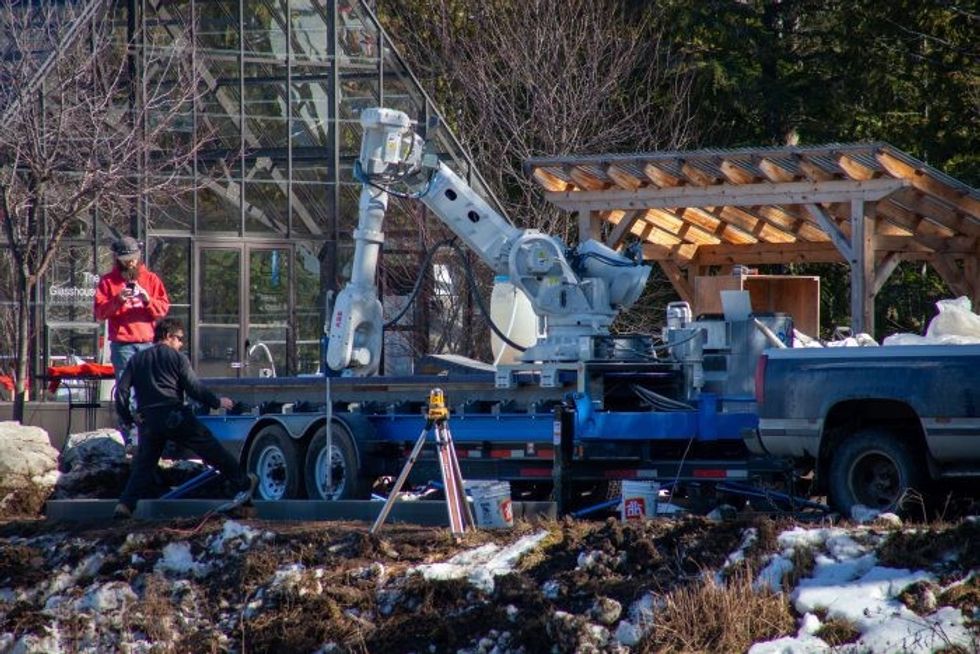 TAM's Tilikum Mobile Printer
Comishin says that for companies looking to print staircases, for example, TAM would use a smaller printer than what they would use for a company looking at printing an entire neighbourhood at once. As the technology advances, he says he believes it will cost less and be more versatile with the capability of disassembling the printer on one end and moving components down to the other end, printing a row, like a train track. 
READ: Could Blockchain Technology Allow Small-Scale Investors to Get in the Real Estate Game?
Comishin formerly worked in robotics, where he introduced CNC technology to the skateboarding industry. He then worked in green energy for the better part of the decade, specifically in automation manufacturing of wind turbine blades. After exiting the role (and signing a non-compete disclosure in wind energy), Comishin was looking for a field with similar development. He noticed a crossover between what was happening in the 3D printing industry and with CNC technology. Although his knowledge of 3D printing was limited, he went for it.
"I wanted to get in early and see what we could add to the space," says Comishin, adding that TAM's core technical team comes from automation and the wind industry. "Since we had a long history of developing automation it was very easy for us to build a series of different types of printers and applications."
Founded in 2018, The company has a team of 20, with half of the employees situated in Canada and the other half in Europe. In addition to manufacturing and selling the equipment, the company also offers "printing-as-a-service" (PaaS) for an additional revenue stream.
"This allows us to get good with machinery and how to add 3D printing to a construction site, as well as the chance to be experimental with developing the printing techniques that have a revolutionary impact on the construction industry," says Comishin. "Technology aside, the actual techniques that the printers get used for can change housing construction big time."
The First 3D-Printed Home in Canada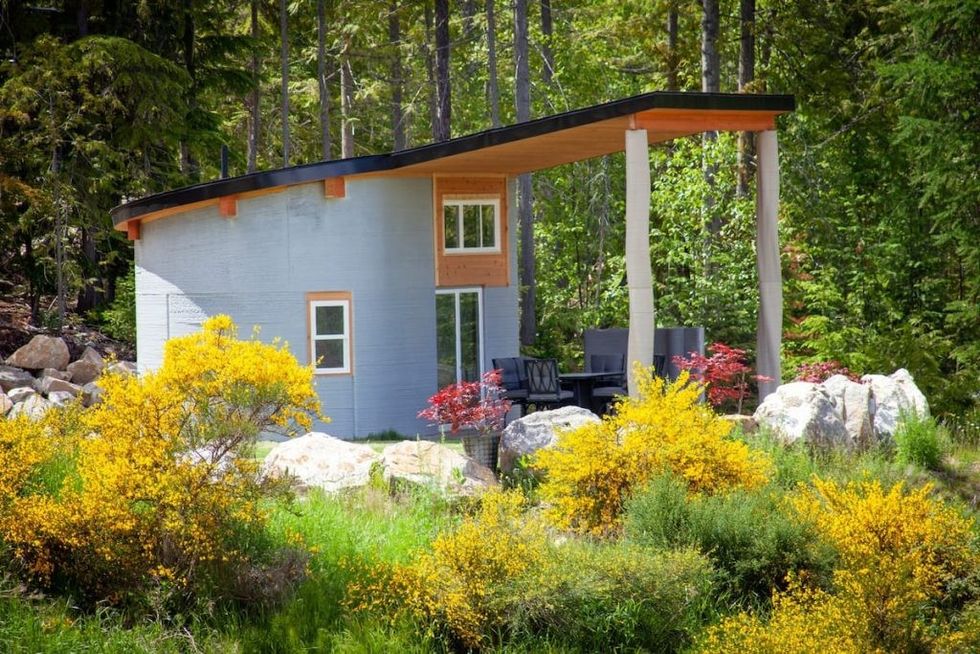 The Fibonacci House, Canada's first 3D-printed home
The Fibonacci House is located in Procter, British Columbia, which is 40 km south from Nelson, British Columbia. Approximately 300 square feet, the Fibonacci House is also the first-listed 3D-printed concrete tiny home, now available to rent. Comishin estimates the house cost at least $150,000 to build.  
All rental proceeds from the Fibonacci House Airbnb listing will go to the affordable homes project by World Housing, an international home building charity based in Vancouver. The organization has already delivered living spaces for people in developing nations and plans to build Canada's first affordable community living space entirely built using 3D printing. 
The Fibonacci House is inspired by the Fibonacci Sequence, which is a recognized pattern often referred to as "the golden ratio" that can be found in nature in the form of leaves, flower petals, and shells. The house was built using 20 printed parts, done so on a 130 m3 print surface, and the printing took 11 days to complete. The house includes glue-lam beams and handmade window frames.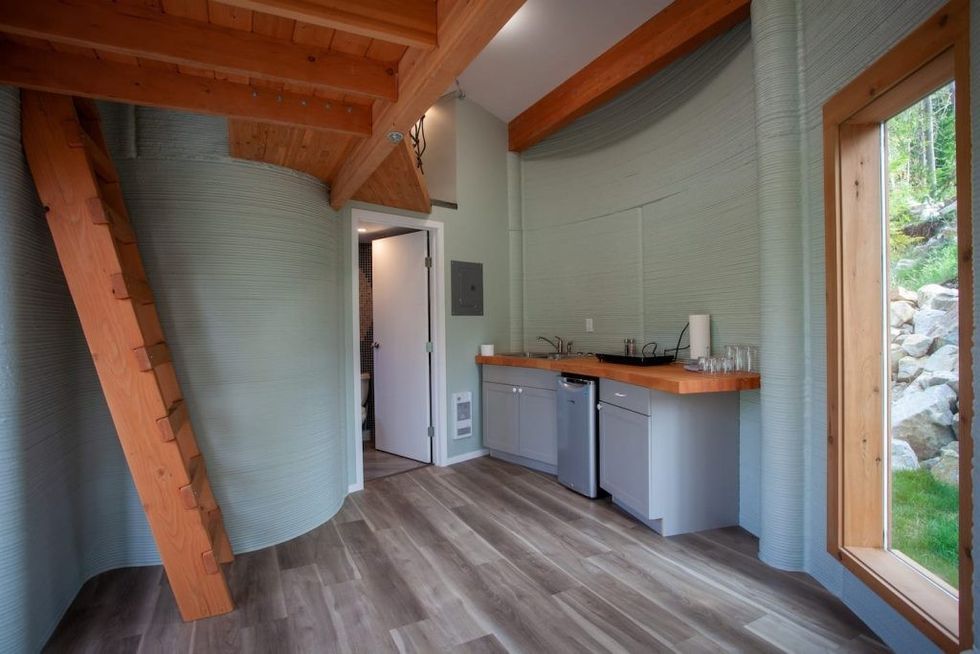 Interior of the Fibonacci House
Environmental conditions do have an effect on the quality of the printing, says Comishin.
"We have done multiple prints where the print stays in the one location, but we also have done pre-fab prints, so we'll print inside a lab or environment and then we can move those parts, taking into consideration the transportation capabilities."
TAM hopes to reduce carbon dioxide in home builds, too.
"Carbon dioxide is a real issue in home building, and concrete is pretty notorious for being a big contributor to CO2, so we are trying to design strategies that will reduce the carbon necessary and engineer the structural integrity of these buildings," says Comishin.
Looking Ahead
Since 3D printing is a new technology which isn't fully recognized by building codes in any jurisdiction, including British Columbia, there is a lot of red tape and restrictions, Comishin says, adding that he had hoped to have the support of the Canadian Housing and Mortgage Corporation (CHMC) in the first project. 
Comishin says the overall cost of the printing in any given home is somewhere between six and 14% of the overall value of a house. TAM's focus is solely on printing and automating that process, which is "about three to five years out," he says.
While the printers aren't cheap, Comishin says to consider how expensive it is to bring an excavator to a construction site. He also argues 3D printing technology will fare similar to what's been seen with the electric car. 
"People were floating around ideas about electric cars for years but it took one organization (Tesla) to really push it and invest heavily into the equipment," says Comishin. He says 3D printers have been used for the better part of 20 years but interest has increased over the past 12 to 24 months.
"What's cool about 3D printing is after you program the house once then when we're asked to do it again the printer can just keep printing the house over and over no matter where you drive the printer to," says Comishin. "One project could be focused in BC, the next in the Yukon, and so on," because the technology is transferable. 
The first 3D-printed affordable housing project in Canada, which is tentatively called "Sakura Place," will see a cluster of five three-bedroom homes which come together to form the petals of a cherry blossom. The plan was to start in the summer, but Comishin says their building permit has been delayed. 
Future Developments