---
A glassy tower proposed for Toronto's Sherbourne Street will now stand 10 storeys shorter than originally planned if a new development application is approved.
Real estate investment firm NJS Capital resubmitted their development plans for 383 and 387 Sherbourne, just north of Carlton Street in Cabbagetown, following a settlement mediated by the Ontario Land Tribunal (OLT). Original plans for the site -- proposed back in 2021 and taken to the OLT for a lack of decision from the City of Toronto -- called for 49 storeys, which has now been shaved down to 39.
The number of units planned for the building also got a haircut, dropping from 483 to 378.
The development site is currently occupied by two four-storey apartment buildings, both dating back to 1927. The building at 383 Sherbourne will be kept in its entirety and incorporated into the new building's podium -- something that was not part of the original 2021 plans. The building at 387 Sherbourne, however, has suffered fire damage, and only the west elevation and parts of the north and south elevation will be retained for the podium, the planning documents say.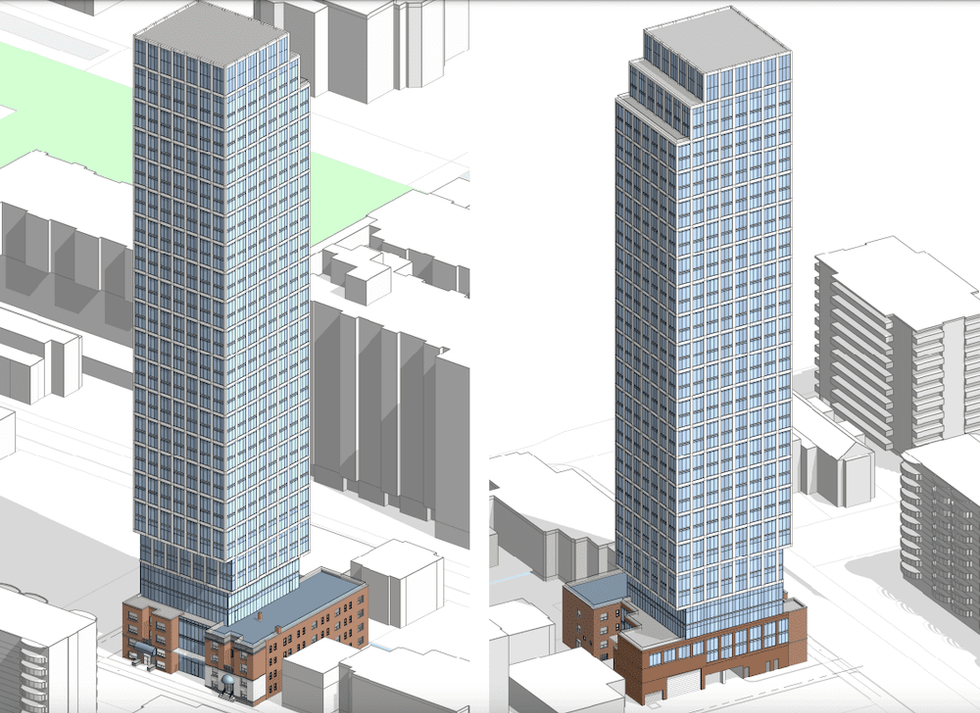 Of the planned units, 302 will be condos, while the remaining 76 will be rentals to replace the units lost during development. Blueprints included with the application show the smallest unit, a studio, measuring just 290 sq. ft, while the largest unit, a three-bedroom, comes in at 891 sq. ft.
Outside of the units, several amenities are planned for residents to enjoy, both indoors and out, including a children's play area, a pet area, and sprawling outdoor terraces.
With the City of Toronto having dropped its parking minimums in the time since the original application, the developers are now planning for just eight parking spots, down from the 92 originally planned. Sherbourne Street does notably have protected bike likes and direct TTC access, making cycling or public transit both viable options.
Even at its shorter 39 storeys, the planned tower will handily be one of the tallest in the surrounding area, which is characterized by low- to mid-rise builds with few surpassing 10 storeys, let alone 20 or 30.
The proposal is currently under review and will need to obtain approvals before it can move forward.
Toronto