Real Estate News
Next Look at 14-Storey Boutique Condo Development on Portland Street
While it will still be some time before ground breaks for the new boutique condo development on Portland Street, a new rendering of the project paints an even clearer picture of what future residents can expect.
Taking over the site at the northeast corner of Portland and Adelaide, which waNext Look at 14-Storey Boutique Condo Development on Portland Streets formally the home of the old Benjamin Paint store, is Minto Communities' new condominium development, 123 Portland. 
READ: 14-Storey Boutique Condo Development to Revamp Portland Street
Designed by Sweeny &Co Architects, the 14-storey building will be equipped with four levels of underground parking, a total of 116 residential units, and retail space at grade level.
Preliminary renderings of the project have already been revealed, which were followed by a new rendering of the project this month, giving a better look at the building's exterior design and the building's rooftop terrace.
While a previously released rendering offered a closer scope of the rooftop, the new look shows 123 Portland tucked amongst the neighbouring towers and how the building fits into the city's ever-changing skyline.
From the new rendering, you can see that the terrace will feature lots of greenery, places to sit, dining areas, barbeques, and a nice mix of sheltered and open spaces to sit and enjoy the incredible views of the city.
According to marketing materials from Minto, the project is said to feature a "mosaic of romantic influences" that blends "classical Parisian building traditions with Toronto's urban landscape."
The amenities, which Minto has described as "life-enhancing," will be a big selling point for buyers, as they include essentials like a gym, lounge, kitchen bar and dining room, and a rooftop offering 360-degree views of the city skyline.
As for the floor plans, there are currently five available, ranging in size from 483 (one-bedroom) to 972 ft² (three-bedroom) in area.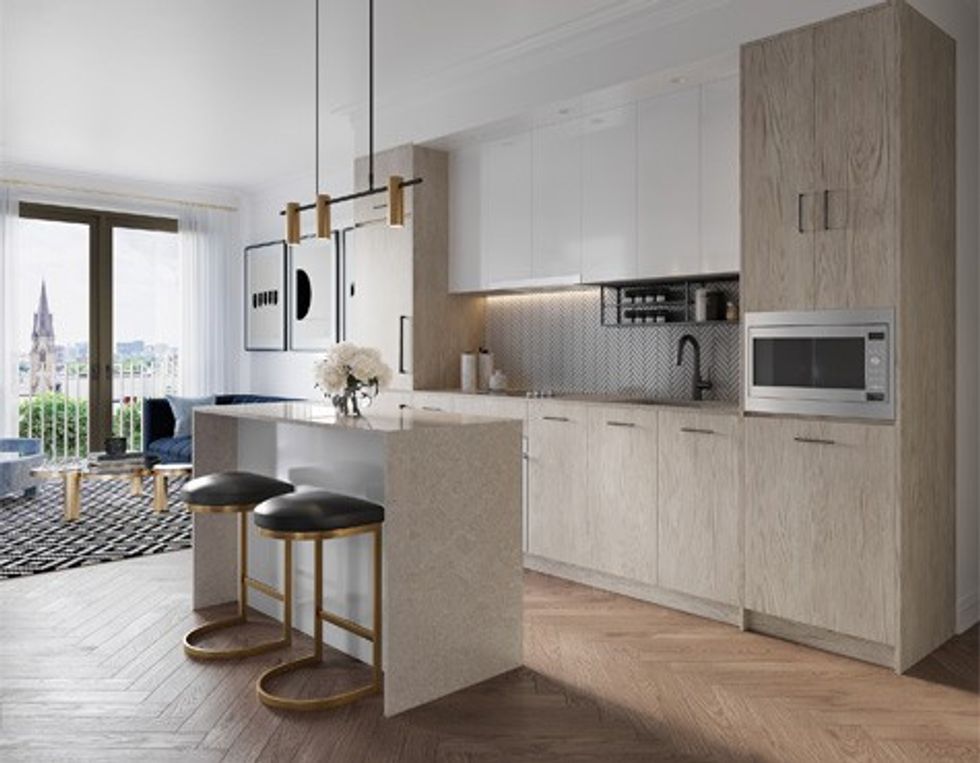 All units will come with features like stainless steel Miele appliances, quartz countertops, tile backsplashes, hardwood flooring, and french doors. You can stay up to date on this project here.