Plans are in the works to turn the land around Woodbine Racetrack into a master-planned community, and while few details have yet to be released, Toronto's northwest end is set to become a major entertainment destination.
---
In addition to horse racing, a new 8,000-seat soccer stadium and 38,000 sq.-ft training facility will be built on the 685-acre site, as will at least one hotel, a retail mall and other entertainment venues, including what will most likely be a casino.
The residential component will sprawl beyond the track and entertainment hub. Few details are known at this early juncture, including the roster of developers; it is unlikely a project of this magnitude will use a single residential developer.

However, STOREYS has learned that upwards of 60,000 new residents will call the master-planned community home, and that the soccer stadium will be built by Populous, which designed Fisht Olympic Stadium in Sochi, and that it will most likely host FIFA games.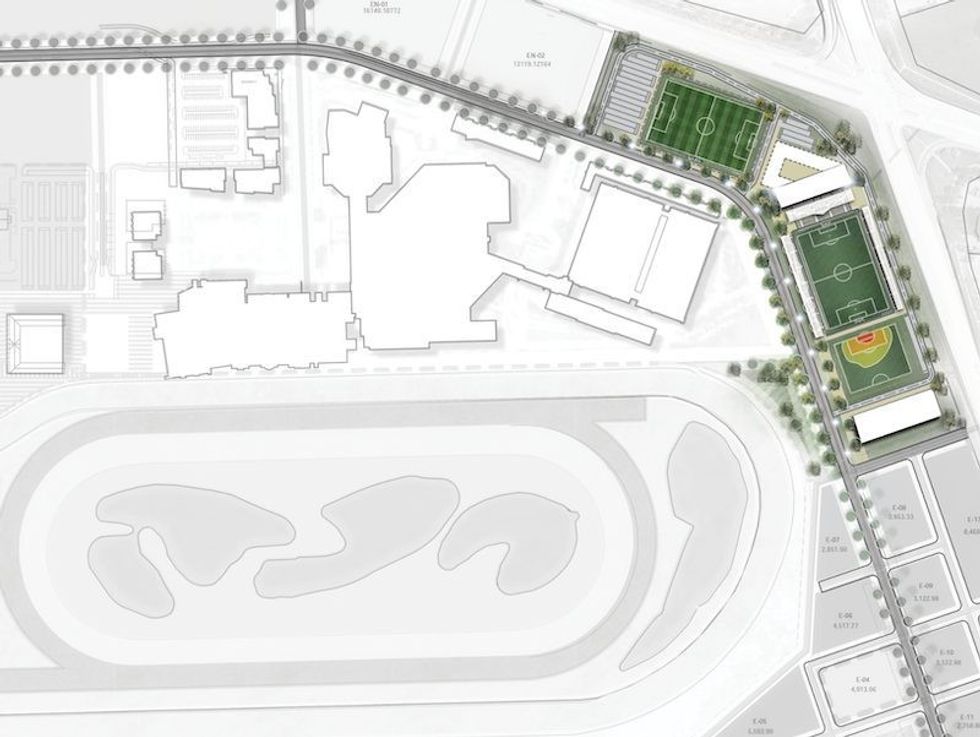 Artist's Rendering of the new soccer pitch and surrounding area. PHOTO: Woodbine Entertainment
Woodbine Entertainment
Additionally, a new GO Train station will be built, and while it won't have direct access to Pearson International Airport, it will make it easier to reach via public transit. The plan calls for the Woodbine train to transport passengers to another station where they will have direct shuttle service.
A "Welcome" Development
Isaac Quan, Managing Broker at Living Realty Downtown, previously sat on the Ontario Heritage Trust's board and is privy to a lot of the project's details and says that, as the city's population continues swelling, projects of this scale become crucial.
"The housing crisis we're experiencing now comes down to supply in the market, and any time we have a development like this proposing 25,000 to 30,000 residential units, it's welcome," Quan told STOREYS. "It's great for young families and first-time buyers who can't afford downtown Toronto or Midtown or, in many cases, Markham, which is nearby. This is an opportunity for buyers to live closer to the city."
READ: Iconic UFO Theatre to be Replaced by Masterplanned Community in Vaughan
The site is about 30 km north of downtown Toronto, near Highway 401, which is also going to be expanded with six new traffic lanes. But, as plans for a new GO Train station demonstrate, the scope of the project is such that an opportunity to expand transit couldn't be overlooked.
"It's a great location with a GO Train station there that can bring people downtown in around half an hour, but they're also going to improve the roads up there, so it adds capacity for new residents all at once," Quan said, adding that the Woodbine master-planned community, the residential component of which will comprise 200 acres, is the largest project of its kind in Toronto.
"The redevelopment will come through several phases," Quan continued. "North of the track, there will be a new entertainment venue, hotel, and retail mall. They're also revamping the horse racing stables and the track, as well, to provide more occupancy."
Master-Planned Communities Need an Anchor
Rob Spanier, founder of the Spanier Group, has worked on over a hundred master-planned communities and says the sheer scale of these developments should be thought of as having similar scope to infrastructure projects, and that buyers have become savvier in the digital age. Where a condominium purchaser was somewhat greener 20 years ago, today they're a comparably erudite bunch whom, if they intend to purchase in a master-planned community, are usually buying for lifestyle purposes.
"People are way more discerning today in terms of where they want to live, which is based on what the experience is versus simply wanting to live in a condo," he said. "That means they may choose to work in the same area or buy a unit in a community because it's closer to their family, or it's quite simply because they want to love where they live. The greatest outcome of these developments is to reinforce the needs of the community and what makes them special."
Among the myriad master-planned communities Spanier has worked on -- he's worked with Waterfront Toronto at East Bay Front, as well as the Downsview redevelopment, and he's currently working on Lakeview in Port Credit -- he advised on the Woodbine master plan until around 2018. Although he's not privy to the latest amendments, Spanier can nevertheless speak to what will make Woodbine a special community.

"I think what's interesting is every large-scale development should have a defining characteristic or anchor, and in the case of Woodbine, certainly the race track is because horse racing is an important part of the Canadian landscape, and that's why Woodbine will maintain and preserve that industry in Ontario," he said. "That is the central feature of that development and it brings an interesting lens to living in that community. There are plans for gaming there and a casino, and it presents an interesting opportunity to create an environment that's of interest to people."
The transit connectivity that this project will help establish is also paramount, Spanier says, because it will abet easier access to Pearson International Airport and, because it will be a destination unto itself, he reckons it might not be such a bad place to stay on layover.

"The GO station will be at the southeast corner of the site with connections to the airport," he said. "Not everybody has the privilege of living in Toronto or central Toronto and this development has a great opportunity to become a layover capital. People can stay there for a night and then head on to their destination. I always felt the connection to Pearson was an important one and an incredible opportunity."
Toronto