Toronto
Future Developments
How Decades of Transit Planning Will Finally Redefine Downsview
In an urban centre like Toronto, mobility isn't something to be taken for granted. Some residents have cars, while others ride bikes, or can walk where they need to go. But, for many, having public transit conveniently located near home is key.
Living in a neighbourhood with access to transit systems shapes how people live and work. Determining access to services, cultural amenities, and green spaces, access to movement has a profound impact on city dwellers' quality of life.
One Toronto neighbourhood that significantly benefits from ample transit options is Downsview, where residents and visitors can choose from a myriad of mobility options, including having Line 1 Yonge-University, GO Train access, and the Finch West LRT — due for completion in 2023 — all within reach.
Also coming soon to the area is WestLine Condos, where investors, first-time buyers, and downsizers alike have an opportunity to tap into a historic location, right at the doorstep of Toronto's largest masterplan.
READ: Take Hold of a Historic Opportunity at this New Downsview Park Build
Those keen on getting a first look at the development can check out the first-of-its-kind pop-up sales office for the project, located at the old BOSE retail shop in Yorkdale Mall. Conveniently, the pop-up is just two subway stops from the WestLine Condos site.
Running for the month of October from 10 am to 8 pm, Monday through Saturday, and 11 am to 7 pm on Sundays, the pop-up can be found just off the foot of the escalators leading to the food court, between MAC and Kiehl's.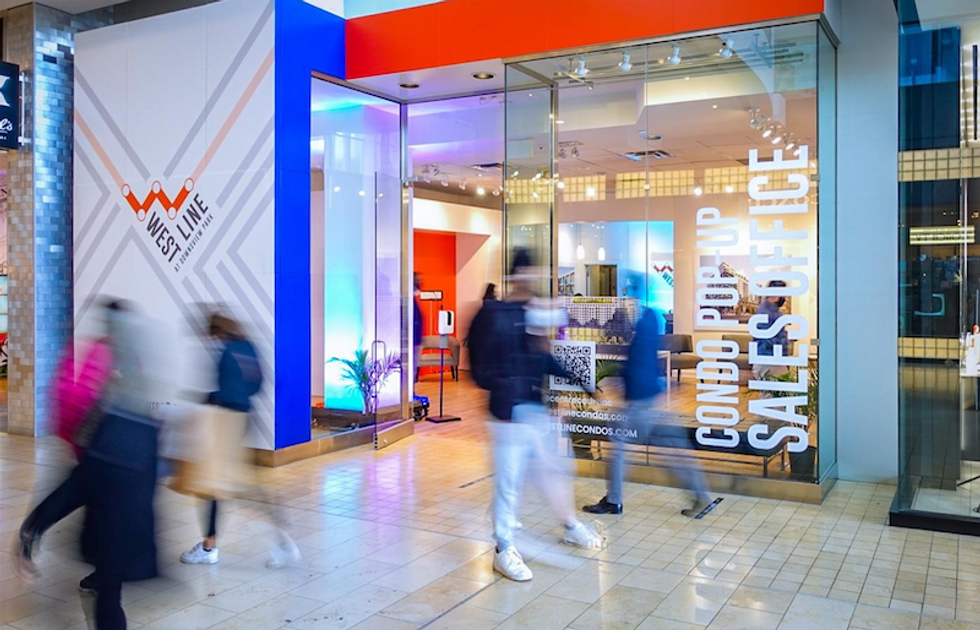 With its convenient location, nestled between Sheppard Avenue West and Allen Road, WestLine is found at Downsview's heart, with major educational institutions, employment, public transit, and highway access all within close proximity.
More than just a neighbourhood, Downsview is an entire up-and-coming region of the GTA. Following decades of its potential remaining essentially untapped, transit infrastructure in the area has surged in recent years, offering direct connections to Toronto's core. The Sheppard West Subway Station is only 450 metres from WestLine's site, while the Downsview Park GO Station is also nearby. The soon-to-come Finch West LRT will only expand the area's reach further.
These transit options help connect residents to York University, three subway stops away, Humber College (via the future Finch West LRT), Centennial College at Downsview Park, and Seneca College, YorkU campus.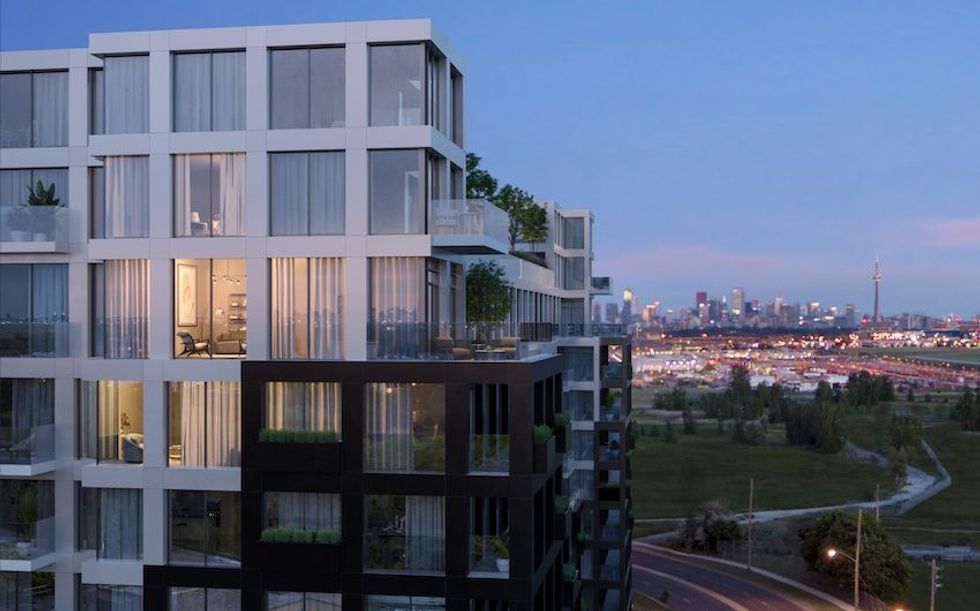 Landing in the centre of all the action, WestLine Condos will stand adjacent to a 1,000-acre masterplan made up of seven thriving communities. The masterplan is one of Canada's largest redevelopment projects, and is the biggest in all of Toronto; it's completely reimagining Downsview as its own future urban centre.
Those aforementioned higher ed institutions, alongside world-class retail, thriving employment, and Downsview Park, work together to curate the aspirational lifestyle that's putting Downsview on buyers' and renters' maps.
Through the area's boom, new employment opportunities nearby are on the rise, particularly along the expanding transit lines. And, with these lines offering ultimate access to the downtown core, jobs in the city's centre will also be easy to reach.
Westline's rising up is also working in tandem with the City of Toronto's Jane Finch Initiative. The project, which will redefine the Finch Avenue West corridor over the next few years, will leverage the benefits of the new, highly-anticipated, 11-kilometre transit line. With 18 stops running from the TTC's new Finch West Station through to Humber College, the LRT will provide convenient and reliable access to the city's higher-order transit network.
From students to seniors, and everyone in between, the Finch West LRT will fuel the community's transformation with essential links to TTC Line 1 and both York and Peel Region local transit, opening up possibilities for all its ridership to live, work, study, and play across the greater area.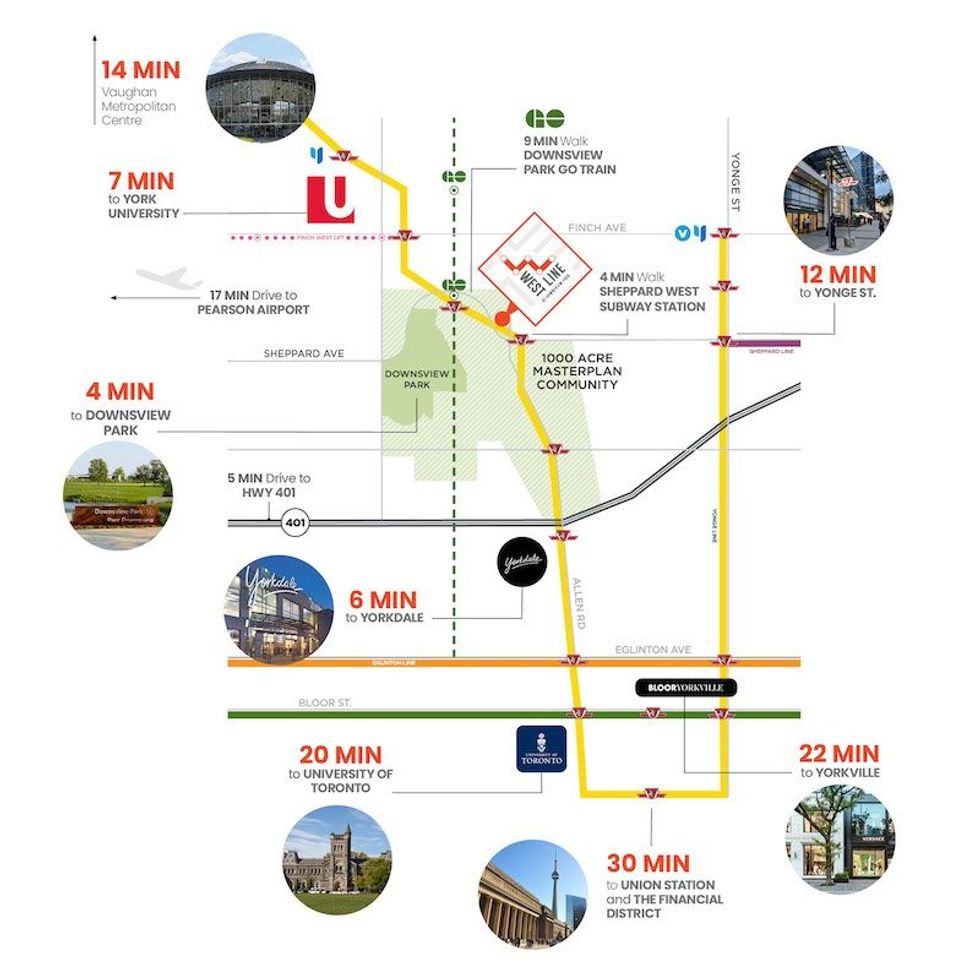 The LRT and already-enhanced TTC line — not to mention upcoming developments — will have ripple effects on the community that will reimagine the future of Downsview. WestLine will be an integral part of this evolution, offering residents so much more than simply a place to rest their heads and call home.
Where building amenities are concerned future WestLine residents can look forward to light-filled design, massive green terraces, fire pits and barbecues, and dining, fitness and co-working spaces — all adding up to 12,000 square feet of advantages, inside and out. But, as outlined above, perhaps Westline's greatest amenity is its proximity to so many forms of transit — putting not only Toronto, but all of Southern Ontario, within easy reach.
If you're keen on being part of the evolution, don't sleep on becoming a part of everything this project and community will soon have to offer.
Visit westlinecondos.com for more info.
---
This article was produced in partnership with STOREYS Custom Studio.