When the going gets tough, the tough get... creative? That appears to be true for one small group of Torontonians who turned their back alleyway into a cozy green haven in light of COVID-19.
---
The parking spaces for a midtown building with four units became all but obsolete when stay-home orders hit the city due to the pandemic.
With parks closed and nowhere to take their daughters -- two- and eight-years-old -- to play outside, Jesse Goldfarb and his wife began to hang out, daily, with the girls in their back alley. Several scraped knees and not much relaxing later, it was decided the situation simply wouldn't do.
"It's literally just an alleyway. It's gravel, concrete, little stones -- it's not fun," Goldfarb says. "A couple neighbours and I were talking about the thought of: we should get some carpet, no, we should get some astroturf."
Goldfarb, who runs a plant-focused Instagram account with more than 40,000 followers, started to put out feelers for what companies might be able to provide the turf he and his neighbours were looking to acquire. One of them -- Toronto-based Echoing Green -- jumped on the chance to partake in the project.
Some back and forth with a short-haul logistics company later, a 400-lb, 13-ft tube of astroturf was dropped off at Goldfarb's residence in midtown. The greenery's arrival was not without complication, however, as it arrived three hours early, when the team of neighbours that was supposed to help get it into the alley was not yet present.
Read: Everything You Need to Know About Toronto Entering Stage 3
Together with one neighbour and his eight-year-old daughter, Goldfarb hauled the massive turf from the front sidewalk through to the back by rolling it on pieces of PVC and steel piping. After lots of pushing and running pipes from the back of the turf to the front, the three unrolled the would-be-grass.
"Ever since then, it's been our little oasis," Goldfarb says.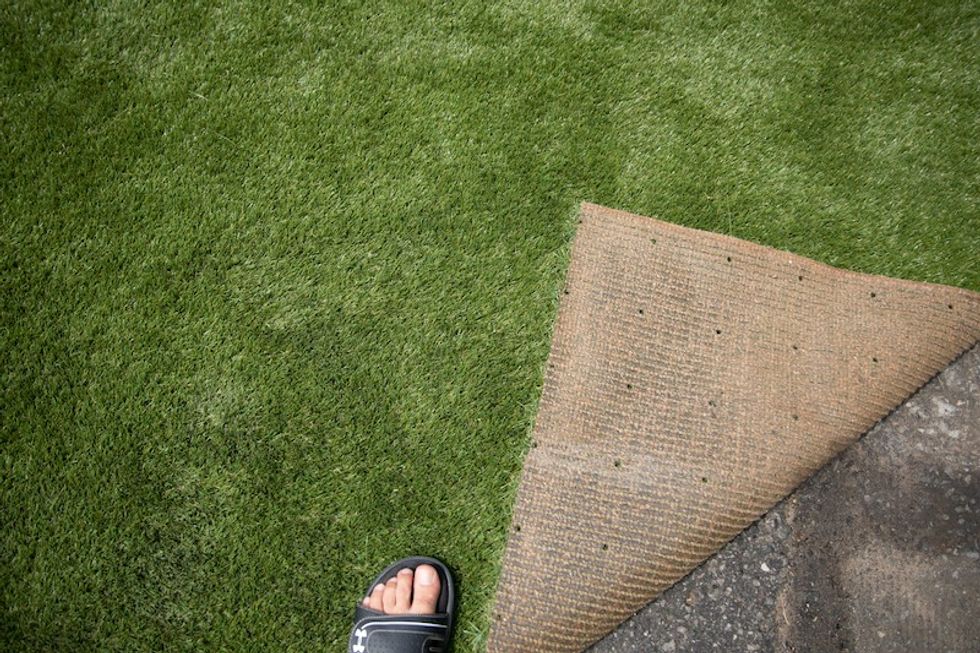 Dan Eliasoph
Initially, the group of residents involved in the project was chummy, but the experience of transforming their shared outdoor space has reportedly brought them closer together.
"Now, if someone's away, they have fear of missing out because they know we're all on the grass having fun," Goldfarb says. "It has become a pretty tight-knit community."
And, he emphasizes, everyone has contributed to making the space what it is now. From badminton rackets and birdies pulled from the garage to items found curbside or through surfing Kijiji, the area quickly evolved from "concrete with turf on top" to a private backyard escape.
"It's weird that a piece of plastic formed into grass could make something so wonderful," Goldfarb says. "We go to the back and we take off our shoes, and we do cartwheels and we do somersaults, and we roll around in the grass. It's like we have our own private backyard now. There's no dog poop! It's better than the park."
Better than the park, he says, and it's not even finished yet.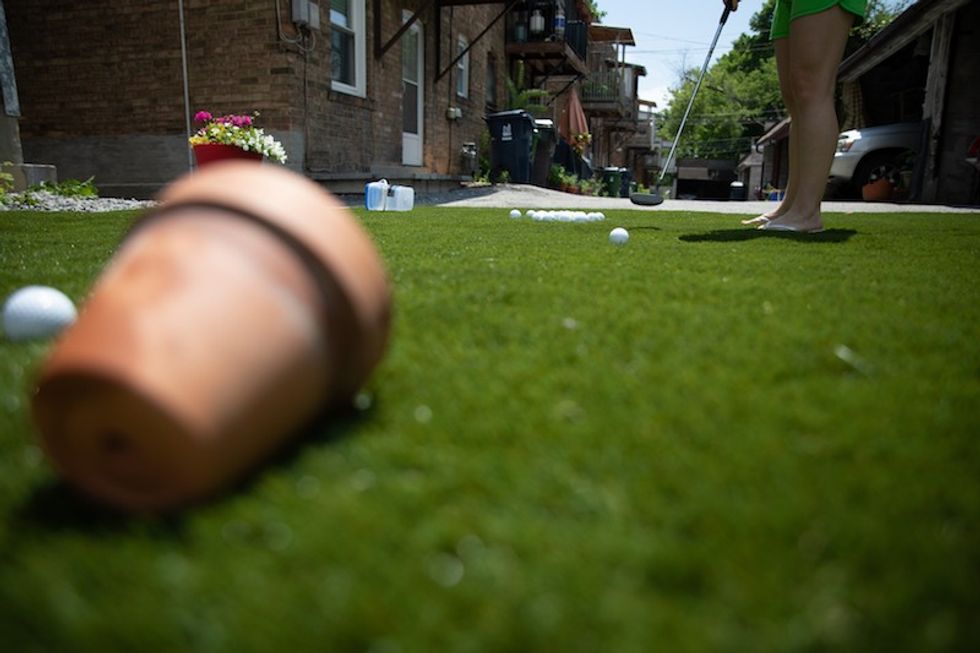 Dan Eliasoph
"I've got a misting system that's coming," Goldfarb says.
Snagged from Misty Mate, the system, he says, is similar to what you might see on a Jack Astor's patio. That will operate overhead, while another addition that's soon to come are shade coverings from a BC-based, family-run company.
These add-ons will help ease the turf's one caveat: the stuff can get hotter than asphalt around midday. It cools down as the sun passes by, though, and during those chillier hours, the little community hopes to cozy up next to a fire pit sometime soon -- an item that has reportedly been difficult to find.
"It's a hot commodity right now," Goldfarb says. "Every day I check Kijiji for one."
In addition to struggling to find a fire pit, and the initial haul of getting the massive turf into the back alleyway, Goldfarb says the group has run into one other roadblock while navigating the transition of their outdoor space: everybody wants to hang out.
"We actually have a bubble with these people," Goldfarb explains.
This means that, if those who share the backyard space were to bring non-live-in chums into it, the bubble's integrity would be compromised.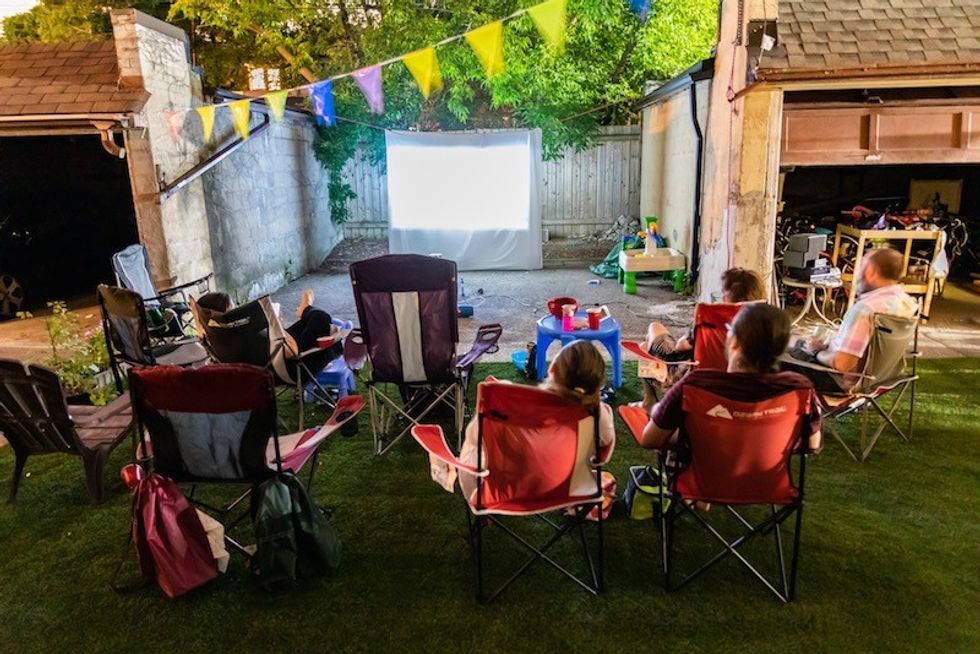 Dan Eliasoph
Instead of flocking to this shared backyard space like all of Toronto probably wants to (... including us), perhaps this group's story can inspire Torontonians to look at the space they already have and, whether it's a detached home, a cozy condo, or something in between, to consider how it can be optimized.
It's reportedly not just this city that loves a tale about making the most out of what you've got. According to Goldfarb, in the last couple of days, word of the back alley project has been shared in Iran through a Persian news outlet, and he says it's been reported on in Italy as well.
"It's going global. This backyard, four-unit community is now opened up to the world," he says. "It's pretty cool."
Community