---
Between a changing climate and a growing population, the future of homebuilding in Toronto will need to adapt, leading to drastically different structures than those that currently line the city's streets.
A recent study from Comparethemarket, a UK-based price comparison website, imagines what homes around the world may look like, and be constructed of, in the future. Created in collaboration with Chris Lawson, Managing Director of CK Architectural, a focus was placed on adaptability and durability.
The information, including building trends and materials, was fed into AI tool MidJourney, and the program generated images of futuristic homes in 10 cities around the world.
"There is a lot to consider when thinking of homes in the future, including increased occupancy requirements, reduction of green spaces, and global desperation for sustainability," the study notes.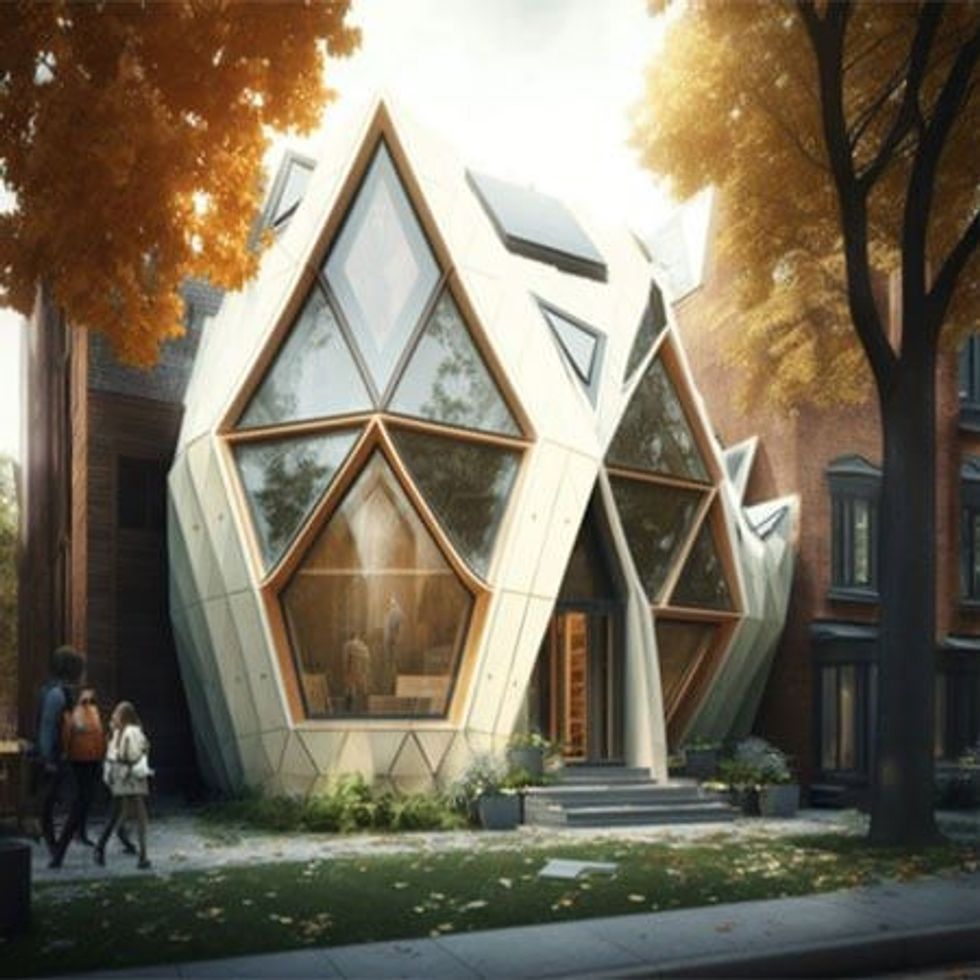 Future home in Toronto via Comparethemarket
Toronto's home of the future is an otherworldly structure reminiscent of The ROM's Michael Lee-Chin Crystal -- vast triangular windows jut out from a white panelled exterior, the edges of which curl up alongside a neighbouring more traditional brick abode.
The AI-generated home was constructed with carbon blocks, which the study states have "good thermal values made from scrubbing carbon out of the air." While the home itself is fictitious, the building materials are more than a far-off dream.
Montreal's CarbiCrete has developed a technology they say produces cement-free, carbon-negative concrete. The company uses steel slag, a by-product of steel production, to replace cement as a binding agent in precast concrete, with the resulting products permanently sequestering carbon. Masterbloc, a Belgium-based materials supplier, has created a similar product using the same industrial by-product.
Comparethemarket's other homes of the future include a sharp solar panel-clad abode in Dubai, a flood-resistant floating home that would blend in perfectly with Amsterdam's architecture, and a seaside home in Cardiff with a personal wind turbine.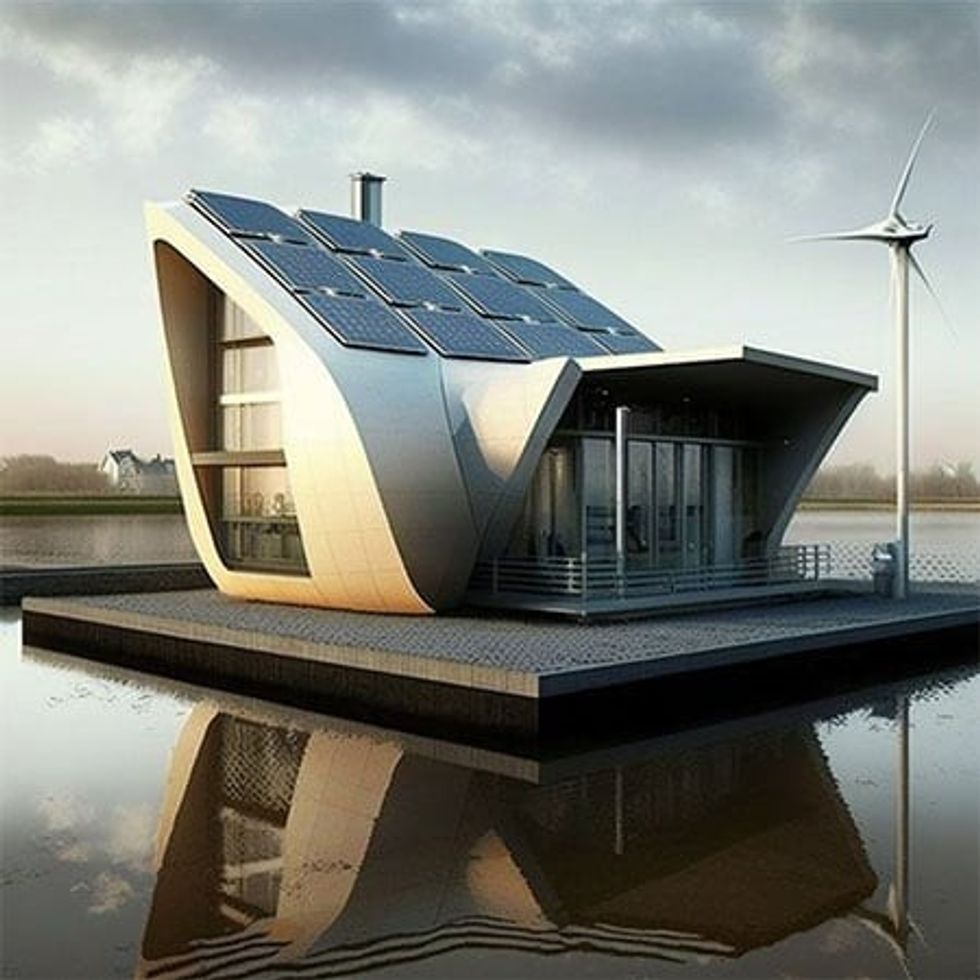 Future home in Cardiff via Comparethemarket
In addition to building new, more sustainable homes, the study also addresses the need to adapt existing structures, like heritage homes. In such circumstances, retrofitting is a "good step forward."
In Toronto, buildings are the largest source of greenhouse gas emissions, accounting for 58% of the city's total emissions. The pollution stems from the burning of fossil fuels for heating, cooling, and hot water.
In its quest to reach net zero emissions by 2040, the City offers a number of grants and incentives to help homeowners reduce emissions and improve their energy efficiency, including energy retrofit loans, grants for green roofs, and a subsidy to protect against basement flooding.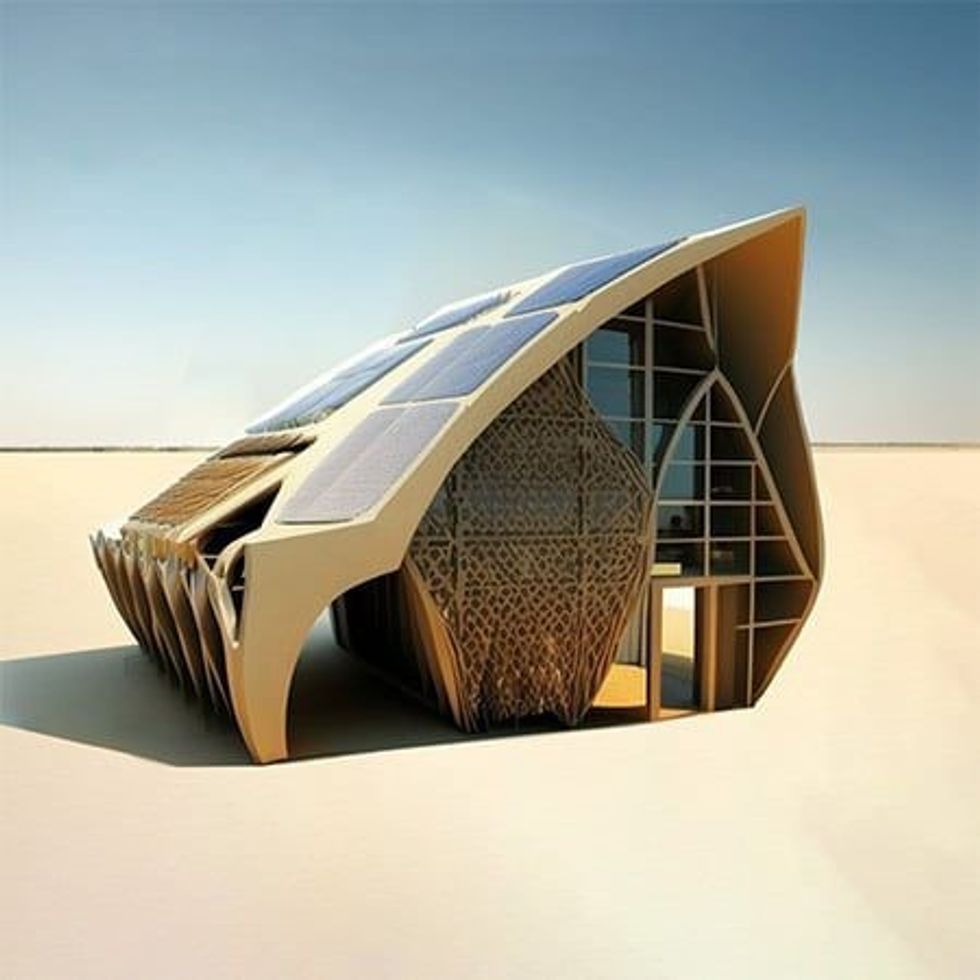 Future home in Dubai via Comparethemarket
Comparethemarket's study suggests similar eco-friendly upgrades homeowners can make, such as getting a heat pump and ensuring their home is properly insulated.
While the AI-imagined homes displayed in the study may seem far off, Comparethemarket notes the importance of making changes now: "There is no time like the present to begin making our homes more sustainable and future proof."
Toronto