Average rent for both Toronto 1-bedroom and 2-bedroom apartments dropped in April, according to the latest national monthly rental report from Rentals.ca.
While 1-bedrooms saw month-over-month (-4%) and year-over-year (-5.8%) declines, Toronto still remained the most expensive city in the country, with average rent for a 1-bed coming in at $2,125 last month. Two-bedrooms, meanwhile, also saw month-over-month (-7.7%) and year-over-year (-3.3%) declines, averaging $2,669 in April.
---
READ: Apartment Rents in Canada Could Drop Following Pandemic: Report
In fact, the top five most expensive places to rent a 1-bed in Canada were all in the GTA last month, with average rent in Richmond Hill ($1,980), North York ($1,960), Vaughan ($1,942), and Mississauga ($1,927) following Toronto's 'first place' finish.
The average rent for all Canadian properties listed for rent in April on Rentals.ca was $1,842 per month, unchanged month over month, and virtually unchanged from a year earlier at $1,844 per month. The median rental rate was $1,800 per month in April, a 5.9% increase from a year earlier and up $50 from last month (+2.9%).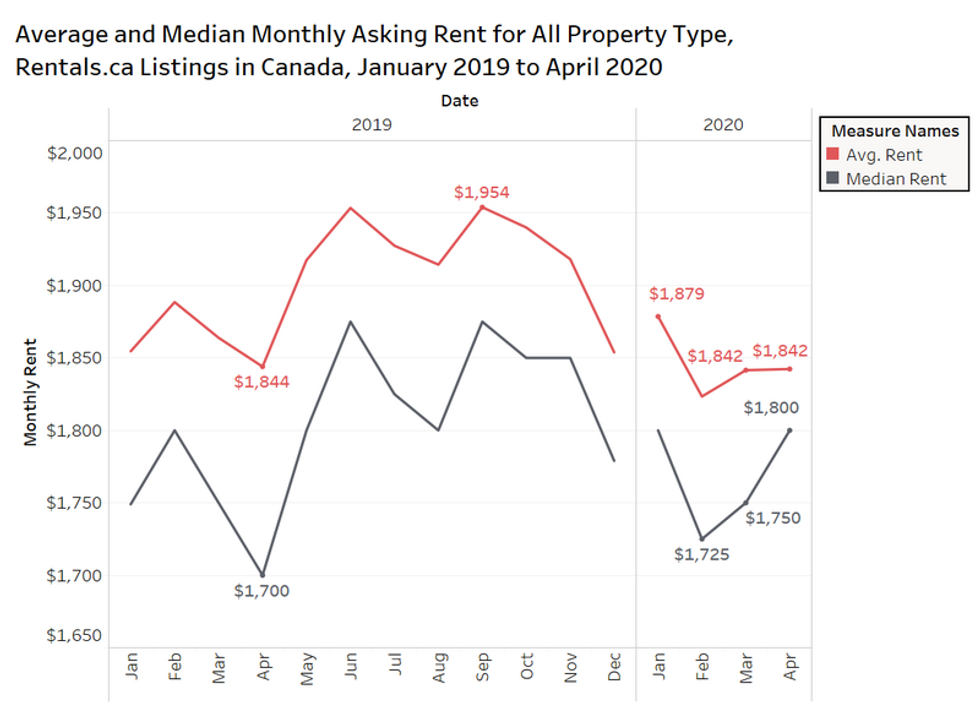 Ontario
Provincially, Ontario maintained its position as the most expensive province to rent in, with average rent for all property types totalling $2,141 per month (median: $2,080). This, despite an overall drop of 4.6% month-over-month in Ontario: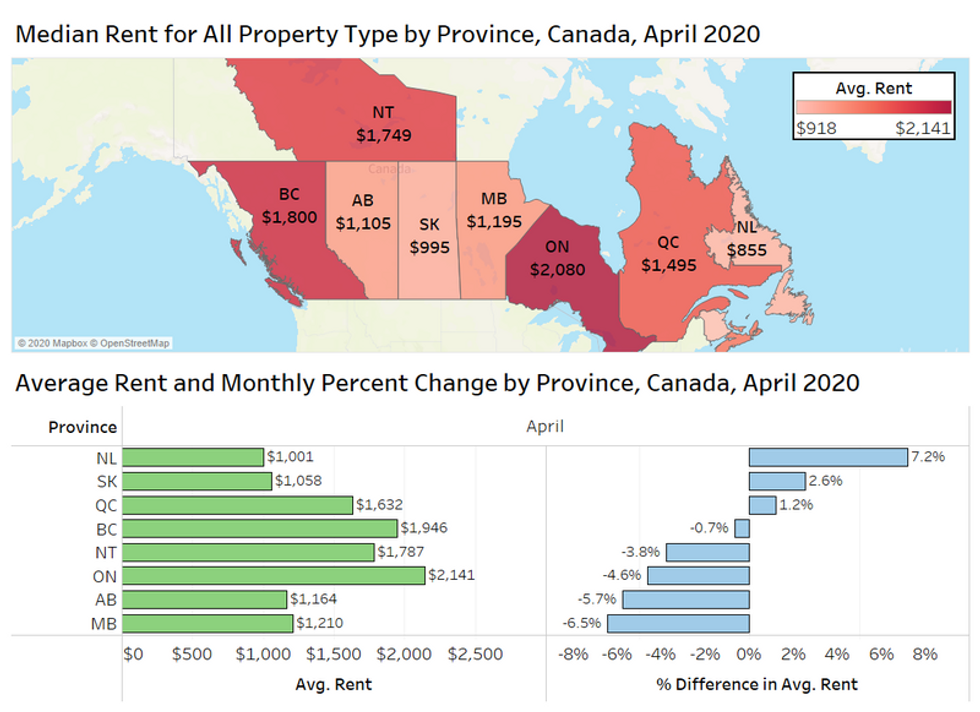 rentals.ca
Toronto
At the beginning of the COVID-19 lockdown, there wasn't a noticeable decline in rental rates for condominium and rental apartments, with monthly declines in the prime unit sizes of 500-sq ft to 800-sq ft of 0.2% to 1.2%. The chart below looks at the change in the average rent by rounded unit size for condominium and rental apartment listings on Rentals.ca in the former City of Toronto.
However, that changed dramatically in April as landlords responded to this lower-demand market by adjusting their asking rents. Every unit size range declined month over month from 300-sq ft to 1,400-sq ft, from a low of 3.7% to a high of 20.2% for suites rounded to 1,300-sq ft (keeping in mind the much smaller sample size of large units).
It is clear from the chart that demand has fallen more heavily for the larger and more expensive units than the smaller more affordable units.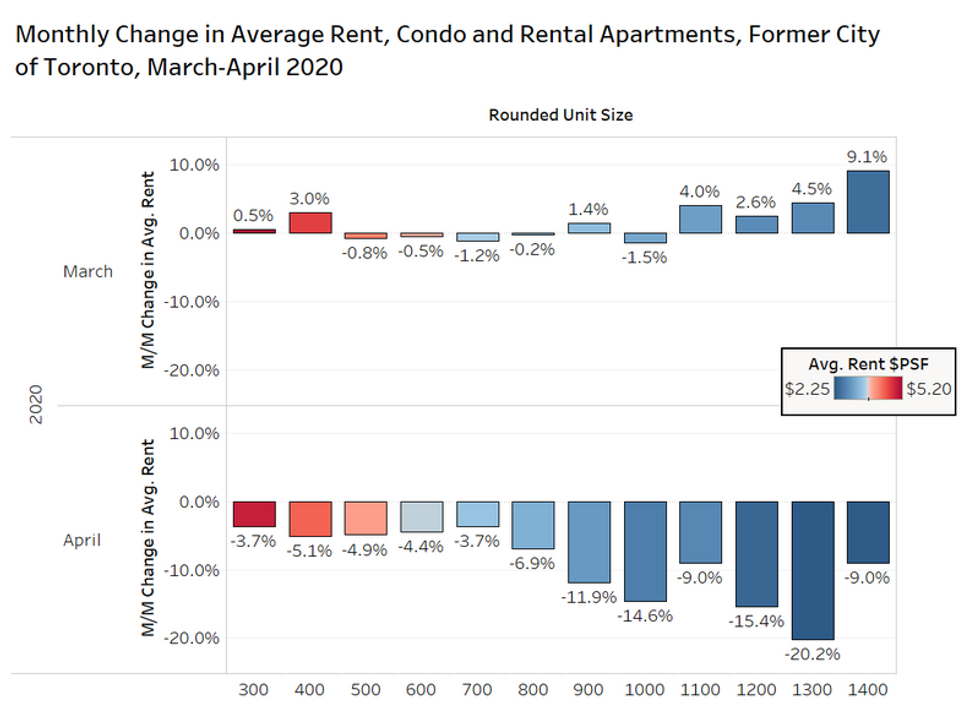 "With the gradual opening of the economy, this may be the low point for rental rates in some time if tenants feel comfortable enough to move," Matt Danison, CEO of Rentals.ca said in the report. A lack of immigration, a decline in international students, a decline in short-term contract employment, and continued affordability concerns because of job losses are the given reasons for the drop in average rent.
Below are the average rent prices in 33 of Canada's major urban centres for the month of April.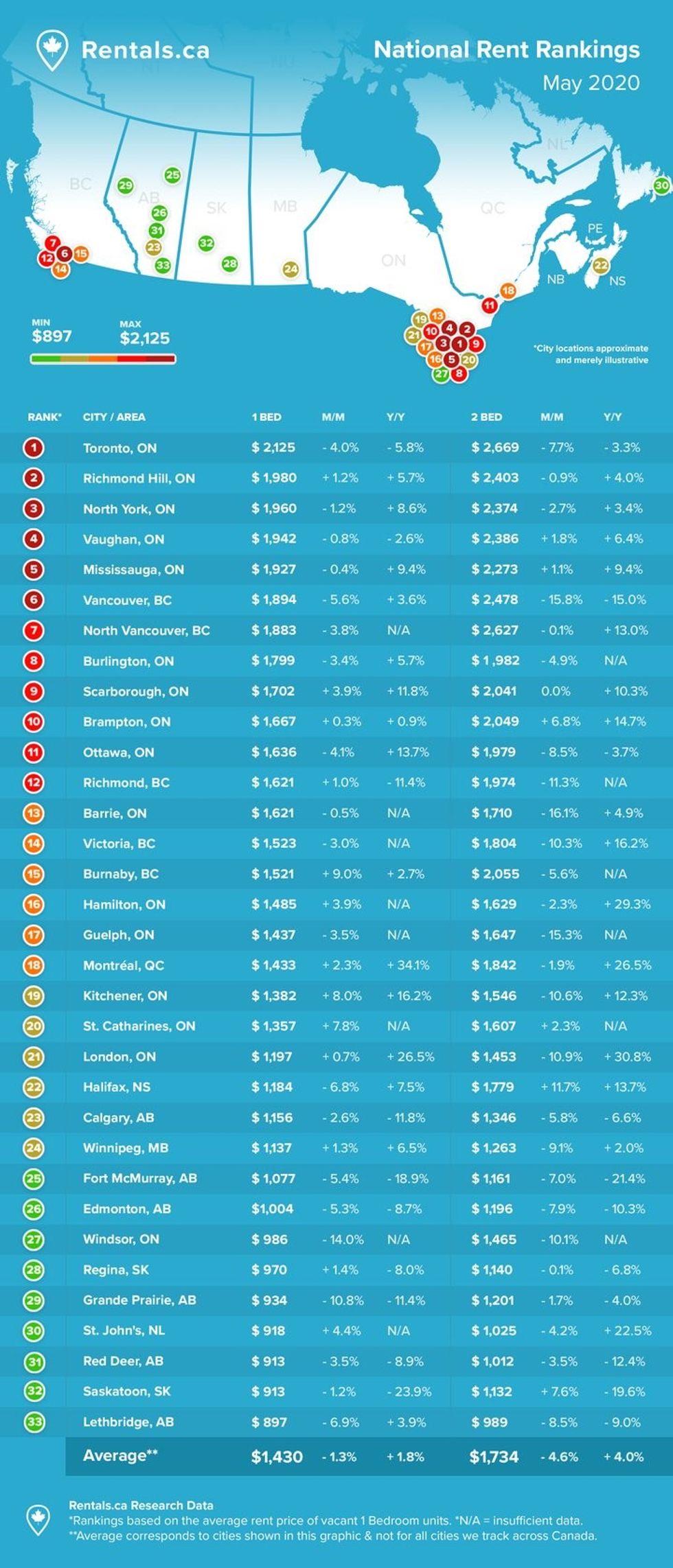 rentals.ca
Renting