Don't forget about dad this Father's Day.
There are plenty of special events going on in Toronto this weekend that are perfect for celebrating dad. From seven different food festivals to a daddy-and-me spa day to an exotic car show in the posh Yorkville neighbourhood, these fun and affordable events will show dad just how much you care.
---
Read on for all the special Father's Day events in Toronto this weekend.
1. Licence-Free Fishing
Where: Various When: Saturday  from 12 a.m. to Sunday at 11:59 p.m.Cost: Free!
No need to worry about pre-registering for a fishing licence, the Ontario Government is easing up on fishing rules four times this year — one of them being this weekend. Just in time for Father's Day, those without a fishing licence will be allowed to fish licence-free under the conservation fishing licence limits .
2. Food Festivals Galore!
Where: Various When: All weekend longCost: Up to $23
From Taste of Little Italy to Taco Fest to the Wine & Spirit Festival and so much more. This weekend there are seven food festivals going on this weekend in Toronto . Come hungry, leave happy, but most importantly, spend time with dad.
Where: Bloor St. between Avenue Rd. and Bay St.When: Sunday from 12 a.m. to 5 p.m.Cost: Free!
Admire over 110 classic and exotic cars in Toronto's chic Yorkville neighbourhood. While the event is free to attend, donations are accepted with proceeds going to Prostate Cancer Canada.
Where: Toronto IslandWhen: See race schedule here Cost: Up to $8.19 for the ferry
You don't have to be in the race to enjoy it. The 31st annual International Dragon Boat Race Festival will feature 150 teams and 5,000 athletes. This year's event will also include live entertainment, cultural exhibits, food vendors and so much more.
Where: Black Creek Pioneer VillageWhen: Saturday at 4 p.m. and Sunday at 1 p.m.Cost: $15 plus extra for the brewery tour
Does Dad love history? If so, take him to Black Creek Pioneer Village to meet war re-enactors, explore the camps and take in interactive presentations about life during the Revolutionary War. Once the tour is over, stick around for a brewery sample and tour.
Where: Glama GirlsWhen: Sunday from 10:30 a.m. to 12 p.m.Cost: $99 for two
Dad deserves some pampering too. Give your dad a makeover and get matching father and child tattoos at this family-friendly spa party. It's a day you'll never forget.
Where: Harbourfront CentreWhen: From Friday, Jun. 7 to Sunday, Jun. 23 from 11 a.m. to 11 p.m.Cost: $10
Trick the senses at this reality-bending exhibit. This house-sized kaleidoscope will have you and your pops questioning your surroundings. Then, when all is said and done, the two of you can enjoy a relaxing day by the city's waterfront.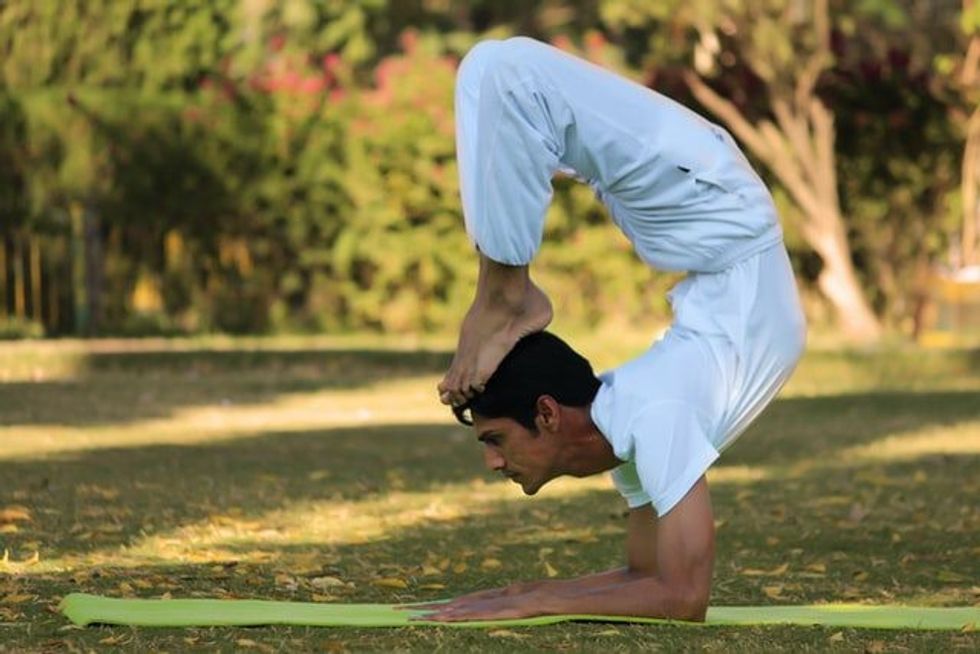 Photo by Indian Yogi (Yogi Madhav) on Unsplash.
Where: Ontario Place Trillium ParkWhen: Saturday from 10 a.m. to 11 a.m. and Sunday from 11 a.m. to 12 p.mCost: Free!
Get Dad moving! Yogis of all levels are encouraged to participate in this free event. All you need is a mat and an open mind.
Where: The ROMWhen: Sunday from 11 a.m. to 4 p.mCost: Cost of admission
Learn about dads in the wild at the ROM's special Father's Day exhibit. Visitors will learn about how animals and insects in nature parent their breed. Another exhibit includes Storytime with Fay & Fluffy, which features readings from culturally diverse books and is inclusive for all family types, especially LGBTQ2s parents and gender variant children.
Where: Sky Zone TorontoWhen: Sunday from 10 a.m. to 8 p.mCost: $25
Dads jump free on Father's Day at Sky Zone, and everyone with him gets a deal. Purchase an all-day pass for $25 and get a free slice of pizza and pop at the venue.
Toronto