---
Once it's complete, the award-winning CIBC SQUARE will be yet another landmark addition to Toronto's downtown core. The first of the development's two towers, located at 81 Bay Street, opened its doors in 2021, touting top-of-the-line workspaces, in addition to areas designed for socializing, collaborating, and reaping the benefits of the hybrid work experience. One of those areas is The Canopy: a high-end lounge accessible exclusively to tenants of CIBC SQUARE.
Joy Charbonneau -- a senior associate with global architectural firm Gensler and the design director for The Canopy project -- tells STOREYS the space was curated to not only support the "hybrid reality" but elevate it. She also shares details on its distinctly Canadian design aesthetic and how CIBC SQUARE tenants are enjoying the luxe new lounge.
What motivated the creation of The Canopy?
More and more, we are circling a hybrid reality where the office is no longer just a container for people who can do focused work anywhere. Instead, office buildings must support new ways of working and fostering memorable experiences for the tenants who use them.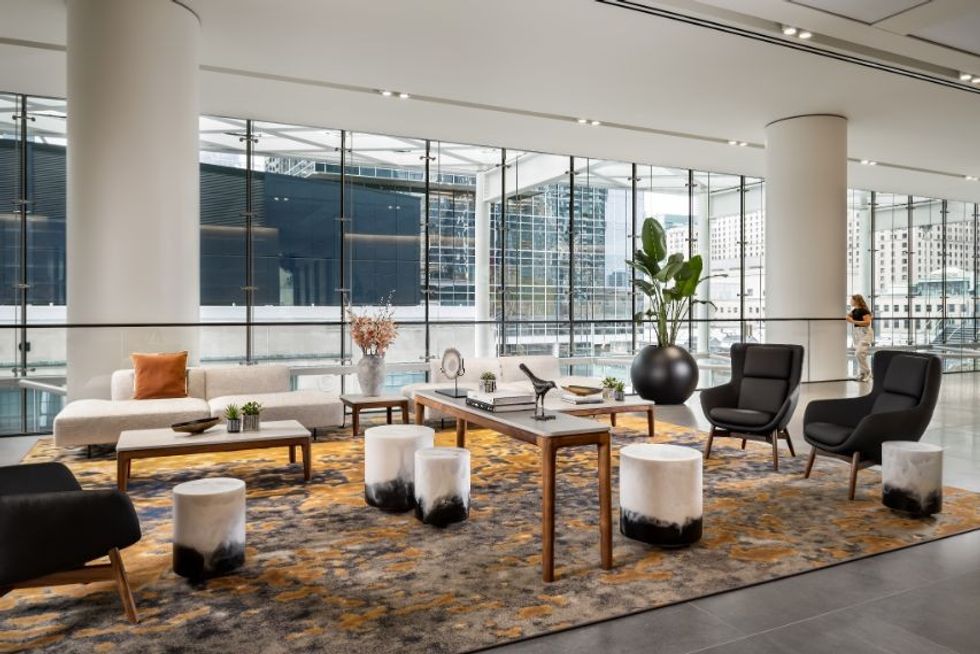 Gillian Jackson
Ivanhoe Cambridge and Hines wanted to create a space that feels like a destination, not an obligation -- a place where people want to be versus where they are required to be.
When coming to the office is a choice, our charge as designers is to make it the best choice. Our client had already made the choice to flip the idea of amenities, making them support mechanisms for the building and drivers of community, collaboration, and culture. The creation of an exclusive tenant lounge was part of that strategy.
Gillian Jackson
Tell us about the thought process behind the design of the space.
The design team at Gensler was inspired by the geometric forms of the building's exterior, as well as the monumental art installations by Steve Driscoll. Gensler approached the project as a chance to create a hospitality-inflected feel that celebrated Canadian design in an elevated, sophisticated way.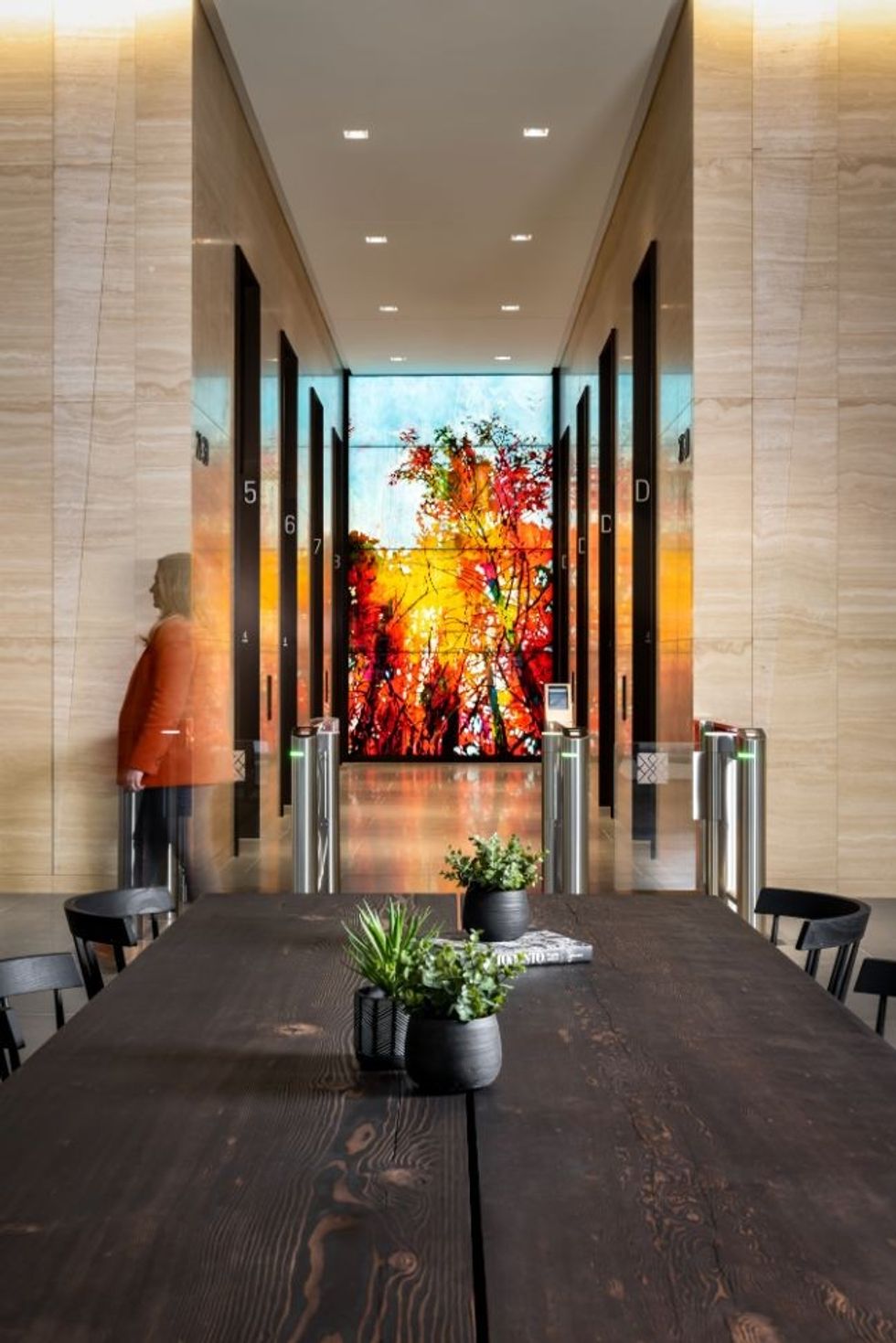 Gillian Jackson
The building's iconic characteristics became starting points for creating a cohesive space. The bronze of the elevator lobby is subtly expressed within the carpet, and the angle of the harvest table's legs mimics the rhythm of the travertine walls.
The space is also a sophisticated expression of contemporary Canadian design. The Gensler design team sourced all of the furniture and rugs from Canadian design luminaries, including Peter Coolican, Martha Sturdy, Brent Comber, and Niels Bendtsen.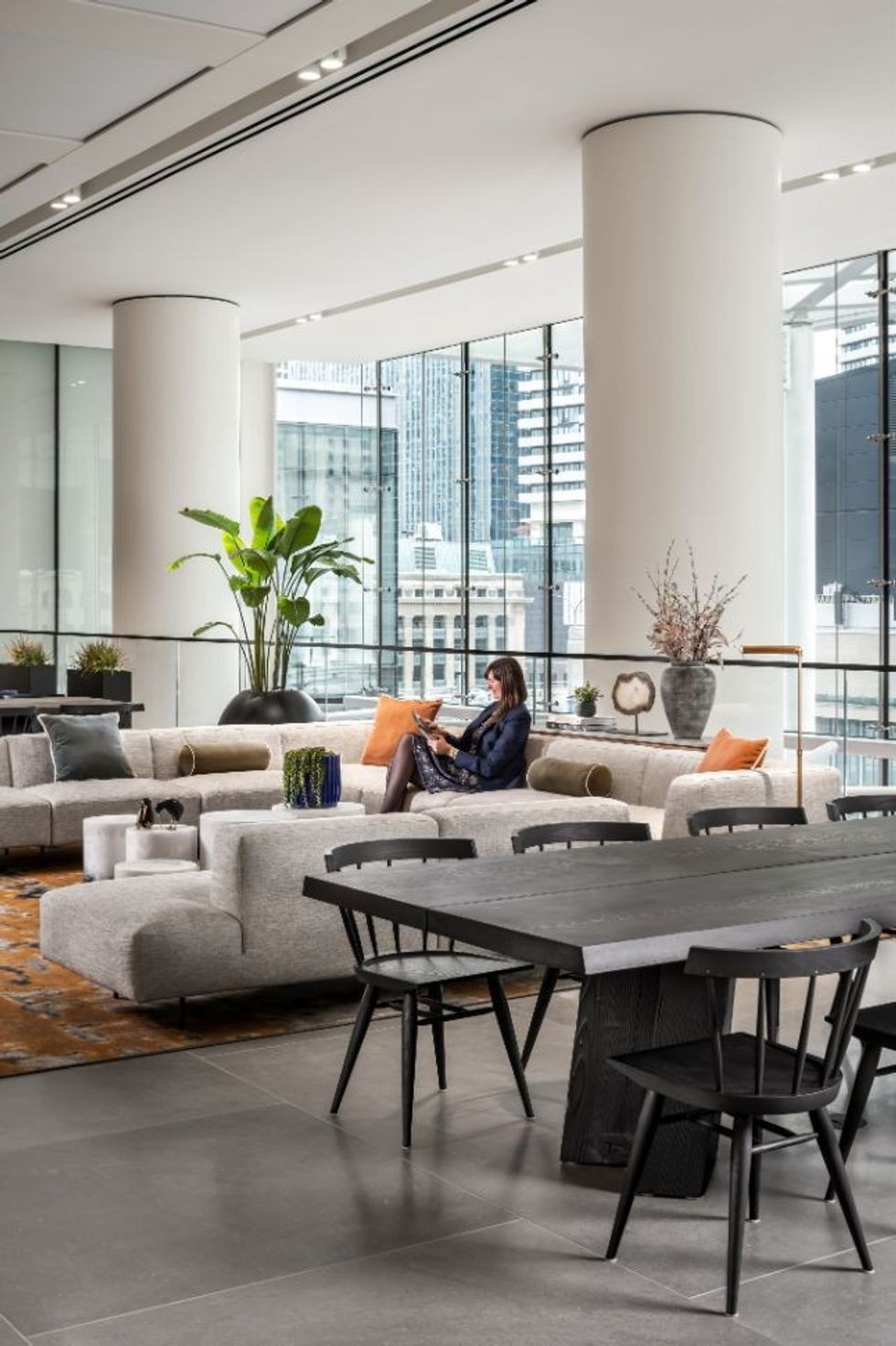 Gillian Jackson
What do CIBC SQUARE tenants have to say about the new space?
The space has been incredibly well-received and is in use throughout the day as a "third space": somewhere within the building's ecosystem that represents a change of scenery. It is also used to host events like viewing parties for the World Cup, which helps to build a sense of community amongst the building's tenants.
Office