Now that the province has officially lifted its temporary ban on short-term rentals (not to mention you've spent the past three months social distancing at home), now might be the perfect time to take a break from the sweltering city and retreat to cottage country for a lakefront getaway.
Luckily for Torontonians, the city is surrounded by seemingly endless waterfront opportunities if you're willing to travel a few hours. If you're looking for cottage rentals that offer picturesque views and plenty of space for all of your guests to relax and unwind, it doesn't get better than Southern Ontario.
---
READ: Muskoka Real Estate Red-Hot as Buyers and Renters Turn to Cottage Country
So to get you more than a little excited for summertime, we thought we'd spoil you with inside looks at five of the most exclusive cottage rentals this province has to offer. And yes, in this case, exclusive definitely means expensive. But it also means some of the coolest, and most beautiful, properties you could ever dream of spending a week at.
See you on the dock.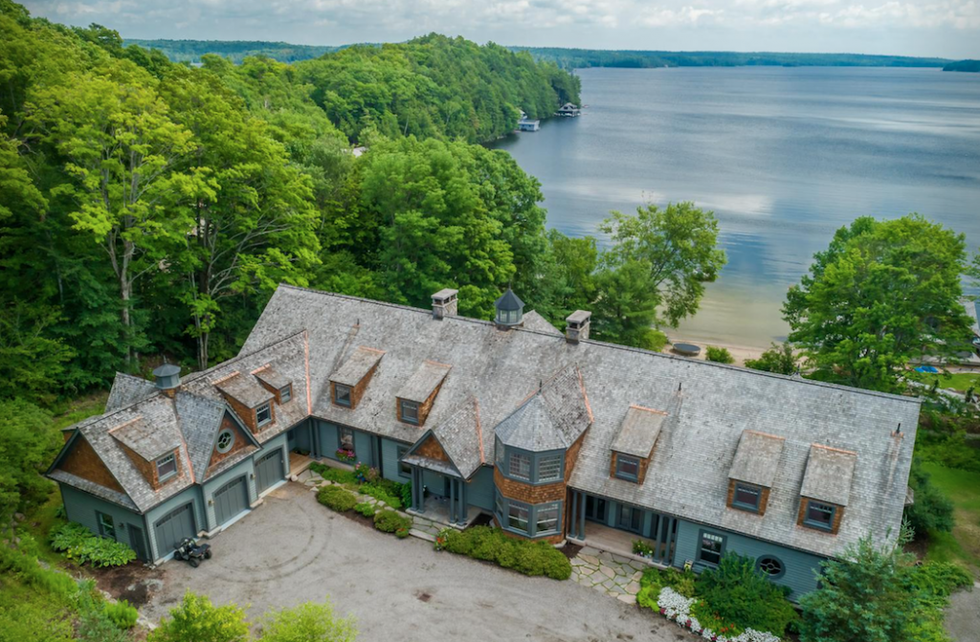 Image courtesy of Muskoka District Rentals
Bellevue Estate is an exclusive Hampton's style lake house on the shores of Lake Rosseau available for rent at $105,000 a week. While the price is steep (and by steep we mean probably the most expensive cottage rental in the entire province), this luxurious rental is definitely worth the price if you're looking for the ultimate cottage getaway that doesn't hold back on amenities and guest offerings. If the postcard-worthy lake views, sandy beach, or lush green grounds weren't enough to entice you to book, perhaps the full games room complete with foosball, shuffleboard, and pool, the on-site gym and full spa, home theatre, or tennis and basketball courts will. Oh ya, it also comes with a live-in butler.
Specs:
Lake: Rosseau
Size: 18,000 sq ft
Property: Estate
Sleeps: 27
Bedrooms: 11
Bathrooms: 9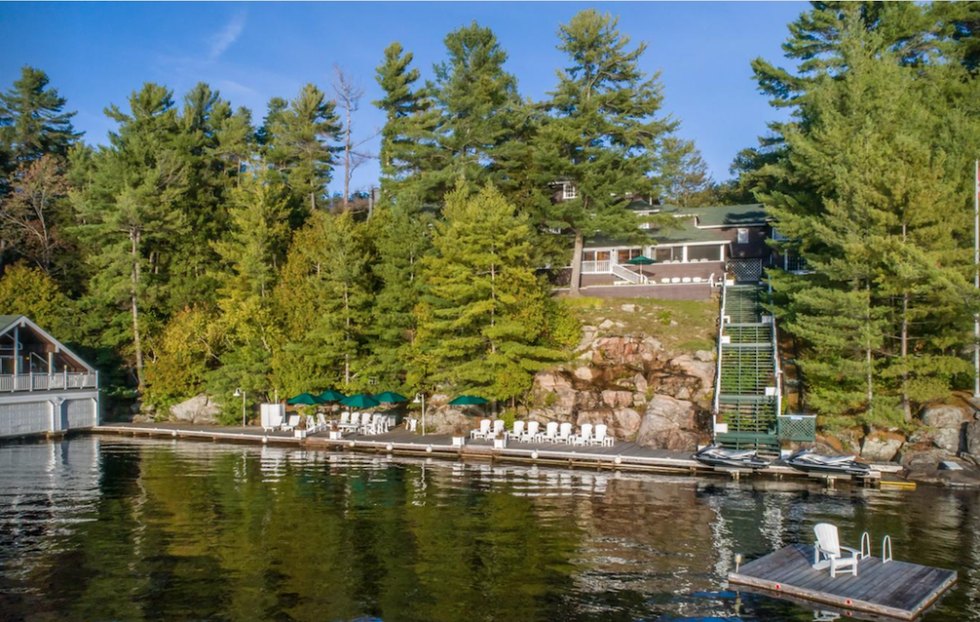 Image courtesy of Muskoka District Rentals
Breakwater is a classic Muskoka lodge-style cottage with 15 bedrooms, an industrial kitchen, and a dining room that seats 24 making it an ideal retreat for large groups or multiple families. Asking $35,000 for a week, this beautiful property is set high upon a rocky ledge offering breathtaking westerly lake views. The restored cottage, which was originally built in 1896, features walls and ceilings created from hand-selected BC Douglas Fir trees, giving the cottage a warm and inviting feeling despite its grandiose size.
Specs:
Lake: Muskoka
Size: 8,500 sq ft
Property: Cottage
Sleeps: 20
Bedrooms: 15
Bathrooms: 7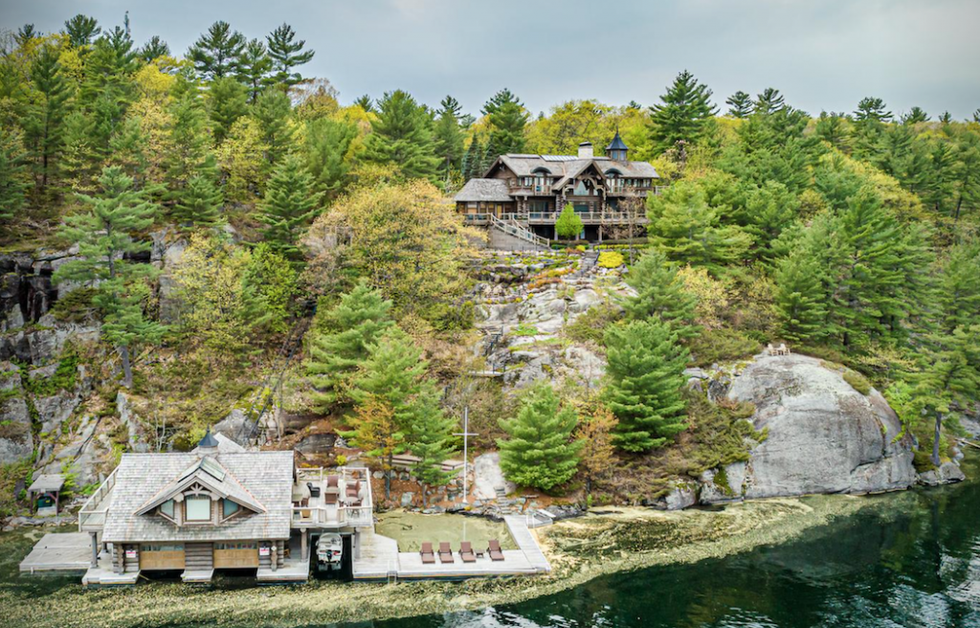 Image courtesy of Muskoka District Rentals
Perched above Lake Joe, Westwood is a stunning eight-bedroom log cabin that offers ultimate privacy and luxury and is available for $35,000 a week. The Muskoka cottage offers stunning southeast views and ample space for a large group to relax and unwind. After a long day in the sun hanging out on the water or exploring the beautiful grounds, guests can make the most of the luxe cottage by preparing dinner in the gourmet kitchen, cozy up by the fire, watch a movie in the full screening room, or play a round of pool in the billiards room. It truly doesn't get much better than this.
Specs:
Lake: Joseph
Size: 8,000 sq ft
Property: Cottage
Sleeps: 16
Bedrooms: 8
Bathrooms: 7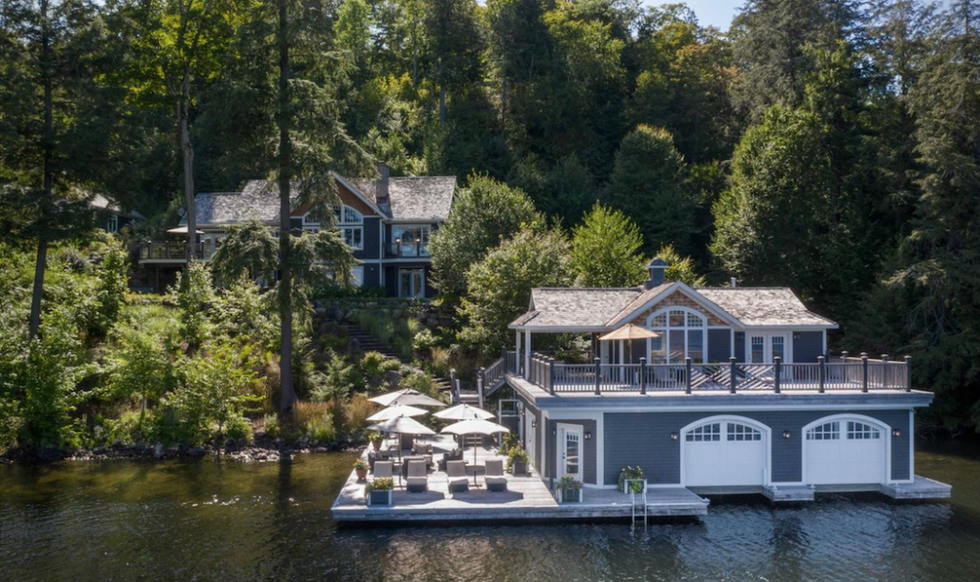 Image courtesy of Muskoka District Rentals
Tucked away from Lake Rosseau, Juddhaven offers sweeping lake views and plenty of space for kids to play, making this family compound the perfect spot for your summer vacation. Starting at $25,000 a week, this bright and spacious cottage features cathedral posts and a vaulted beam ceiling, along with a flagstone fireplace, and multiple decks all with spectacular views of the scenery and everything in between. Guests looking to unwind after a day in the sun can enjoy the hot tub or sauna, or they take in the sunset from one of the many outdoor seating areas.
Specs:
Lake: Rosseau
Size: 8,000 sq ft
Property: Cottage
Sleeps: 16
Bedrooms: 5
Bathrooms: 4.5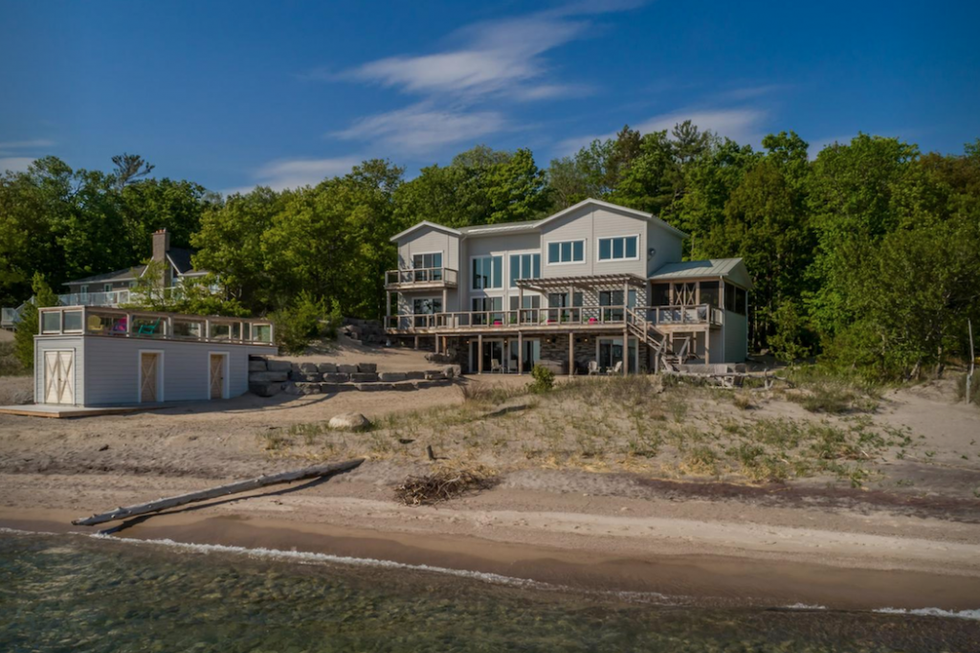 Image courtesy of Muskoka District Rentals
This custom-built vacation home is located on a private sandy beach in Tiny township and starts at $20,000 a week. Not only does this bright and cheery beach house offer sweeping views of the Georgian Bay, but the colourful and modern decor, which includes mid-century inspired furnishings and a sleek gas fireplace will make you feel like you're staying in a trendy beach house in California. Plus, the property is a short drive away from golf courses and only minutes from the world's longest freshwater beach where you can kayak and boat, or you can explore the surrounding grounds and enjoy the hiking and biking trails.
Specs:
Lake: Georgian Bay
Size: 6,000 sq ft
Property: Cottage
Sleeps: 8
Bedrooms: 5
Bathrooms: 4.5
Muskoka