A revised proposal for four condo towers near the intersection of Eglinton West and Kipling, ranging in height from 20 to 21 storeys, has been submitted to the City for review.
Tabled for 900 The East Mall, the series of structures would stand just south of Eglinton Avenue West, only a few blocks west of Kipling. Access to both Highway 401 and 427 are only steps away from the proposed site.
---
The condo project, helmed by Harhay Developments, underwent edits based on the Ministry of Transportation's required 10-metre setback from the north property line. The stipulation meant that the first two planned towers have been pushed slightly further south than originally proposed in October of last year.
The buildings would offer both residential units and non-residential uses, including ground floor retail opportunities, a daycare, and an office space, as well as a new public park adjoining a large Privately-Owned Publicly Accessible Space (POPS), on the site's south-east portion.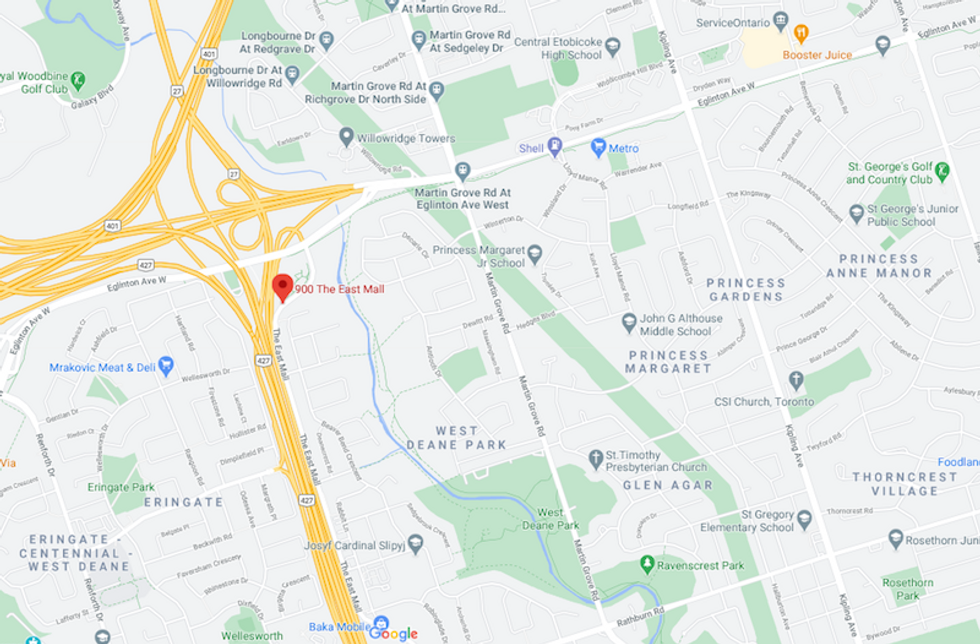 At this point, the revised proposal's total gross floor area includes 82,392 m² -- down slightly from the original pitch, per results of the MTO's required changes -- of which 75,398 m² is planned for residential and 6,994 m² should be for non-residential uses; 5,824 m² of office, 183 m² of daycare and 987 m² of retail space is outlined in the proposal.
READ: Junction Point Makes Its Case As Toronto's Next Must-See Midrise
In alignment with the city's Growing Up: Planning for Children in New Vertical Communities urban design guidelines, 25% of the proposed residential units are to be two-bedroom or larger; in fact, this plan exceeds the Growing Up guideline by 43% in Phase 1 of building alone, and 42% by the end of full-site build out. Where the two-bedroom units are concerned -- 15% of the total units offered would be sized 939 ft² or 87 m², minimum. Those two-bedroom units smaller than recommended in the Growing Up guidelines represent a balance between designing a reasonably sized unit, and maintaining ownership affordability, according to the proposal.
What's more, 10% of the proposed units would be three-bedroom, sized to at least 1,076 ft² or 100 m². Overall, 51 studio units, 444 one-bedroom units, 272 two-bedroom units, and 91 three-bedroom units -- resulting in a total of 858 residential suites -- are included in the condo development pitch.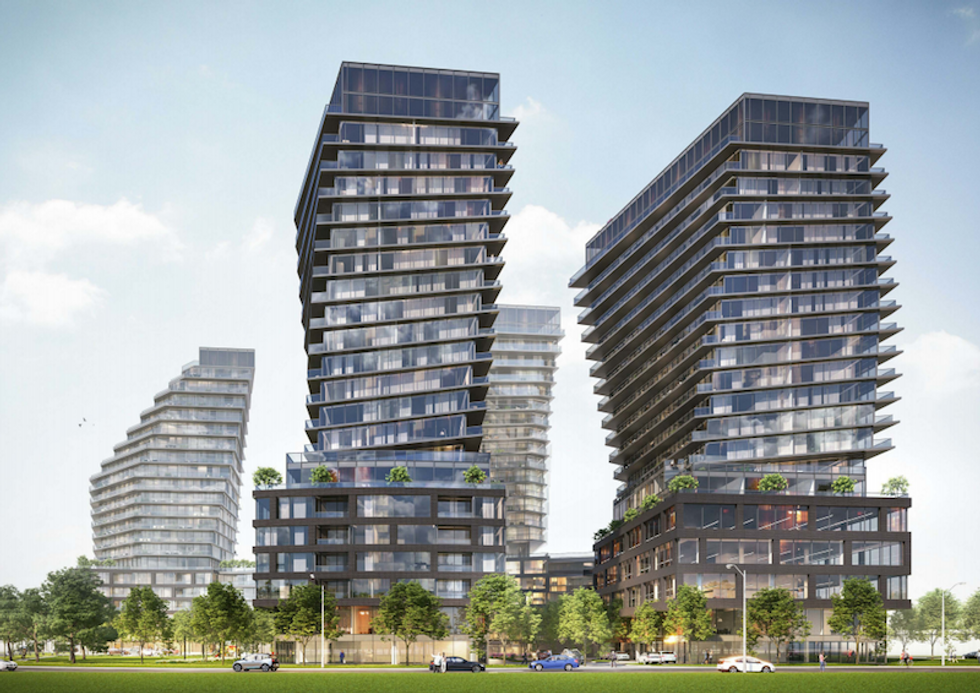 Beyond residential offerings, the proposal also highlights new office space -- a professionally-focused area of contemporary design, complete with a central lobby/reception area, an elevator, below-grade parking, and taller floor-to-ceiling heights. While the desire, presumably, is for the work-from-home era to not be too long lasting, the proposal definitely speaks to the current professional climate.
The nod to current needs continues with the mention of a daycare, which would be located on the ground floor of Building 2, adjacent to a 293 m² secured outdoor playground and the proposed open space area (POPS and public park).
When combined, the combination of 846 m² of public park, alongside a 1,690 m² POPS, the proposed outdoor areas will represent about 15% of the total site. Compared to what was brought forward in the original proposal, the orientation of theses spaces has changed, and "detailed design and programming" will be advanced as the application process carries forward.
The proposal also states that Juhan Marten Landscape Architect has revised and updated its Landscape Plan, in order to reflect the refined site and building design by Core, as part of the planning and design team.
What's more, parking and loading spaces suited for more than 780 automobiles and 650 bicycles are to be provided on the ground level and four level underground parking garages, while each building will have its own lobby and entrance along an on-site private road; also along the private road would be lay-bys and parallel parking spaces, meant to serve short-term parking with consideration to the increased popularity of online shopping and food delivery.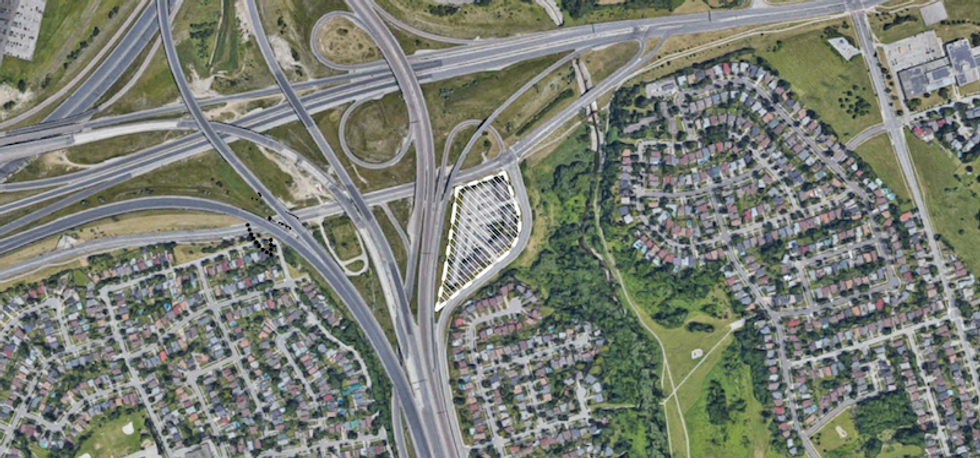 Indeed, much of the revamped proposal addresses concerns that city-dwellers have been facing amid the pandemic, whether that's working from home, finding childcare, or making purchases without going to the store. But considering how long it takes to erect a condo development, it's hard to decide whether the COVID-19 considerations are comforting, or instead, remind us of the looming question: just how long is this "new normal" going to last?
Future Developments