Torontonians looking for a one-bedroom should be prepared to pay top dollar, as Toronto remains the most expensive city to rent a single bedroom in the country, according to a new report from PadMapper.
Overall, rent in nine cities experienced an upward trend, ten saw a downward trend, and five remained flat, according to the latest report from the apartment rental site.
---
"Of the top 11 markets, cities located in Ontario and British Columbia continued to dominate in prices. Some notable changes included Barrie moving into the top 5 markets, while Kitchener and Oshawa moved into the top 10," reads the report.
Here in Toronto, a one-bedroom is now averaging $2,300 per month, while the cost of a two-bedroom dropped 1.7% to $2,950.
Vancouver ranked close behind at $2,150 for a one-bedroom, while two bedrooms decreased 1% to $3,000.
READ: Annual Rental Rate in Toronto Could Increase By 7% in 2020: Report
Burnaby ranked as the third most expensive city to rent a one-bedroom at $1,730, while a two-bedroom is going for $2,350. Notably, on a year-over-year basis, one-bedroom rent in Burnaby increased by 10.2%.
Montreal, which has a history of offering relatively affordable rents, moved up a spot to be the 4th priciest city with one-bedroom rent growing 3.3% to $1,550. However, two bedrooms did decrease slightly by 0.5% to $1,940 this month (a full $1000below a 2-bedroom in Toronto).
READ: Proximity to Good Schools the #1 factor for Canadian Renters in 2020
A notable market shift happened in Barrie, which climbed a spot into 5th spot, after rent for a one-bedroom jumped 4.8% to $1,530, while two bedrooms dropped 3% to $1,610.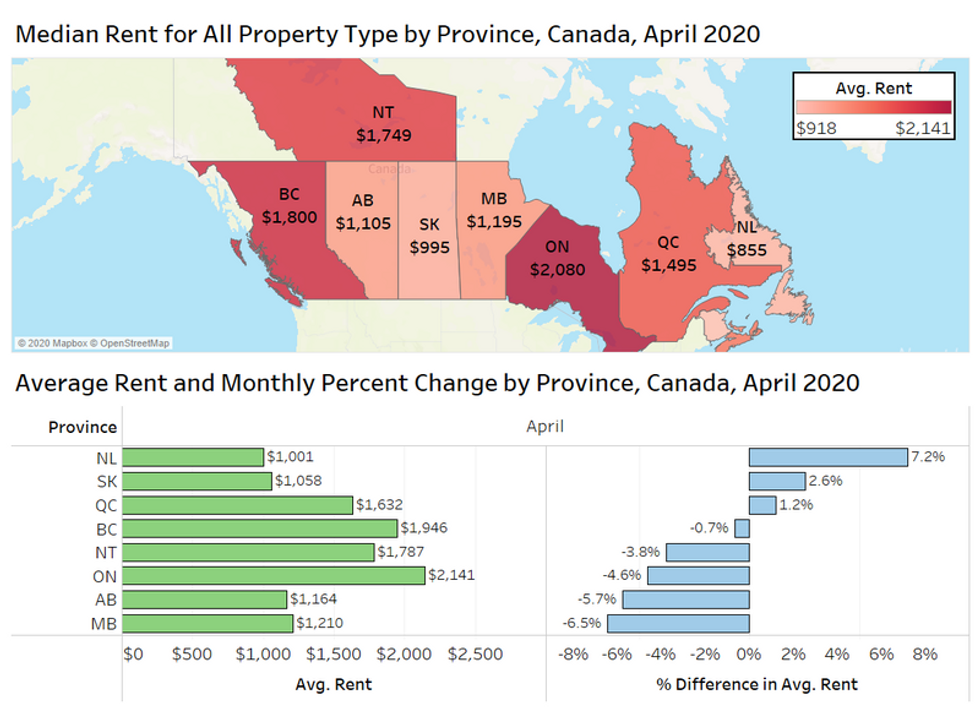 PadMapper January 2020
In terms of monthly changes, London had the fastest-growing rent as it jumped 5.4% to settle at $1,180 for a one-bedroom, while Abbotsford saw the biggest decline, falling 4.6% to 'just' $1,040.
If you're looking for cheap rent, you may want to consider relocating to St. John's, Newfoundland, where one-bedroom rent costs $810 and a two-bedroom goes for an average of $860.
Renting