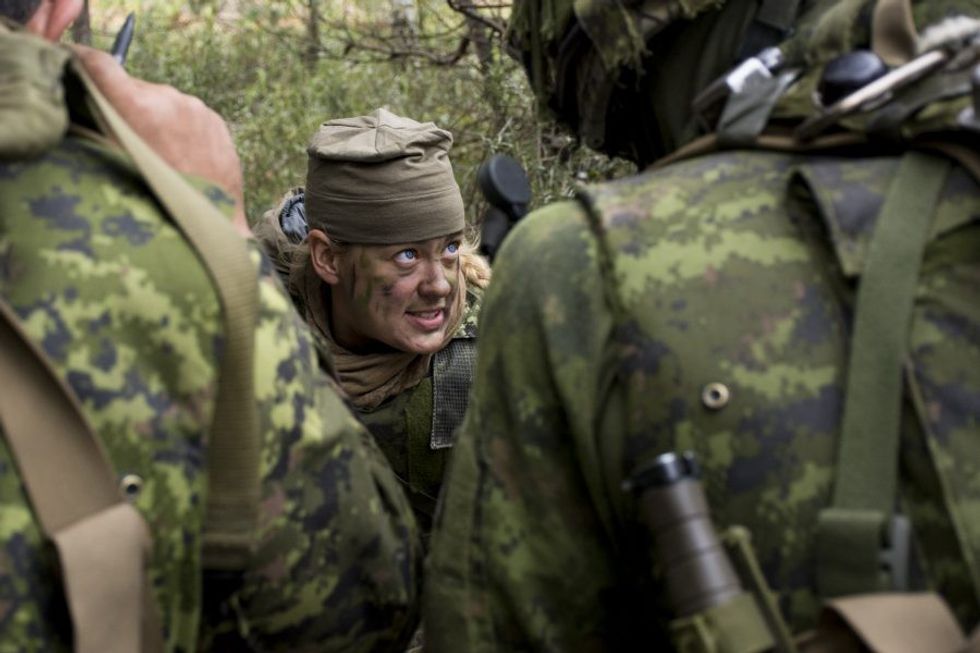 Maj. Chelsea Anne Braybrook, Commander of Bravo Company, 1st Battalion, Princess Patricia's Canadian Light Infantry and a member of the enhanced Forward Presence Battlegroup in Latvia, briefs troops on plans and strategies during the NATO certification exercise at Camp Adazi, Latvia, on Aug. 24. (Photo by MCpl Gerald Cormier, courtesy of Canadian Armed Forces)
Canadian Forces Captain Peter Vere and his family have lived on CF Base Borden, 90 minutes north of Toronto, for five years.
---
For the Veres and the more than 1,700 Canadian Armed Forces members who also call the Base home, Borden provides welcome within a community that understands the commitment of an Armed Forces member.
Each Nov. 11, our country seeks to honour that same commitment and the incredible sacrifice that comes with military deployment. But it is incumbent upon us, as well, to regard the realities of life back home; we need to ensure that day-to-day living on a Base for our service members and their families meets the highest standard, now and into the future.
663 residential-housing units
By all accounts, CFB Borden seems to pass this test. Built in 1916, Borden now stretches over 21,000 acres of land, encompassing a 6,000-acre training area and nearly 500 buildings of mixed use. There are 663 residential-housing units offered on site all managed by the Canadian Forces Housing Agency (CFHA), whose stated mandate is to provide access to suitable residential accommodation to our men and women in uniform.
Captain Vere lauded the work of the CFHA and the suitability of the residences, noting that, "the main benefit to living on Base is safe and reasonably priced accommodations for one's family."
Affordable housing
Accommodation at the base does pass the affordability test, with prices comparing favorably to similar housing in the surrounding area.
That affordability is further protected by government policy and Department of National Defense (DND) regulations, which state that rents for all DND housing must reflect local market values for similar homes in the local market. CFHA reviews rents annually and, when necessary, adjusts rental rates using Statistics Canada's Consumer Price Index (CPI).
With two- and four-bedroom units, row housing, duplexes and single houses being offered on base, CF Borden seems to offer enough affordability and variety to suit the diverse needs of our military personnel and their families.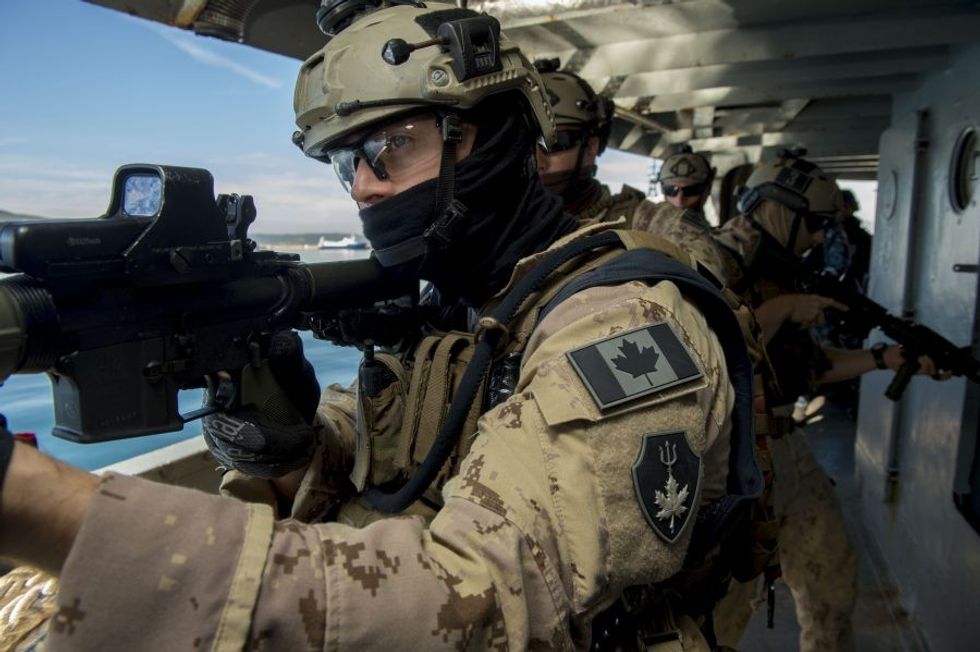 Members of the Royal Canadian Navy's Maritime Tactical Operations Group train with the Croatian Coast Guard in Split, Croatia, Oct. 17 during Operation REASSURANCE. (Photo by Corporal J.W.S. Houck/Formation Imaging Services, courtesy of Canadian Armed Forces)
The agency also strives to ensure that a suitable housing standard is maintained into the future. Over the last two years, CFHA has invested more than $15 million at CFB Borden. This fiscal year, a further investment of $8.5 million is planned.
Housing projects at CFB Borden over the last several years have comprised renovations, exterior retrofits, new sheds, bathrooms, civil works (steps and sidewalks, sewer laterals and water mains, driveways), roofing, and systems upgrades (furnaces, hot water tanks). Currently, CFHA is continuing to focus on continued renovations and exterior retrofits, such as new sheds, roofing and driveways.
Well-maintained
CFHA also provides an on-site office at Borden (and all other CF Bases), so that residents can have day-to-day accommodation issues dealt with efficiently and effectively. With all of the services CFHA provides, CFB Borden is able to reassure occupants that their housing is well maintained. This reassurance helps to ease stress for occupants and as a result, helps to increase their morale.
Jamie Massie, City of Barrie entrepreneur and business visionary, knows a thing or two about the importance of high morale on the Base. Massie is president and co-owner of Georgian International, a real estate, automotive and aircraft company, but his role as Honorary Colonel at CFB Borden is of unique importance to him.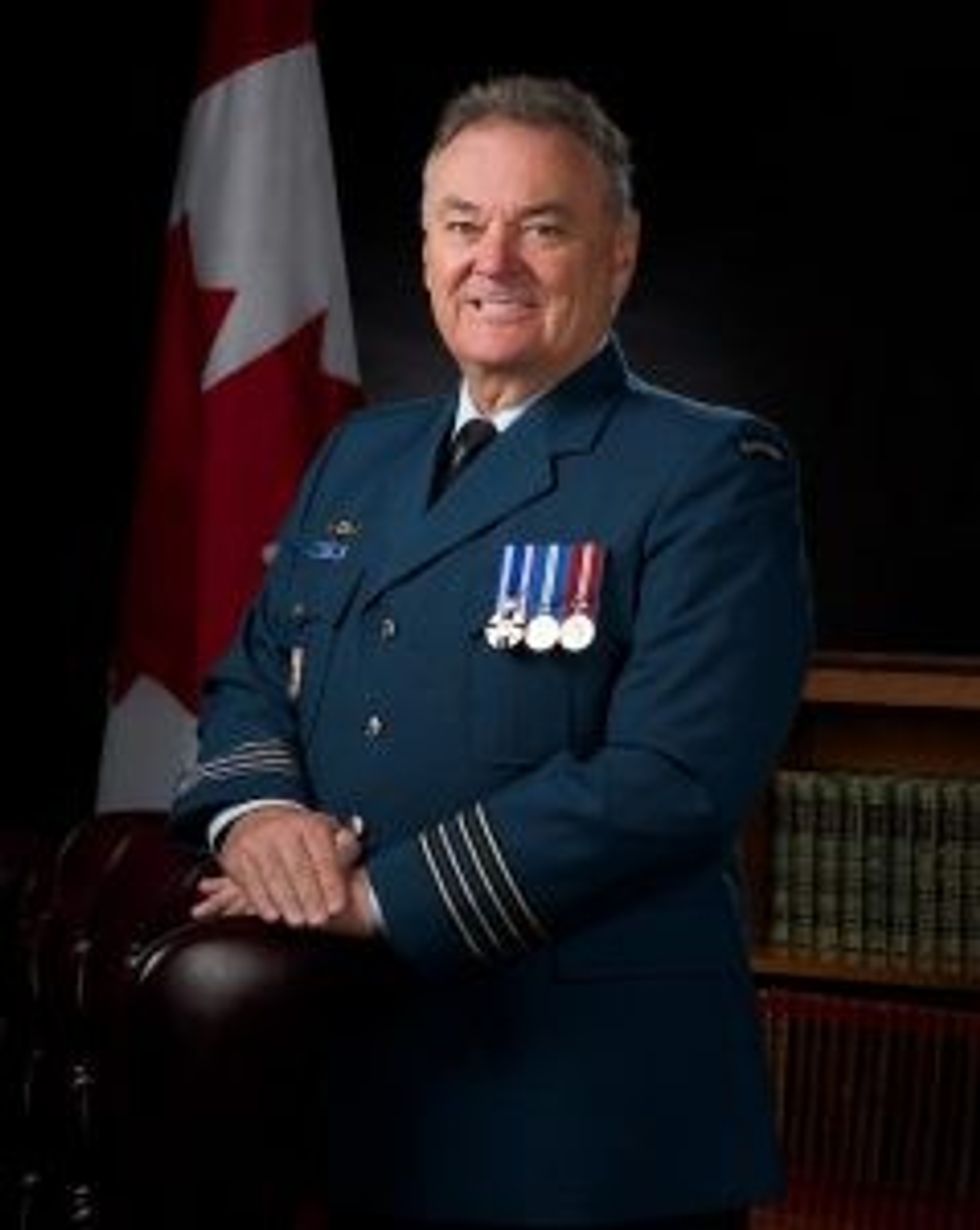 Honorary Colonel James Massie
Massie accepted the position in honour of the spirited and decorated service of his late father and grandfather, and one of his major responsibilities as Honorary Colonel is to help foster an "esprit de corps" on base.
"I remember being in a Skype room on Base when a mother and her two kids were speaking with their Dad, who was forward deployed in Afghanistan," said Massie.
"I was so struck by the support these family members showed, and the impact of their positivity. These men and women serve with such honour, selflessness and sense of duty, and we in turn must honour them by finding new ways to keep up morale."
Massie started a scholarship fund called Operation Hero, which helps to fund education at Georgian College for military families. Massie also created the Borden Legacy Project, a soil repatriation project for which he travelled to Vimy Ridge.
"My grandfather was wounded early in battle at Vimy Ridge," said Massie. "He lay where he was shot for almost 18 hours until help arrived."
For the Borden Legacy Project, Massie travelled to that very site and helped to bring soil back from Vimy Ridge for a memorial built at Borden. Initiatives such as these help to boost morale on the Base; the Borden Legacy Project honours the sacrifice of our military past, while Operation Hero looks to the future as well.
CFHA does celebrated work to this end as well by encouraging residents to participate in community events that are offered both on the Base and in the local area. Arriving occupants are informed of the various activities and amenities offered by the Base when they pick up their keys at CFHA.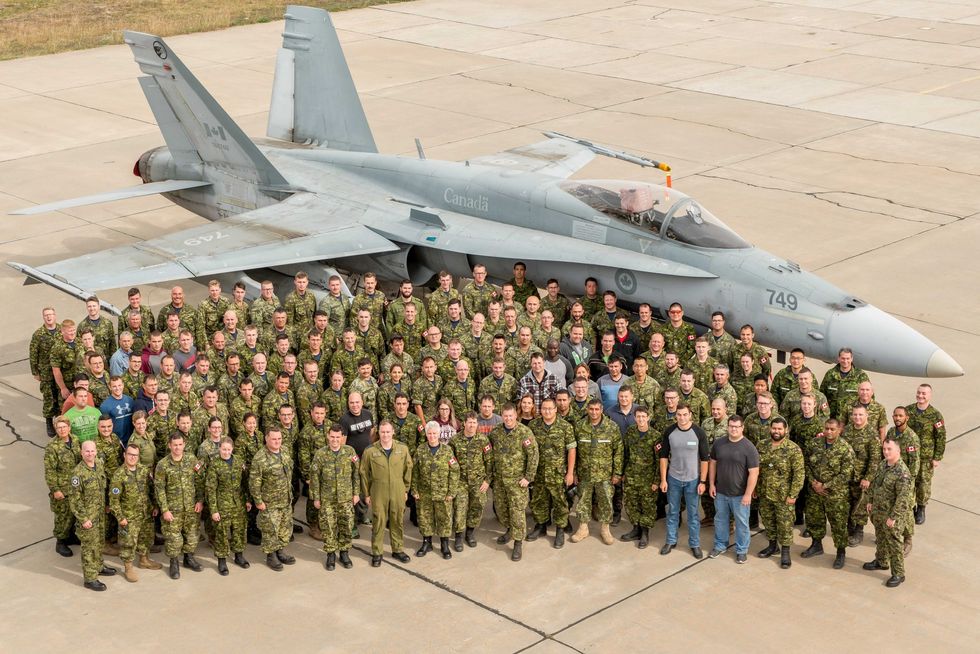 The Air Task Force Romania personnel, currently deployed on Operation REASSURANCE in support of NATO enhanced air policing, in front of CF-188 Hornet aircraft, at Mihail Kogalniceanu Air Base, Constanta, Romania on Oct. 5. (Photo by Sergeant Daren Kraus, courtesy of the Canadian Armed Forces)
Captain Vere explained some of the additional community-building opportunities offered on Base:
"There is a built-in support system. If I am away on course, on exercise, or on deployment, my neighbours will step in and help out. Likewise when they are away. I am on the Community Council, and we organize a number of activities throughout the year that are always well-attended, from a Halloween Haunted House and Decoration contest, to a winter festival and a Christmas tree-lighting ceremony."
All told, there is fine work being done at CFB Borden to provide affordable welcome to our servicemen and women. The example set by civilians such as Massie inspire us to continue minding those efforts.
Massie has committed to honouring our noble tradition and history while seeking to further understand the men and women who serve.
"I think often of the words of General Sir Arthur William Currie," says Massie. "He said, 'Your names will be revered for ever and ever by your grateful country.'"
Community