---
A long-standing and treasured landmark in midtown Toronto will soon sport a ritzy new look.
At the end of January, a Site Plan Approval application was submitted to the City by NORR Architects & Engineers Limited on behalf of Terra Bruce Productions with respect to the historic Regent Theatre.
According to the application, renovation plans for the theatre, located at 551 Mount Pleasant Road, include replacing the existing lobby, auditorium, and stage "to create a modern, state-of-the-art live theatre and performance venue."
The reimagined Regent will see a third-storey, 230-sq.-m lobby and balcony seating area addition and a three-storey, 1,078-sq. m addition to the rear of the building to serve as both the venue's back of house and a community rehearsal space.
The exterior of the structure will see improvements, although measures will be taken to ensure the integrity of the landmark is preserved. As such, the west facade fronting Mount Pleasant Road will be restored and the building's existing height of 16 metres will be retained. Meanwhile, the north and south side walls and east rear wall will be replaced, and six existing parking spaces in the rear of the building will be removed. No new parking spaces are proposed.
Also proposed are five bicycle parking spaces and an indoor delivery area at the rear of the building.
Post-renovation, the new and improved Regent Theatre will contain a total gross floor area of 3,359 sq. m, 966 sq. m of which will be below grade.
The application also includes renderings prepared by Hariri Pontarini Architects depicting new illuminated signage and a glass enclosure perched atop the theatre and visible from the Mount Pleasant Road frontage. The back of house portion is also illustrated in the renderings.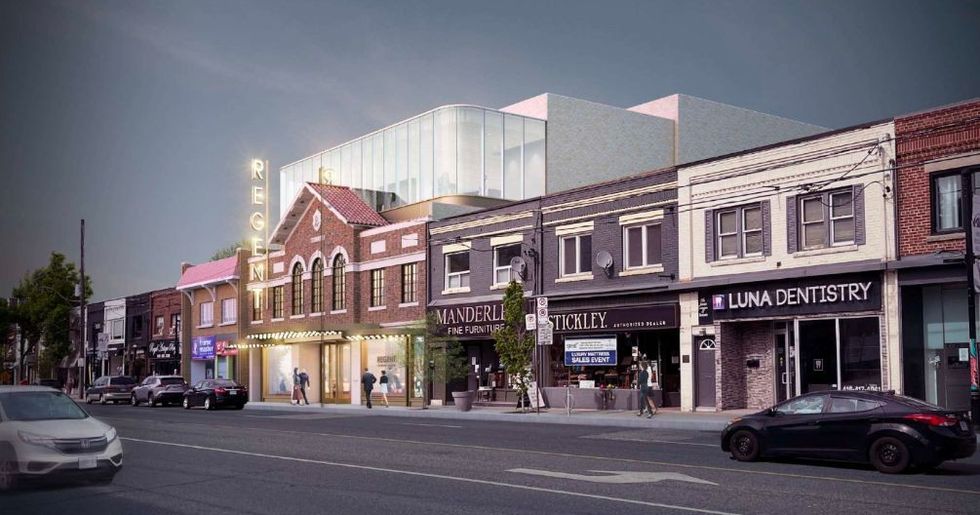 Hariri Pontarini Architects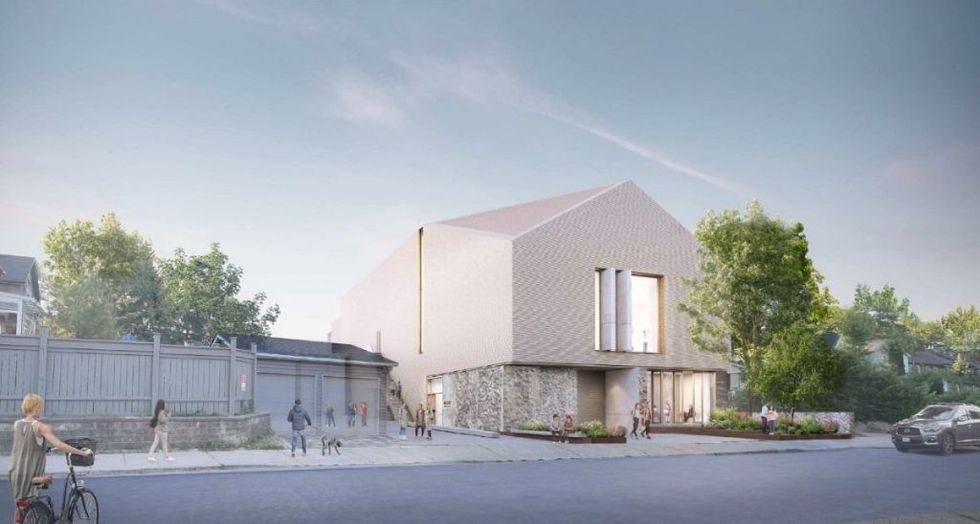 Hariri Pontarini Architects
For residents of Toronto's midtown, the reinvigoration of the Regent Theatre is a long time coming. The community rallied behind its preservation in 2017 when the original owners passed away and the property was listed for sale. In 2020, St. John's-based Terra Bruce Productions purchased the property with the hopes of returning it to its live-theatre roots.
Bob Hallett, Chief Operating Officer for Terra Bruce, told STOREYS in October that purchasing the Regent was an opportunity to expand the company's presence in Toronto.
"Our hope is to preserve as much as we can of what is original and in good shape -- namely the original street front and entrance, and some portions of the lobby and stairs," said Hallett. "At the same time, we want to create a safe, accessible, and technically satisfying venue in which to enjoy live performance."
Terra Bruce expects to reopen the theatre by the fall of 2024.
Toronto