Now that Stage 3 is taking place across the entire province, businesses are back to work trying to recover from the COVID-19 pandemic. And this couldn't be more true for the real estate market, which came to a near standstill in April, only to experience a major push in activity over the last two months. This is especially the case here in Toronto where home sales in the Greater Toronto Area (GTA) jumped 29.5% compared with July 2019, hitting a new record high for the month.
But it's not just sales experiencing strong numbers, in fact, at the end of July, the Canadian Real Estate Association (CREA) reported that its latest numbers are better than normal, with REALTOR.ca visits at all-time high.
---
RELATED: Ask An Agent: Why Was July Such a Busy Month for Toronto Real Estate?
With COVID-19 delaying the start to the typically busy spring market, REALTOR.ca site traffic has peaked in the summer months and had its strongest year-to-date growth in June, with an increase of 42% in the number of unique visitors.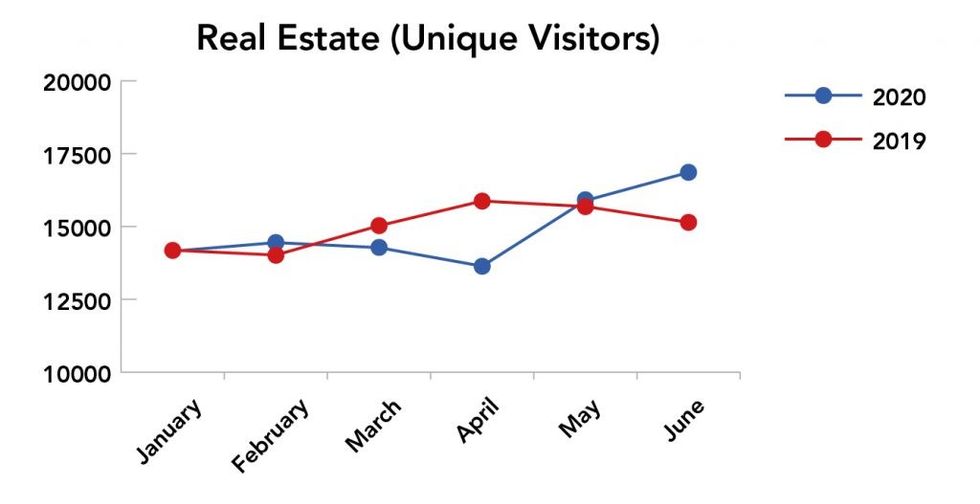 CREA/Realtor.ca
As you can see in the graph above, the data coincides with how strict physical distancing guidelines have relaxed across the country over the last couple of months.
READ: Toronto Real Estate Shatters All-Time July Sales Record 
"Sales are up 150% from April this year and up 15% from last June, so we've got numbers that are back at normal levels, even though the housing market, and regular life for that matter, isn't quite there yet," said CREA Senior Economist Shaun Cathcart in CREA's June monthly stats report.
"Later this year remains a huge question mark, but I can tell our daily tracking suggests that July, at least, will likely be even stronger than June."
And while a portion of the spike in visitors can be credited to Canadians simply delaying the home buying journey as a result of the pandemic, CREA says it also believes it's because it was quick to begin promoting a virtual, contactless transaction process and gave REALTORS the tools to carry on with their business — albeit in a new manner.
As the pandemic unfolded, CREA said it launched a COVID-19 game plan and introduced a highly visible section on REALTOR.ca listing descriptions promoting an agent's upcoming virtual open houses and or live stream walkthroughs. Since the launch of that feature, over 2,500 REALTORS have conducted more than 18,000 live stream open houses. And today, REALTORS continue to add more video, 3D virtual tours and floor plans, allowing consumers access to homes when business-as-usual is not possible.
All of that said, it's important to note that site visitors don't necessarily equate to active buyers. It's just as possible that all the 'tire-kickers' realtors claimed had left the market during COVID's darkest days have returned. Either way, interest in real estate seems to be as high as ever right now.
Real Estate News