The economy might be gradually getting back on track, but travel and tourism are still at exceedingly low levels in Toronto and, as a result, the real estate market is starting to feel the effects.
Despite the province's temporary ban on short-term rentals lifting on June 5, the significantly slower tourism industry is forcing many short-term rental investors to consider how they use their properties with many beginning to seek long-term tenants or offloading their investments entirely.
---
To get a better understanding of how the pandemic and short-term rental bylaws may have impacted condo investors and renters so far, Zoocasa reviewed the number of new listings for rental and sale properties in a selection of 10 condo buildings in downtown Toronto that currently – or until recently – permit short-term rentals or those that are known to be popular on Airbnb.
READ: Dozens of Toronto Apartment Buildings Offering Rental Incentives Right Now
According to Zoocasa, the growth in new listings for condo apartments available for rent and sale in Airbnb-friendly buildings this June far exceeded new listings growth across the Niagara and Waterfront Communities 1 neighbourhoods (where these condo buildings are located), and the City of Toronto as a whole.
The recent increase in rental listings means renters are now seeing more opportunities open up as a result. In Q2 of 2020, Toronto reached a vacancy rate of 1.8%, the highest since 2015 when research firm Urbanation began tracking the data. Though it is important to note that Zoocasa says vacancy rates of under 3% are still considered "unhealthy."
The findings revealed that new listings in June for Toronto condo apartment rentals grew 83% year-over-year with 6,845 units added to the market. Comparatively, new rental listings for the buildings included in the analysis grew a staggering 257% annually, with 350 units listed in June compared to 98 last year.
Among the ten buildings analyzed, Zoocasa says Ice Condos I & II on York Street had a 547% increase in new rental listings year-over-year, with 97 units hitting the market in June compared to 15 new listings during the same time last year. Zoocasa says based on the estimated 1,340 units in the building, the 97 rental new listings represents about 7% of the total units.
As for new listings for sale in the 10 Airbnb-friendly buildings, Zoocasa says they grew 108% year-over-year, with 131 units listed in June 2020 compared to 63 last year.
This increase was noticeably higher than the overall increase across the Niagara and Waterfront Communities 1 neighbourhoods in which these buildings are located in; in these neighbourhoods combined, the increase in new listings for sale was up 65% y-o-y to 711 units. While Toronto as a whole saw 3,315 condo apartments listed in June, up 36% annually.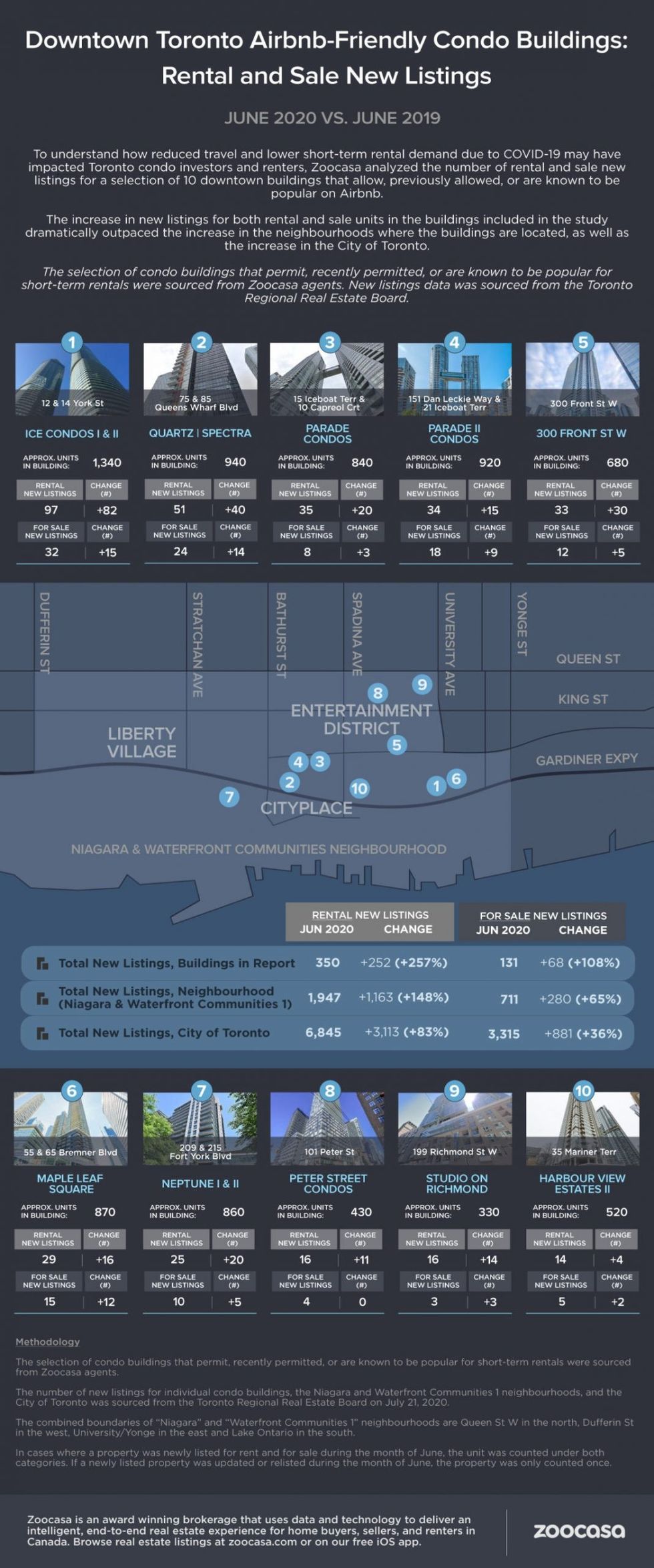 Zoocasa
You can read the full report here.
Renting