Real Estate News
National Average Rents Climbed 11% in August, Topping the 2019 Peak: Report
Last month, rents across Canada continued to trend upwards, this time surpassing the September 2019 peak — though only by five dollars.
This is according to a new National Rent Report by Rentals.ca and Bullpen Research & Consulting, which showed that the national average rent for all property types rose 11.1% year over year to $1,959 in August. The August average was also up 16.8% since a low point in April 2021.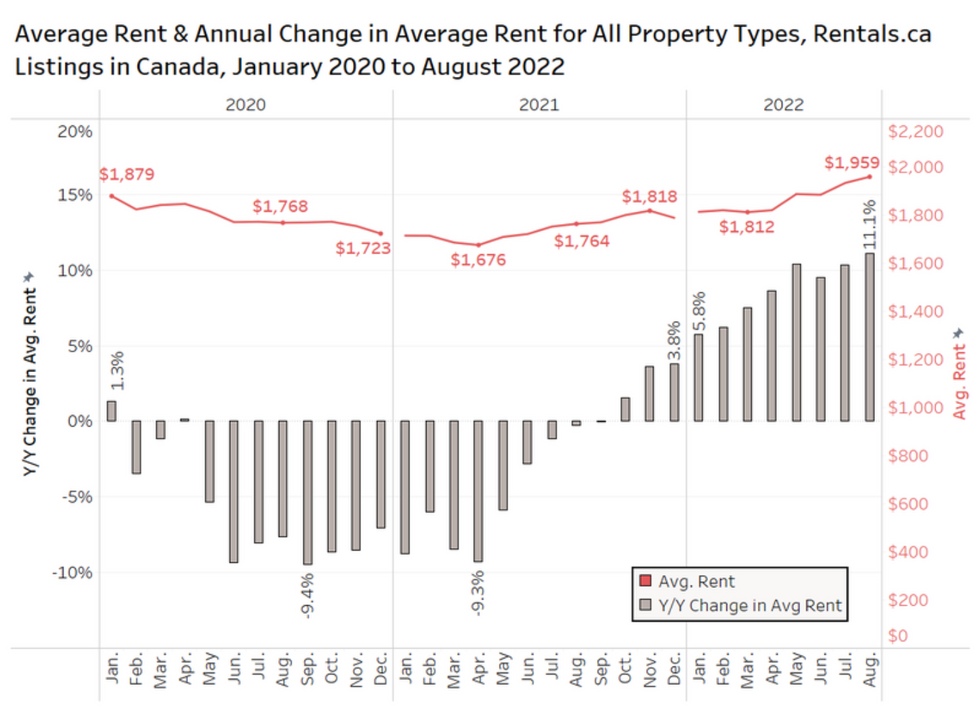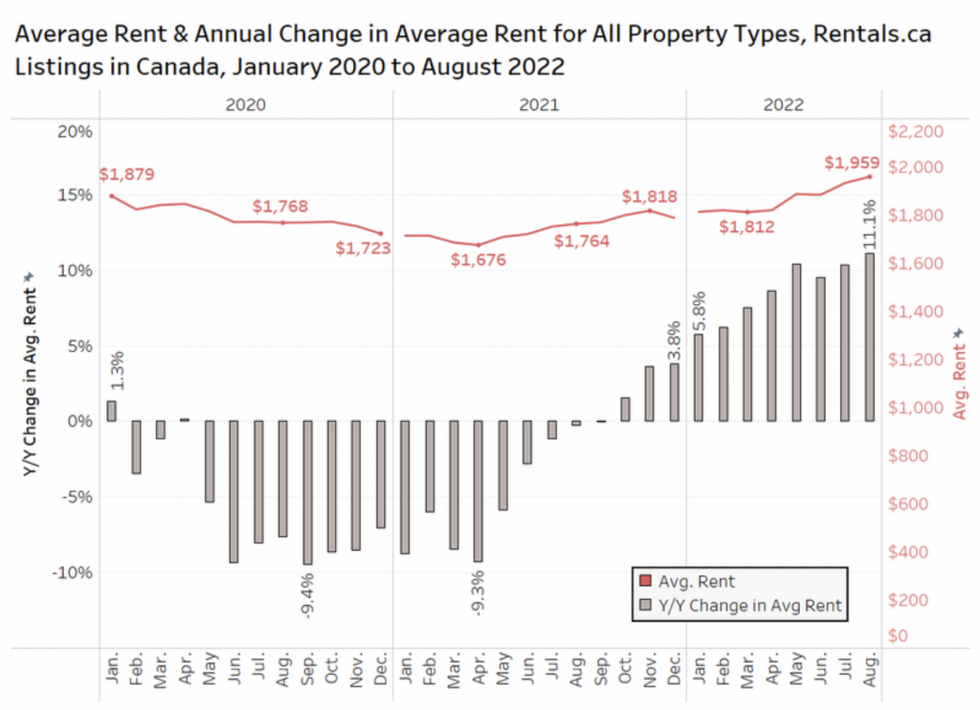 "On a national level, average rents in August topped the pre-pandemic record high from the fall of 2019, with prospective tenants looking at properties that are $200 more expensive on average than a year earlier," says Ben Myers, President of Bullpen Research & Consulting. "With several economists calling for an extended ownership housing market correction, demand has shifted dramatically to the rental market, which is significantly undersupplied in many major Canadian municipalities. Rentals.ca pageview data suggests rental demand is up by nearly 40% from last August nationwide, and 70% from the locked-down August 2020 marketplace."
The report also notes that while the Bank of Canada's recent rate hike is dissuading people from home buying and driving them to the rental market instead, the high-rate-environment is simultaneously putting a damper on job growth in Canada. If a number of Canadians soon find themselves jobless, competition for rentals may thin out and prices could ease.
That said, we're certainly not in any sort of cool-down territory quite yet.
Average rent have risen more than 20% YoY in five Canadian cities, including London (+26.5%), Calgary, (+24.7%), Vancouver (+24.4%), Toronto (+24.2%), and Hamilton (+21%). Mississauga and Brampton also saw notable rent growth, rising 16.2% and 13.4 respectively.
According to the National Rent Rankings of 35 Canadian cities, Vancouver had the highest average monthly rent for one- and two-bedroom units — $2,574 and $3,694 respectively. Toronto ranked second, with a $2,329 average for a one-bedroom and $3,266 for a two-bedroom. All of those figures were up dramatically from this point last year.


This was similar to the data from July, in which Vancouver and Toronto also ranked first and second.
Additionally, in data that revealed popularity based on online pageviews per listing in 25 cities, Vancouver ranked third, while Toronto trailed behind in eighth place.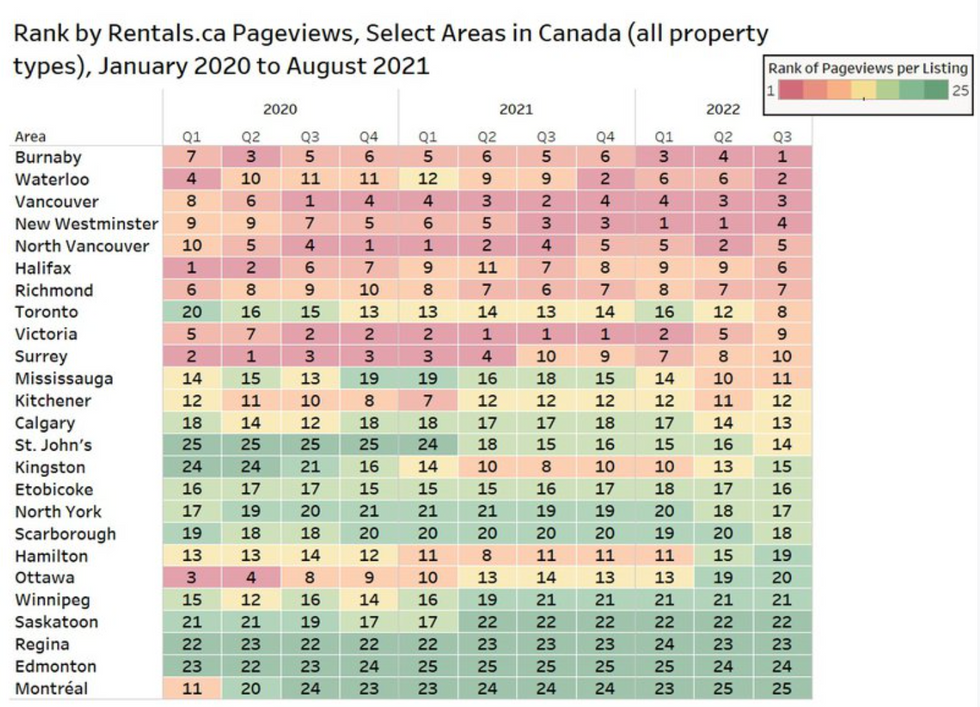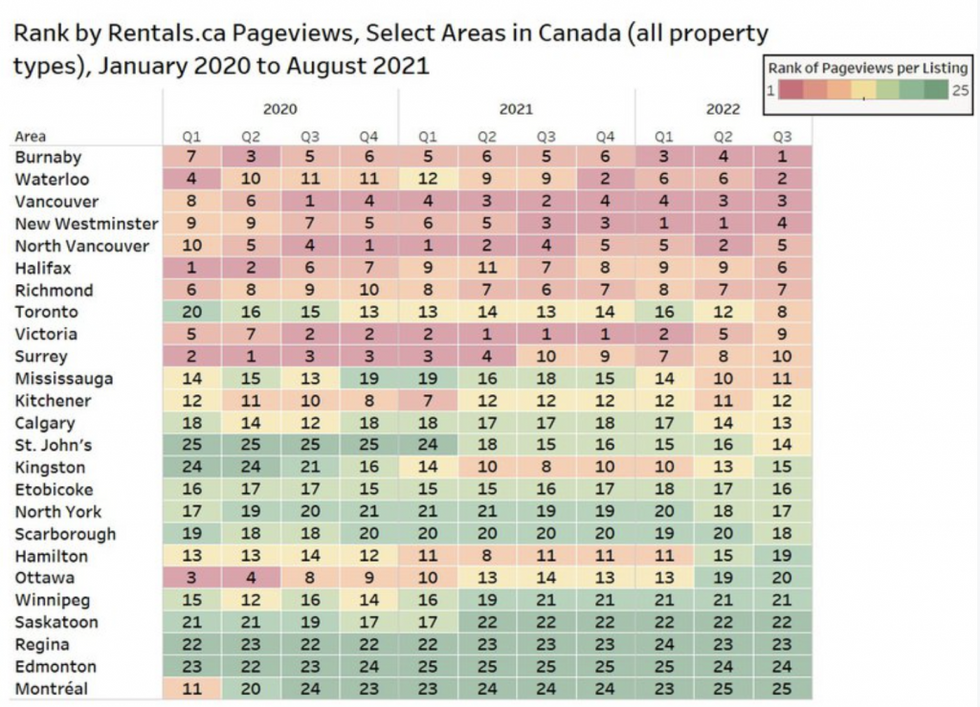 Meanwhile, on a provincial basis, British Columbia had the highest average monthly rental rate — $2,578 in August — marking a YoY increase of 23.7%. Nova Scotia had the second-highest average — $2,380, up 43.4% YoY — followed by Ontario — $2,367, up 15.7% YoY.