Real Estate News
Canadians Show Highest Level of Real Estate Market Optimism in 9 Months
While the year has taken its toll on Canadians, real estate fiends across the nation are ending 2020 on a relatively positive note: according to new data, the proportion of Canadians who believe the next six months will bring an increase in their neighbourhood's real estate value has reached a nine-month high.
The level of consumer confidence in Canada remains above its 2020 average, according to a new Bloomberg Nanos Canadian Confidence Index (BNCCI).
The BNCCI — a weekly measurement of the economic mood of Canadians on the strength of the economy, job security, real estate in their neighbourhood, and their personal financial situation — serves as a composite of its included variables. It's broken into two sub indices: a Bloomberg Nanos Expectations Sub-index on forward views; and the Bloomberg Nanos Pocketbook Index on participating individuals' personal economic situations.
Beginning in 2008, the longitudinal data on the index is a significant data source for decision-makers.
READ: 5 Canadian Housing Market Predictions for 2021
Produced by the Nanos Research Corporation, headquartered in Canada while operating in both Canada and the United States, the BNCCI's data is based on random interviews with 1,000 Canadian consumers over the course of four weeks. Respondents' views are compiled into a diffusion index from 0 to 100; a score of 50 indicates "positive and negative views are a wash;" scores above 50 suggest net positive views; and scores below 50 suggest net negative views in terms of the economic mood of Canadians.
Where fresh data is concerned, the index registered at 53.48 in December. The reading hovers over the 52.49 recorded four weeks prior, but still below the twelve-month high of 57.06.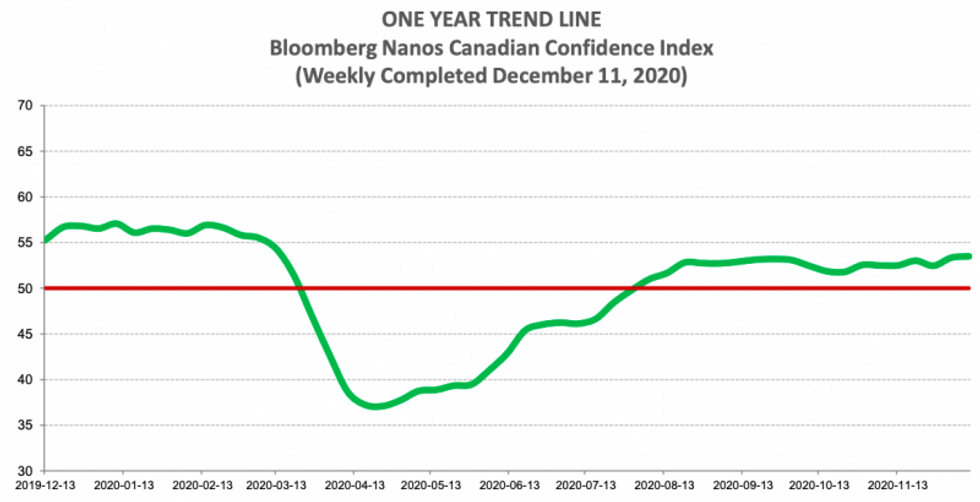 The Bloomberg Nanos Pocketbook Index, based on survey responses to questions on personal finances and job security, registered at 57.14 in its most recent data, compared to the 57.51 recorded four weeks prior. Questions posed to respondents include:
Thinking of your personal finances, are you better off, worse off, or has there been no change
over the past year?
Would you describe your job, at this time, as secure, somewhat secure, somewhat not secure,
or not at all secure?
In the next six months, do you think the Canadian economy will become stronger, weaker, or
will there be no change?
In the next six months, do you believe that the value of real estate in your neighbourhood will
increase, stay the same or decrease?
Meanwhile, the Bloomberg Nanos Expectations Index, based on surveys for the outlook for the economy and real estate prices, was at 49.81 this week compared to 47.47 four weeks ago.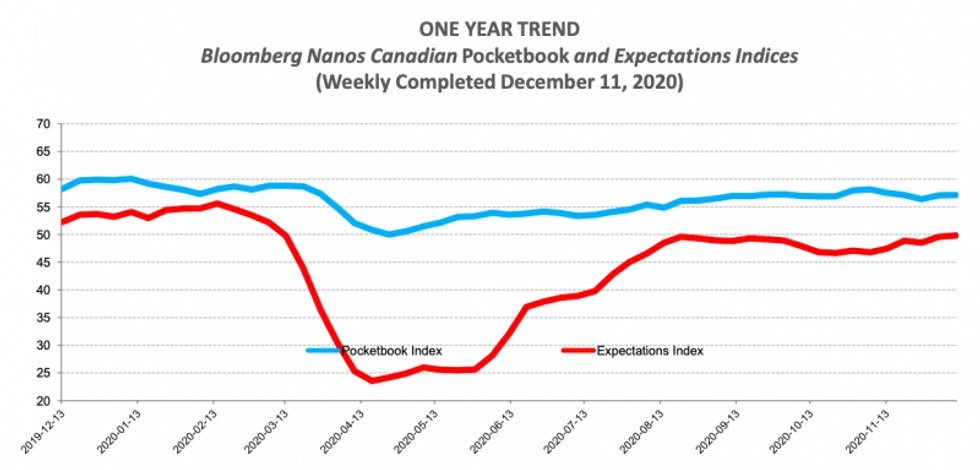 For context, the BNCCI average has been 55.98 since 2008, reaching its lowest point in April of this year, with a reading of 37.08. It's high dates back to December of 2009, when it sat at 62.92. This year, the index has averaged 49.54.