---
Continuing its streak of breaking records and taking names (okay, perhaps not the latter), Muskoka region is seeing its tightest market conditions ever with soaring January sales.
(We hate to say we told you so.)
This lack of inventory is being particularly felt in the waterfront category, according to new data from the Canadian Real Estate Association (CREA).
This is true, even as residential non-waterfront sales activity recorded through the MLS System for the Lakelands region was down 9.5% (15 sales) from January 2020. Indeed, even so, the month remained the second-highest for overall sales on record, totalling 143.
Meanwhile, waterfront property sales numbered 76 units in January 2021 -- this count more than doubles that of the same month in 2020, surpassing the year earlier by 117.1% and setting a new sales record for the month of January.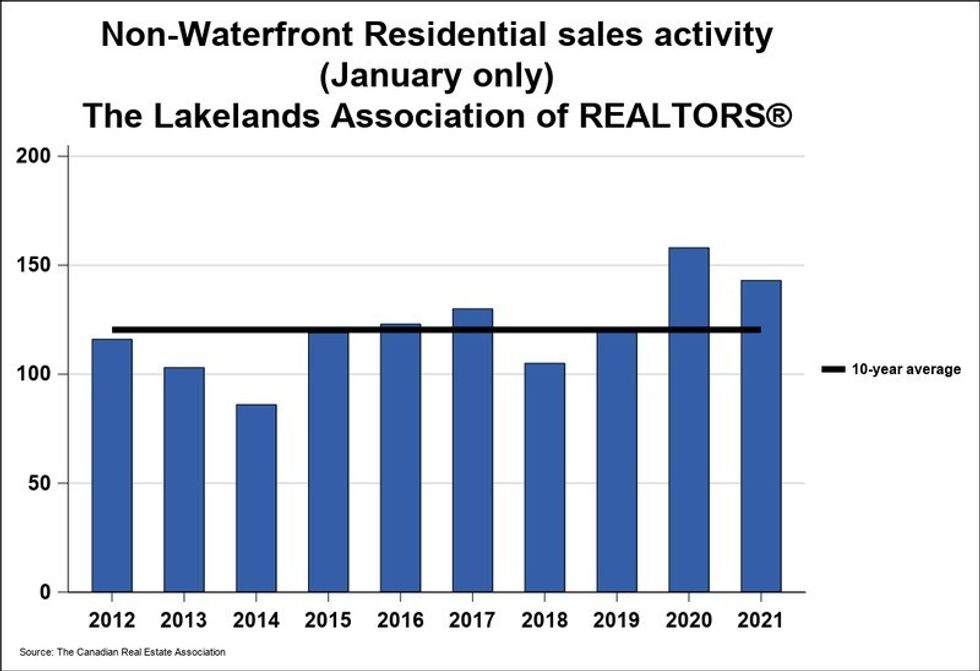 "Sales of both non-waterfront and waterfront properties remained very strong to start the year, with waterfront activity taking centre stage," said Chuck Murney, President of the Lakelands Association of Realtors.
READ: 2021 Could See the Tightest Muskoka Real Estate Market in Years
"With sales and new listings moving in different directions the balance between supply and demand has tilted heavily in favour of sellers, with the Lakelands region seeing the tightest market conditions in history. With inventories already at record lows and little room to fall further it's very likely that price growth will either continue to strengthen or remain at its current double-digit pace as buyers face increasing competition for a rapidly fading selection of listings."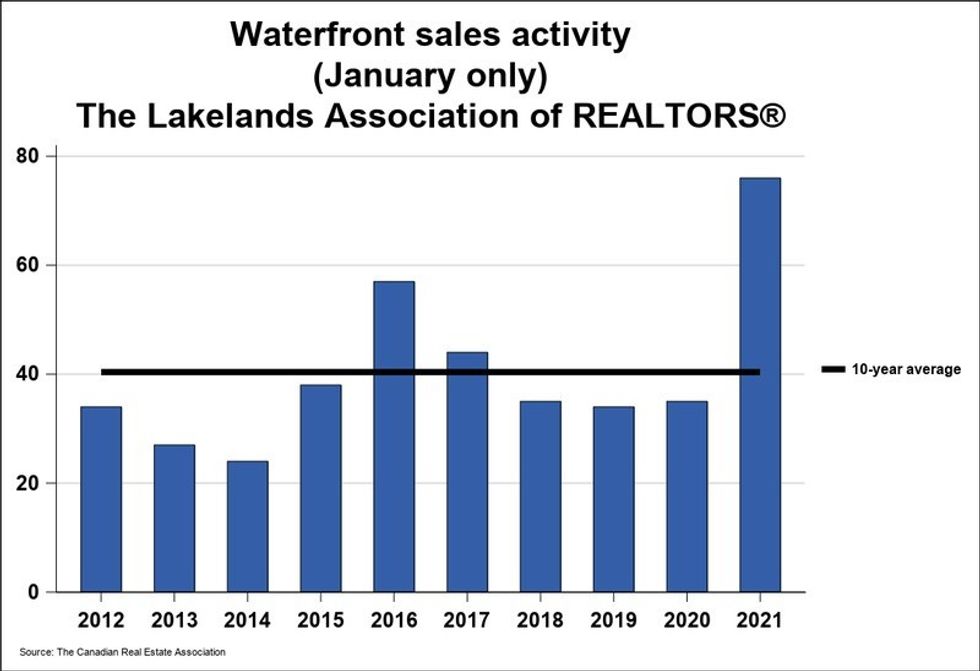 According to the MLS Home Price Index (HPI) -- which tracks price trends far more accurately than is possible using average or median price measures -- the overall MLS HPI single-family benchmark price was $483,300 in January 2021, up 35.5% year-over-year.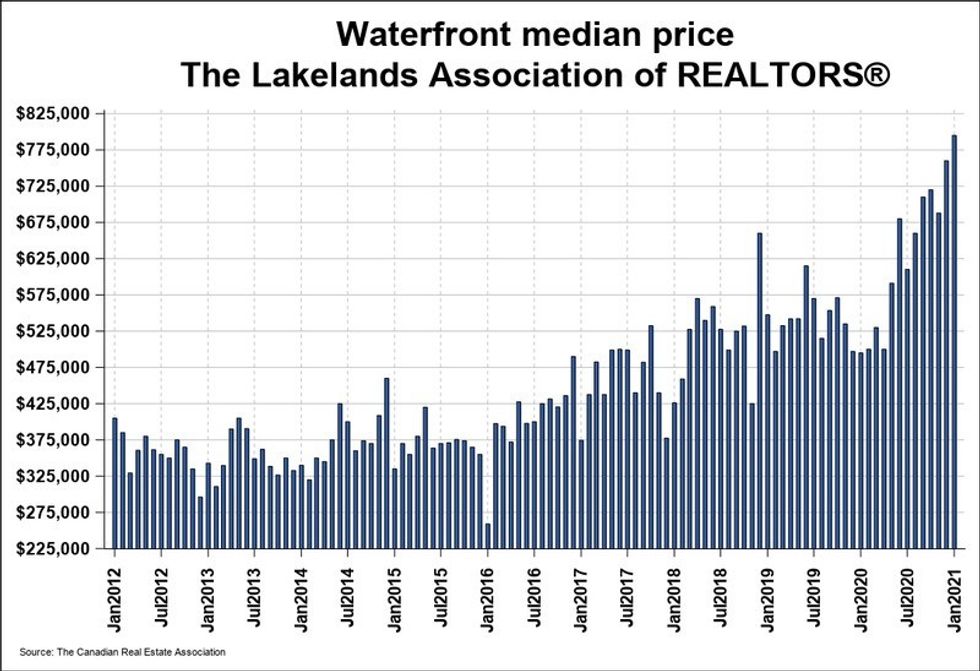 Where residential non-waterfront property sales were specifically concerned, the median price was a significant y-o-y gain of 39.2%, reaching a record $550,000. The waterfront property median price, meanwhile, reached $795,000 -- this amount is also a record, jumping 60.6% over January 2020.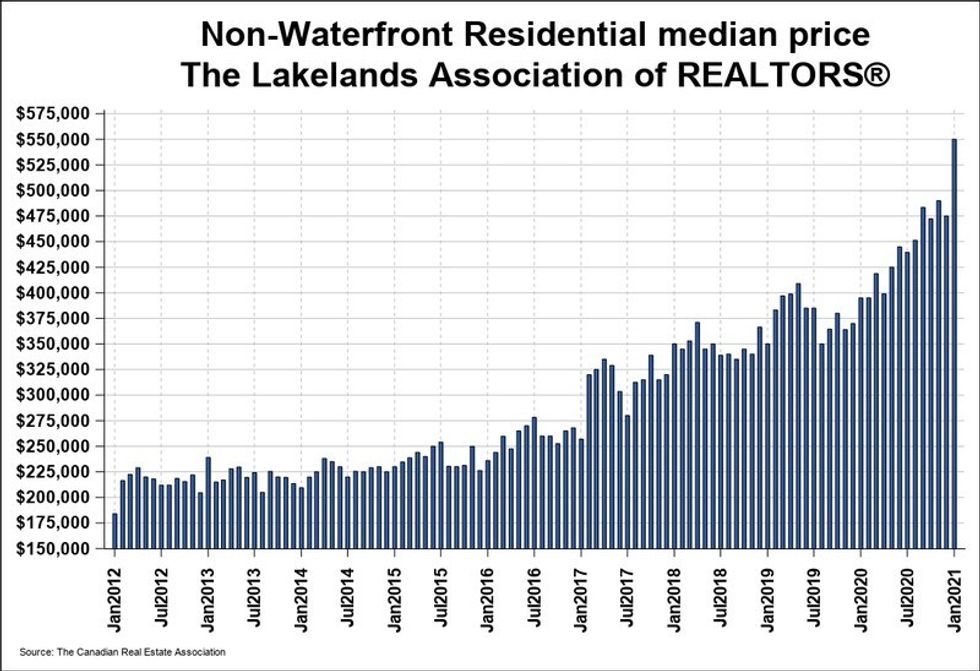 Last month, all residential non-waterfront sales combined to a total dollar value of $84.7 million. This sum stands 32.1% over that of January 2020, and the height of an all-home total dollar value hasn't been this tall in more than 20 years, CREA reports.
Waterfront sales, meanwhile, reached a total dollar value of $77.2 million. This amount is an astounding 265.2% from the same month in 2020 and also sets a new January record.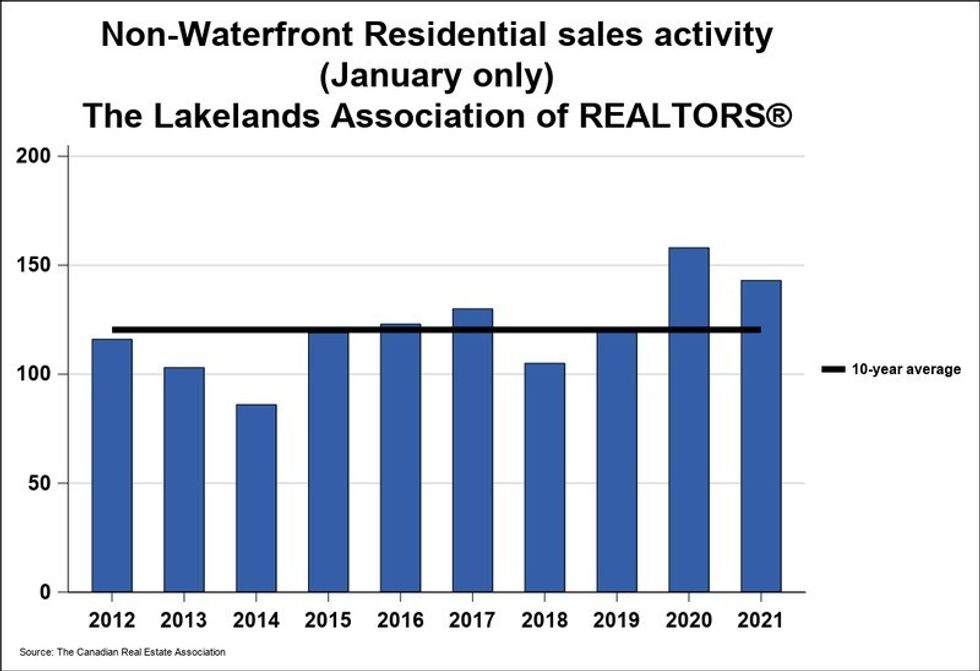 It was still January when our cottage country intel predicted the region could see its tightest market in years through 2021. Already, the data looks to be catching up to this premonition. Meanwhile, the rental market continues to be nearly as competitive as resale, as eager city-dwellers clamour for a taste of nature during these uncertain times.
At this rate, Muskoka's wild ride won't be slowing down anytime soon. For anyone already on board, or who's been planning to hop in, our advice is as follows: drink lots of water, keep your energy up, and -- if you're lucky enough to have one -- hold on to your hat property.
(Unless, of course, someone makes you an offer you can't refuse.)
Muskoka