Muskoka
Muskoka
Muskoka's August Realty Market Remained "Firmly in Sellers' Territory"
August brought highs and lows to the Muskoka real estate front, but the big picture continues to look good for those hoping to sell.
According to recent data from the Canadian Real Estate Association (CREA), residential non-waterfront sales activity recorded through the MLS system for the Lakelands region reached 326 units last month — an increase of 25.4% from August 2020.
That same category of sales hovered 1.1% over the five-year average, and 10.7% above the 10-year average for the month of August.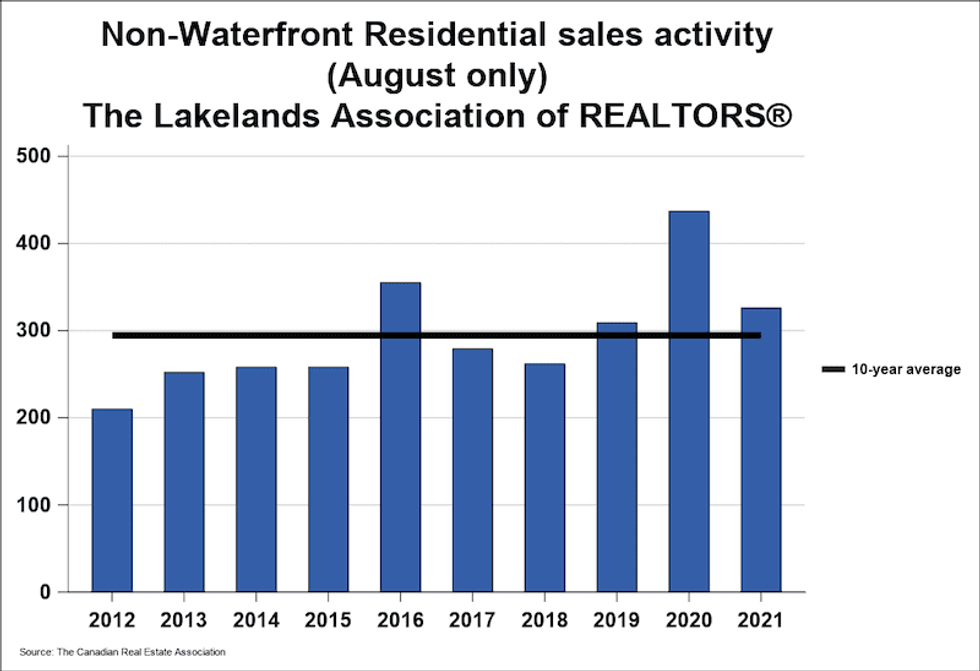 On a year-to-date basis, residential non-waterfront sales reached a record 2,629, surpassing the sales from the first eight months of 2020 by 20%.
READ: Waterfront Compound in Haliburton Blends Privacy with Convenience
"[The] frenetic fall market in cottage country [has resumed] after a brief "dog days of August" pause," says Ross Halloran of Halloran & Associates, Sotheby's International Realty Canada. "Economic fundamentals of low supply and high demand continue to drive above market sales trends."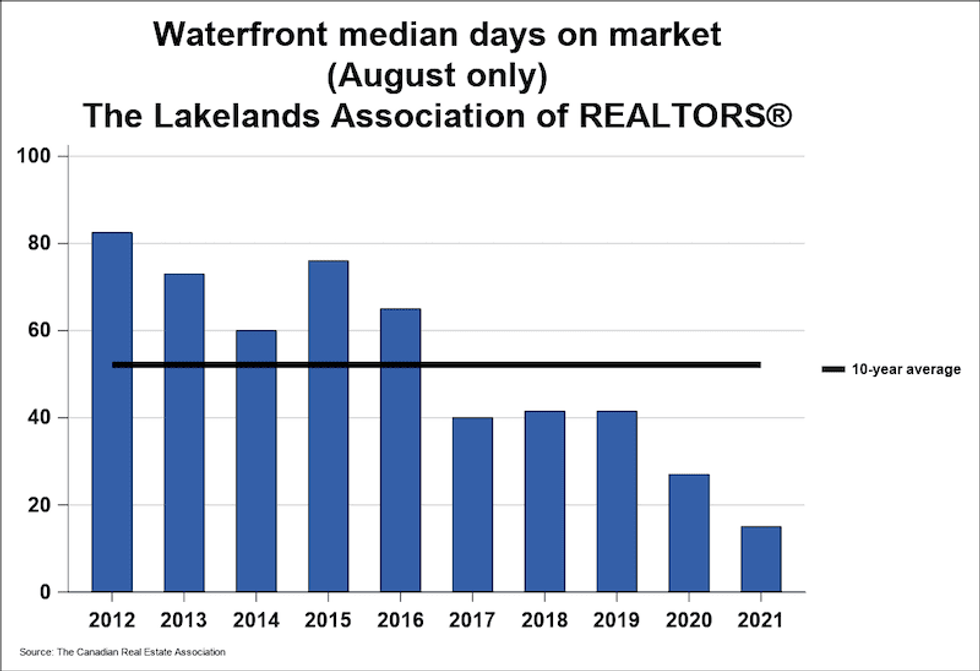 Illustrating Halloran's observations, waterfront property sales numbered 257 units in August, CREA reports — a 28.8% decrease year-over-year. The count also lingers 7.7% and 6.6% below the five- and 10-year averages for August, respectively.
Still, where year-to-date data is concerned, waterfront property sales reached a record total of 1,749 units from January through August, showing an uptick of 5.1% from the same period in 2020.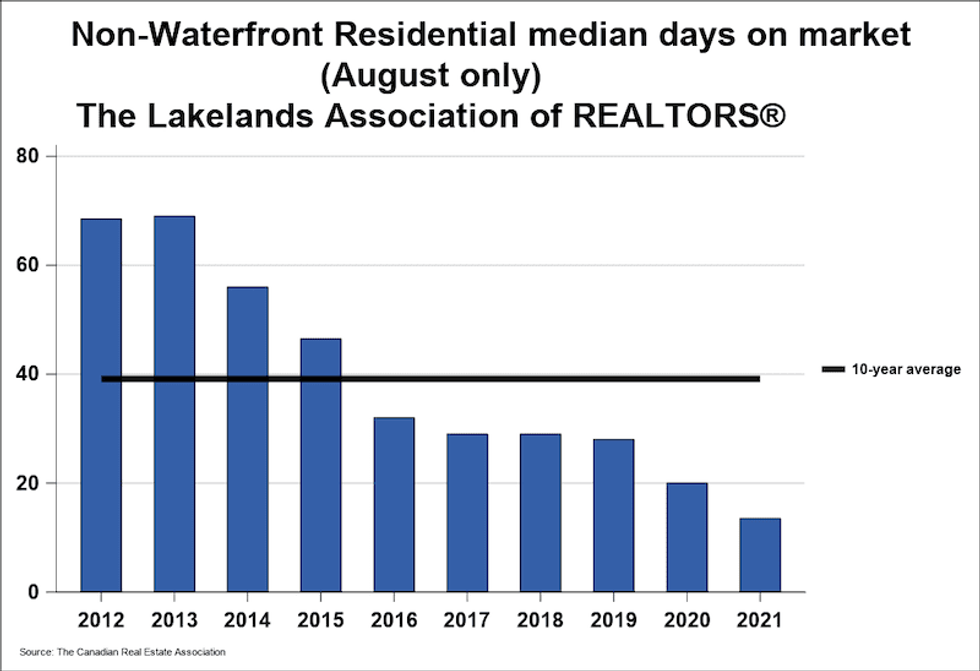 According to the MLS Home Price Index — which tracks price trends far more accurately than is possible using average or median price measures — the overall MLS HPI single-family benchmark price was $608,800 in August. This reflects a sharp rise of 38.5% year-over-year.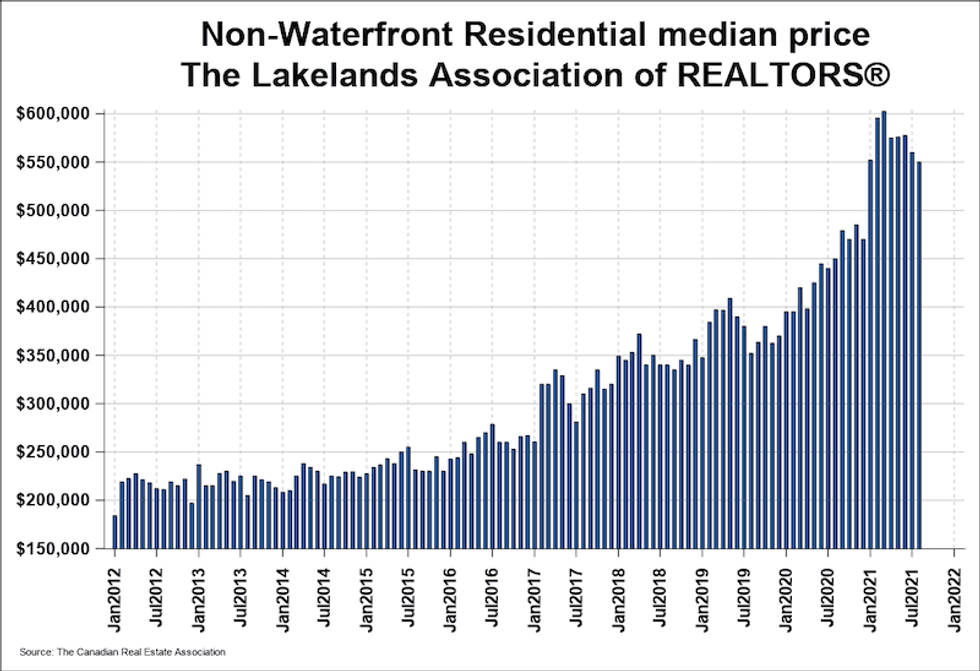 For residential non-waterfront property sales, the median price in August increased 22.2% year-over-year, reaching $549,950; this category's total dollar value dropped 11.7% year-over-year, however, hitting $196M. Waterfront property sales, meanwhile, showed a median price of $802,000 — or an 18.6% increase from the year prior — and a year-over-year decrease in total dollar value of 14.1%, landing at $290M.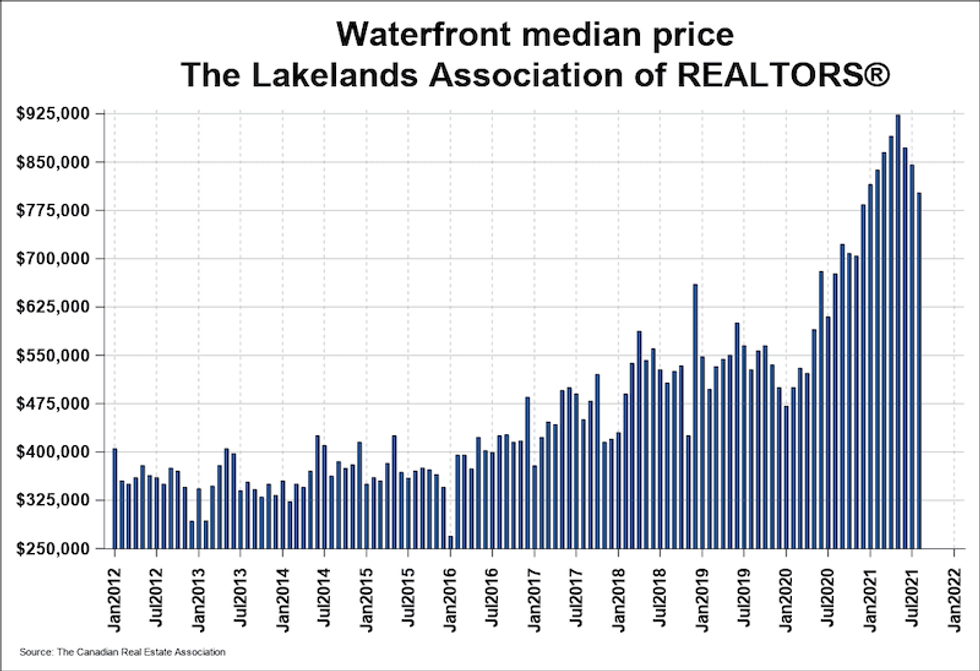 Year-to-date median prices, which measure values more comprehensively, showed a year-over-year increase of 35.3% for non-waterfront properties through the first eight months of the year. The category closed August at $575,000.
Waterfront property year-to-date median prices finished the month at $870,000, or 39.3% over the first eight months of last year.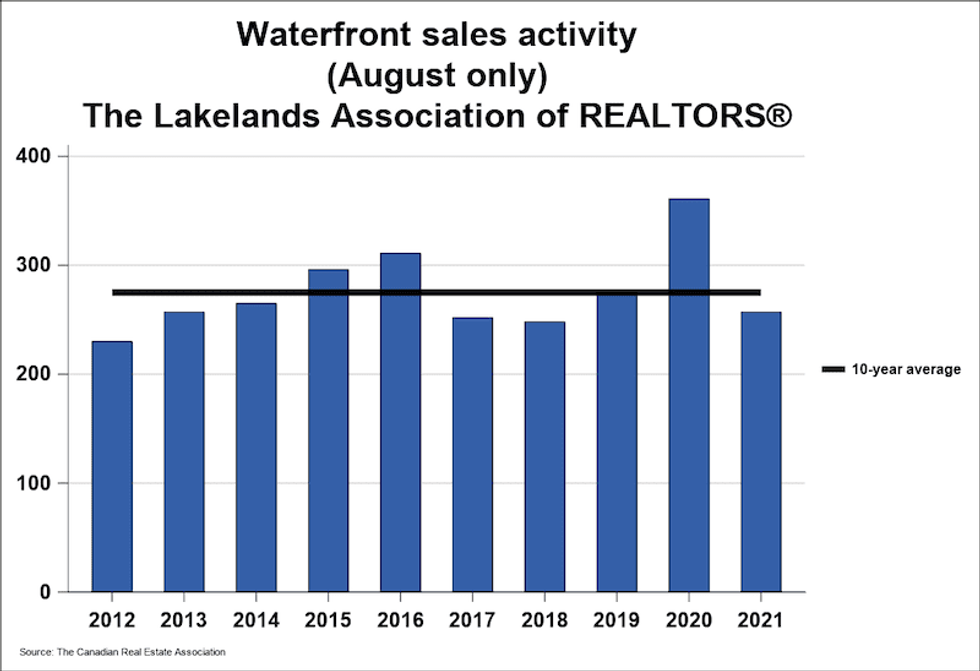 "Sales of both waterfront and non-waterfront properties were down from their astronomical highs last year to more average levels for this time of year," said Chuck Murney, President of the Lakelands Association of Realtors.
"Supply, on the other hand, hasn't been holding up as well and inventories are trending at rock-bottom levels. With the great surge of activity now in the rearview mirror, price gains are moderating to lower double-digit territory from the increases of more than 40% from several months ago but make no mistake, the market is still firmly in sellers' territory for now."