---
With sales activity and home prices continuing on a downward trajectory in most markets -- and more interest rates very likely on the horizon -- Canada's housing market is yet to bottom out.
This is according to a new report from RBC Economics, authored by Assistant Chief Economist Robert Hogue, which forecasted "more of the same" in the coming months. It also noted that markets in Ontario and British Columbia showed signs of stabilizing in September, although this was not due to prices, but rather "persisting affordability issues."
READ: National Home Prices Fall Nearly 7% in September
Nationally, home sales fell by 3.9%, marking a seventh-straight month of decline and putting the housing correction at -36% since February. Prince Edward Island, Nova Scotia, and Manitoba saw the greatest drop last month -- falling 10.8%, 8.1%, and 6.6% respectively -- however, it was BC, Ontario, and Alberta that saw the most jarring declines over the past seven months: -47%, -41%, and -41% respectively.
September's sales activity is below pre-pandemic levels in all provinces, with the exception of Alberta, Saskatchewan, and Newfoundland and Labrador. Additionally, home resales -- currently clocking in at 419,900 units on a seasonally adjusted and annualized basis -- are the softest they've been in a decade and aren't likely to pick back up any time soon.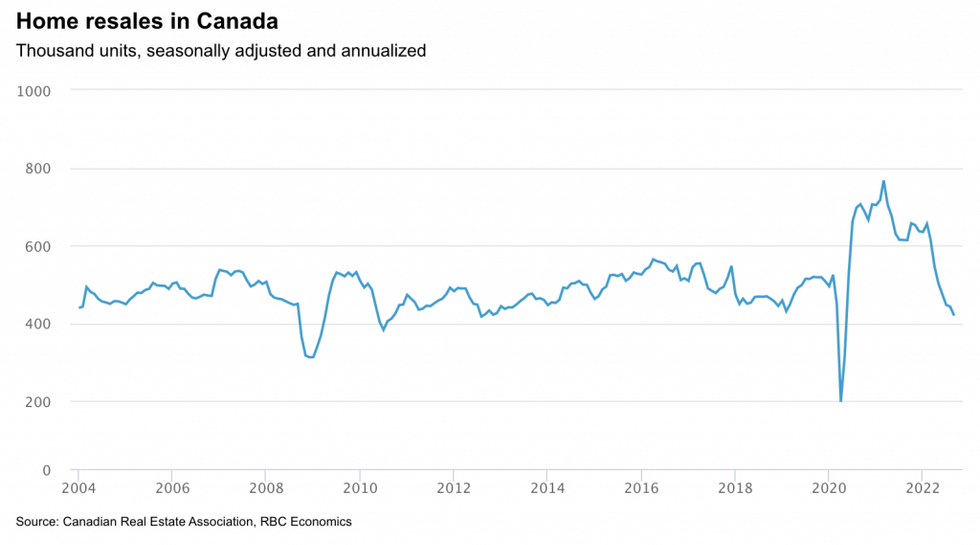 In tandem, property values are on the decline nation-wide, dropping the most dramatically in Ontario (including Toronto) over the past seven months, and in key BC markets (including Vancouver) over the past six months. As of September, Canada's composite MLS Home Price Index fell 1.4% since the most prior and 8.8% since the February peak.
With that said, it's smaller markets in Ontario that are leading the national price correction, including a 20% decline in Cambridge, 18% in Kitchener-Waterloo, 16% in Brantford, 16% in London, and 16% in Hamilton since the peak in February. Additionally, in BC, Chilliwack saw a 13% decline and the Fraser Valley saw an 11% decline since the aforementioned peak.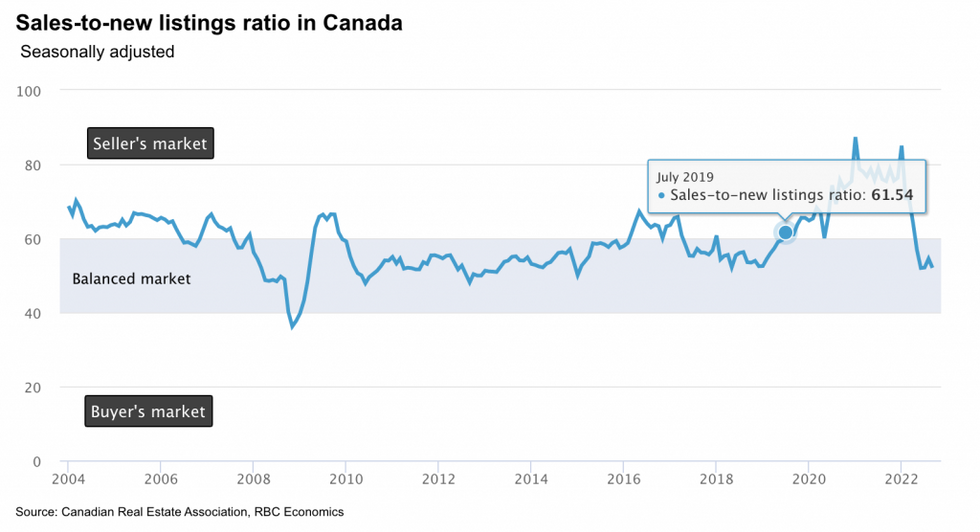 For larger Canadian markets, the price correction is undoubtedly in effect, although not as dramatically. Toronto's MLS HPI fell 1% since last month and 9.2%, or $118,000, since February.
Per the report, the current housing correction is "the second largest in the area since the inception of the index in 2000, and is rapidly closing in on the downturn that took place in 2017-2019" -- which saw the HPI drop by 10.9%.
It zeros in on Vancouver's index in particular, which is off 5.7%, or $71,000, since March, noting that "Vancouver buyers face the highest ever ownership costs anywhere in the country," according to RBC's latest Housing Trends and Affordability report.
In addition, softer property values are being observed in Montreal (prices fell by 1.7% month over month in Montreal after cresting in May), and Atlantic Canada, with Halifax seeing the sharpest price correction in the region with its MLS HPI falling 6.8% over the past five months.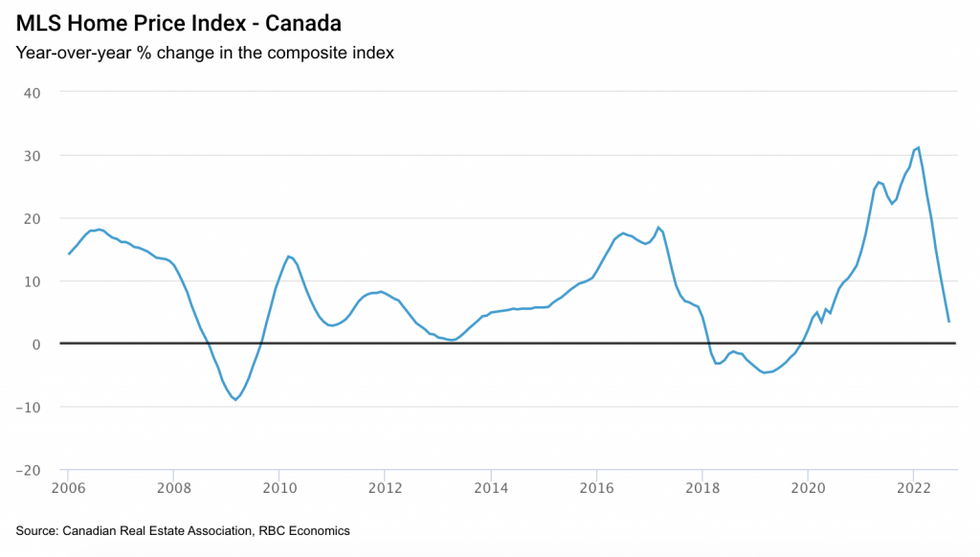 At the same time, many Prairie markets are holding strong -- which is a reflection of "stronger provincial economies, the resumption of in-migration and relatively affordable properties," notes the report, with Regina's MLS HPI off just 1.6% since a peak in April, Saskatoon's down for the first time this year, and Calgary seeing an 0.3% increase.
Meanwhile, Edmonton and Winnipeg saw declines -- down 5.3% and 6.0% respectively since the since peak -- on par with the rest of the country.
As for what's to come, RBC forecasts quiet activity across the board.
"The sharp interest rate increases to date and likelihood of additional hikes in the coming months—we anticipate the Bank of Canada will take its policy rate deeper into restrictive territory to 4% by December—will continue to hold back buyers," the report reads. "We see this depressing demand further though some markets may have more limited room to fall. We think resales have plummeted to such low levels in many BC and Ontario that they will soon reach a floor."
"Rising rates will intensify affordability issues in the near term and sustain heavy downward pressure on home prices. We expect benchmark prices will fall approximately 14% nationwide by next spring from the recent peak, with steeper declines (-16%) in Ontario and British Columbia, and milder corrections in Alberta and Saskatchewan (-4%)."

Real Estate News