---
A new mixed-use tower could make its way to the corner of Portland and Niagara streets, across from Victoria Memorial Square and just steps from King West.
Just last week, Density Group Limited submitted a zoning by-law amendment and a draft plan of subdivision application to City planners to allow the redevelopment of the site at 1 and 9 Niagara and 18 Portland Street, which is currently home to three commercial properties that would be demolished to make way for the 23-storey mixed-use building with 182 units.
Located on the southwest corner of Portland and Niagara, the site is currently home to a four-storey office building, a single-storey Hounds of York social club for dogs retail building, and a vacant one-storey building that was a former Toronto Hydro utility building built in the modest Edwardian Classical architectural style and designed by Albert E. Salisbury.
According to the project proposal, while the three buildings would be demolished, the retaining facade of the existing Toronto Hydro building would be preserved despite not being listed under Toronto's Heritage Register because it "may have some cultural heritage value," according to the application's planning rationale.
If the project receives the green light, the site will be redeveloped with a 23-storey mixed-use building supported by a six-storey podium containing café, retail, office, and commercial uses on the bottom three floors and condos above.
The proposed building would contain a total gross floor area (GFA) of approximately 184,062 square feet, consisting of 1,065 square feet of retail and café space, 27,351 square feet of office space, and 155,645 square feet of residential space.
READ: Toronto's United Building Promises a Future Brighter Than its Already-Storied Past
Designed by RAW Design, the building would feature an attractive contemporary architectural design achieved through the use of a range of high-quality materials to contribute to the existing and planned character of the King-Spadina neighbourhood.
The development also includes a generous amount of indoor and outdoor amenity space, 8,410 square feet in total. Residents will have access to indoor amenities on the ground level as well as on the 22nd and 23rd floors, while an outdoor amenity space will also be located on the 22nd floor.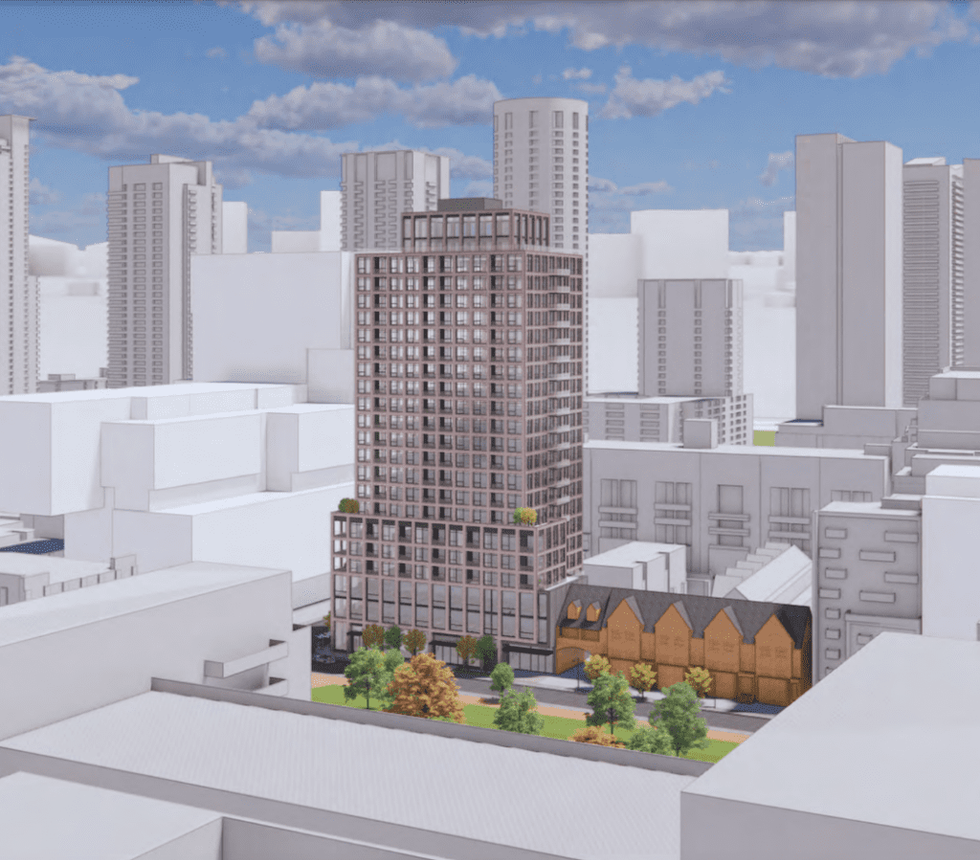 Rendering via City of Toronto
Of the 182 units proposed in the project, the breakdown consists of 67, one-bedroom, 97 two-bedroom and 18 three-bedroom suites. All of the residences would have their own private balconies or terraces, with all units having their own private balconies or terraces.
Residents and visitors would have access to parking via a two-level underground parking garage that would have space for 43 residential and 11 visitor spots, three of which would be accessible.
Additionally, the proposal includes 198 bicycle parking spaces, of which 54 will be located at-grade and 144 spaces will be located at the mezzanine level.
Future Developments