A proposal to redevelop a heritage building at the corner of King and Bathurst has resurfaced with a reimagined plan.
---
After seeing some project revisions over the years, developers Timbercreek Communities and Trinity Group are now seeking to build a 17-storey, 58-metre-tall condo on top of a modified heritage structure that currently houses the Banknote restaurant and bar at 663 King Street West, while fully replacing the neighbouring buildings at 647 King West and 60 Stewart Street to the south.
The heritage building dates back to 1900 and was once home to the Canada Biscuit Company.
The original proposal from the site's previous owner, Main and Main, was submitted in the winter of 2016 and sought approval to permit the redevelopment of the subject site with a 19-storey tower.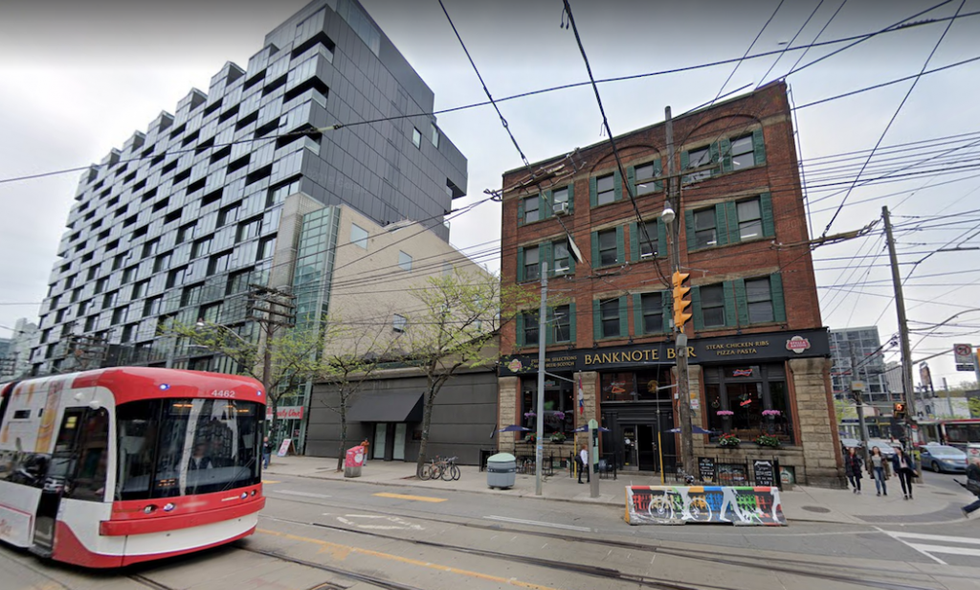 663 King Street West/Google Maps
However, City planners objected to the proposed building's height and said not enough heritage elements of the building at the site were proposed to be reserved.
A revision was made to the plans, and the building decreased in height from 68 metres to 58 metres, while major changes were made to the upper residential component, and more of the facade of the heritage building was to be included.
Though this was not the final revision, as a new plan is being reviewed by City planners.
The latest submission sees the building's exterior completely reimagined. Designed by Core Architects, the building now features white lintels over the King Street-facing windows, while white-painted pilasters and larger lintels adorn the building along King and Bathurst Streets.
A neighbouring building at 647 King, which currently houses EFS nightclub, would be demolished and replaced with a six-storey frontage that would be incorporated into the building's overall design.
Above the heritage building, the building steps back with a glass-panelled section, while a larger floorplate begins at the eighth floor, with inset balconies and sections of white panels.
To ensure the heritage building's value is preserved, the heritage reconstruction of the site would include careful design and matching and extrapolating window patterns on Bathurst and Stewart Street, according to the project's heritage impact statement.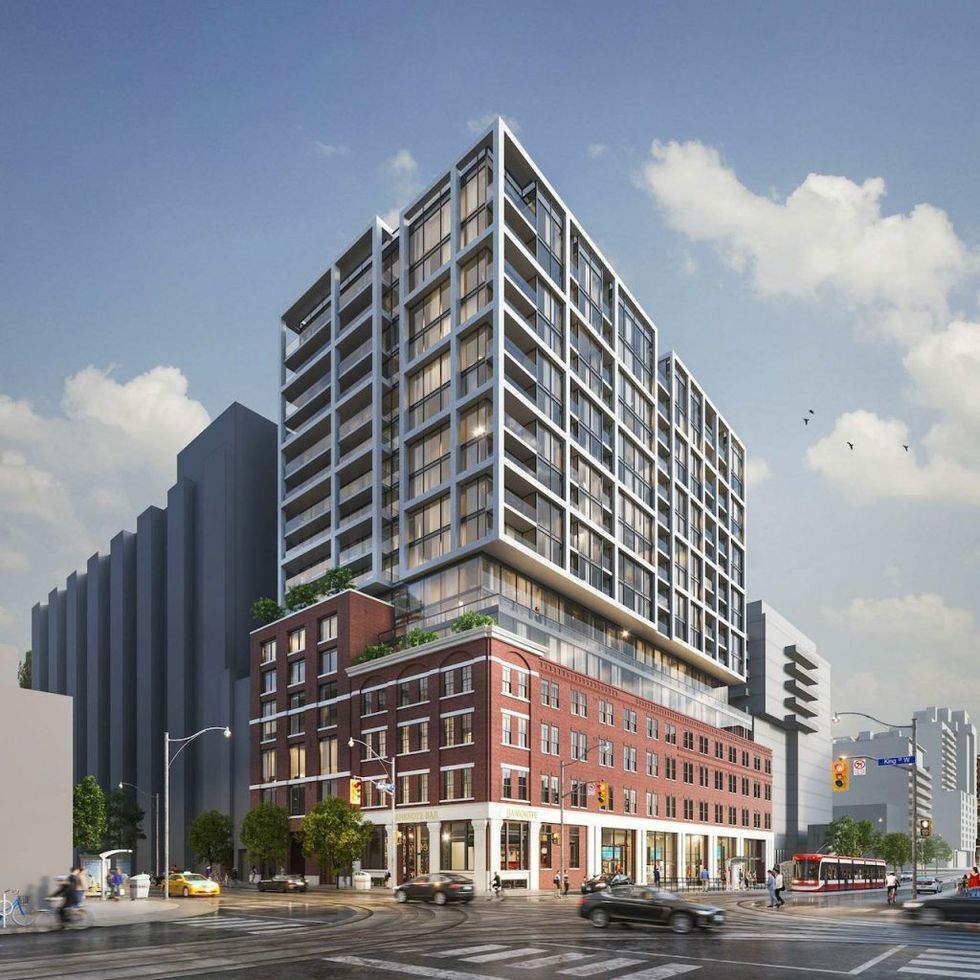 As per the project data sheet, the revised building would have a total gross floor area (GFA) of 22,805.69 m², which would be broken down by 21,551 m² of residential space and 1,254.33 m² of retail space.
The building would house a total of 286 rental residential units, broken down by 40 studios, 110 one-bedrooms, 103 two-bedrooms, and 33 three-or-more bedrooms.
A two-level underground parking garage is also proposed and would include 51 parking spots.
Future Developments