As some companies push for a full return to in-person work, and others continue to figure out their hybrid standards, office tenants across the board are evaluating exactly how much space they need. For those looking to rent somewhere new, there's one demand that's become increasingly popular: that the space be environmentally sustainable.
"To try to attract high-quality tenants, a green building is no longer a 'nice to have,' rather it is a must-have," Sean Menkes, Vice President of Office/Retail at Menkes Developments tells STOREYS.
---
There's a "large push from tenants," Menkes says, for more environmentally conscious office buildings, noting that green building features have become a priority both during initial lease negotiations and throughout lease terms with their tenants.
The Toronto-based developer is a leader in commercial real estate builds, having developed over 20 million sq. ft of office, industrial, and retail space in the Greater Toronto Area. They've also moved the needle when it comes to green offices, having completed Canada's first-ever LEED-certified office building — 25 York — back in 2009.
"At that time, sustainability mattered to the upper echelon of employers such as Telus, who is [an] anchor tenant, but not broadly in the market," Menkes says. "What that building did was showcase to our market what a high-performance, sustainable building was, and it fueled increasing demand for such offices."
To be certified by LEED — a tiered rating system for eco-friendly buildings that's used all around the world — developments have to meet a certain set of green standards corresponding to the level of LEED certification they're seeking, whether that be a basic certification, or a silver, gold, or platinum designation.
Menkes Developments' latest office project, the Waterfront Innovation Centre, located next to Toronto's Sugar Beach, recently earned itself the coveted platinum status — the company's fifth building to reach the highest LEED designation. Built on City-owned land at 155 Queens Quay East, the glassy 475,000-sq.-ft, two-building office complex comes as part of Waterfront Toronto's 2,000-acre redevelopment plan to revamp the city's eastern waterfront.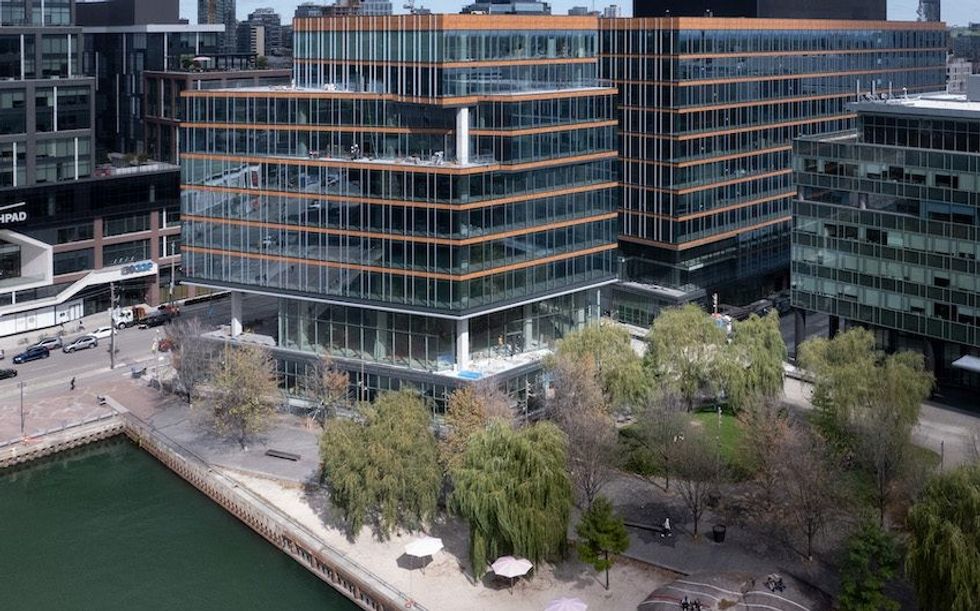 Menkes Developments
The complex, which is home to tenants such as theScore and WPP, features a suite of eco-friendly elements, including water collection systems that reroute rain runoff for landscaping irrigation, responsive lighting technology to conserve energy, and a deep lake water cooling system that keeps office temperatures comfortable while reducing carbon emissions.
But perhaps most impressive, Menkes says, is the green roof equipped with 576 solar panels that offset 5% of the building's electricity demand.
"The building was conceived with the objective of achieving the highest standards in environmental sustainability," he adds. "Menkes always strives to be an industry leader in sustainable building design, development, and operations."
Developing an eco-friendly building, however, is by no means easy (or cheap). In addition to the general increase in costs and complexities that come with constructing a greener building, new versions of LEED standards are continually introduced, making achieving a certification even more challenging. Ultimately, though, Menkes says that it's worth all the effort, and credits the changing LEED standards as a "good approach" that "consistently pushes the industry to perform better."
In terms of benefits for developers, the proof is in the (high-demand) pudding. Menkes says their highly sustainable office buildings are never short of tenants, with occupancy rates between 90 and 100%.
"The benefits of improved air quality, natural light, accessibility, and wellness are critically important to office tenants today," Menkes said. "Such healthier workplaces lead to increased productivity, fewer sick days and reduced absenteeism, which often far outweigh the premium rent required to lease space in a green building."
He also notes that in the long run, green buildings are more cost-effective, thanks to lower utility consumption.
With more and more cities — including the City of Toronto — pushing a net-zero strategy for buildings, developers are going to have to quickly get on board. But Menkes is solidly — and proudly — ahead of the curve.
Real Estate News