---
Searching for a cottage can be challenging, even at the best of real estate times.
To make the process a little bit easier, many hopeful buyers spend the cold winter months searching online, with goals of purchasing their dream cottage in time for the spring and summer ahead.
These searchers are onto something, as there are a couple advantages to the winter cottage hunt. First, there's generally less competition from those buyers who prefer to view properties after the snow has melted.
Further, sellers may be more motivated to sell in the winter. In fact, they might even be amenable to below-list offers during this season.
READ: 'Pent-Up Buyer Demand' in Muskoka's Market Bodes for a Strong 2023
This said, there are a handful of disadvantages to be aware of in the wintertime, too. For instance, this time of year, there are generally fewer listings to choose from overall. The bulk of new cottage properties are usually listed on the MLS around mid-March, ahead of the annual Spring Cottage Life Show (which takes place in Toronto at the end of March).
Due diligence is also more difficult in the winter: checking shoreline characteristics and depth is hard to do when the lake is iced over; frozen ground makes septic inspections more challenging, particularly for winterized cottages; and general access to on-site showings can be harder, as many remote cottage roads aren't often plowed.
Now, with these notes in mind, there are still many ways to approach a wintertime cottage search wisely.
The first step starts at home, when you're searching online for potential properties. On the MLS or realtor.ca, ensure you review all available media; check if summer photos and or/exterior video and drone footage is included, as these can provide a sense of a property's topography and shoreline characteristics (depth, sandy bottom, weeds, etc.).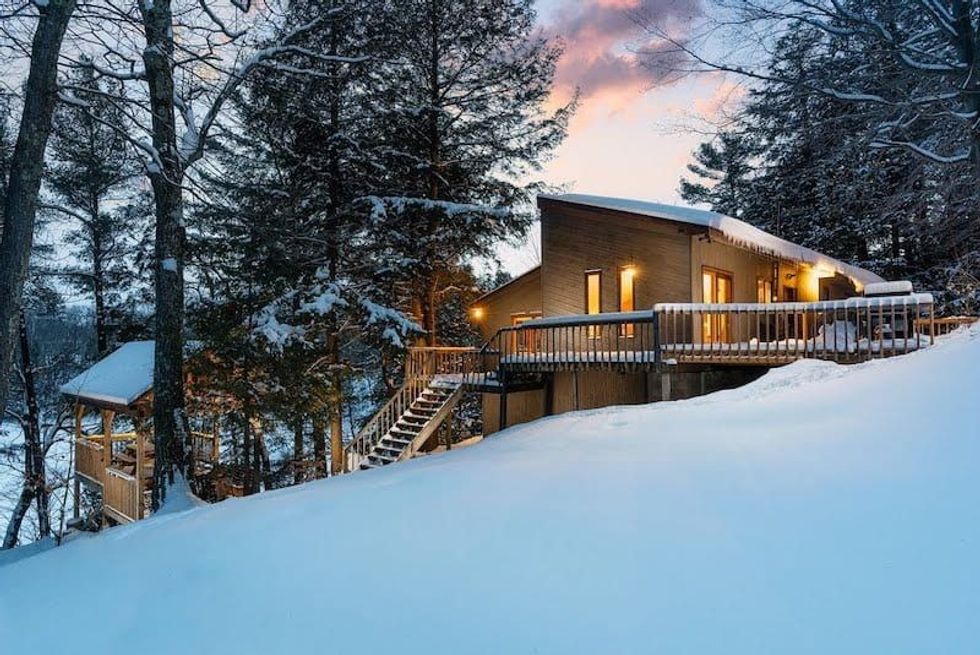 Next, you can confirm lake characteristics and water quality on Wikipedia, as well as through reputable sites like Muskoka Water Web, or apps like Aqua Map.
If you do plan to view a cottage property in person during the winter, it might be helpful to bring along snow pants, winter boots, and even snow shoes. You'll want to be careful if walking on lake ice, as water currents can often make apparently safe ice dangerously thin in certain areas. If the ice is confirmed to be safe and you would like to measure water depth on a frozen lake, you can bring an auger with you to cut a circular hole in the ice, and then use a long tree branch, pole, or stick to measure water depth.  
Even if you're a winter buyer, you'll likely intend to get plenty of use out of your cottage in the summer months, and there are ways you can get a sense of what that will feel like. I recommend using the Sun Tracker app to confirm the sun's position and exposure during various times of the year.
You can also find out if the lake your potential cottage is on has a cottagers' association -- like the Lake Joseph North Cottage Association -- or a road association. Regional association websites, like that of the Muskoka Lakes Association, are also a tremendous source of local information about the lake region you are considering.
Various municipal offices in Lake Country usually include local building and planning departments, which are a great due-diligence resource for those considering building or renovating a prospective waterfront property. For example, information from the Muskoka Lakes Municipal Office is here. You can look into these early, so you're ready to roll on any warmer-weather projects you have planned.
In closing, despite some challenges, anytime is a good time to search for a cottage -- as long as you can adapt to the seasons, and you ensure you do your homework before buying. Better yet, you're even wiser to engage an experienced local realtor to assist you in your search.
---
This article was produced in partnership with STOREYS Custom Studio.
Muskoka