Toronto father of two Jamie Schacter might be a lawyer by day, but for the month of October, he sets up one of the most tricked-out Halloween houses in midtown Toronto. (Photos courtesy of Jamie Schacter)
---
Again in 2019, one family's celebration of the spooktacular turns a street in Cedarvale into a treat for the whole neighbourhood.
For Jamie Schacter, the journey into Toronto Halloween history began nearly 17 years ago, starting not with a single step, but rather with the gentle light emanating from a human skull.
"I was driving by someone's house when I saw they had skull lights on the lawn. I literally stopped the car, got out, rang the doorbell, and asked, 'Where did you get those?!'"
At the time, Schacter and his young family had just a few outdoor decorations. He loved the look of the skull lights, but it turns out they'd been purchased at a Target store in Buffalo. In the early 2000s, online shopping was in its infancy and Target was a decade away from its rise (and spectacular demise) on Canadian soil. But as fortune would have it, the Schacters were in luck.
"My wife, Sari, was actually in Buffalo at the time. So I told her she had to go and pick some up."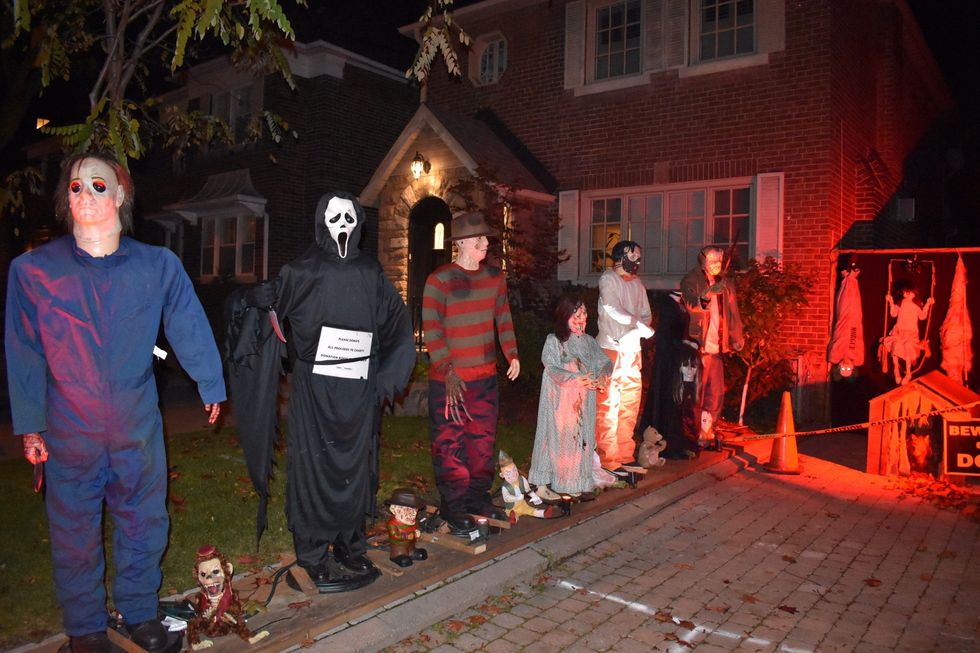 Many visitors to the house of horror donate to a charity box the Schacter family sets outside, with proceeds to the Hospital for Sick Children as well as Toronto Western Hospital. The total collected is estimated to hit $50,000 this year.
Schacter didn't realize it then, but that first row of lights would soon be a Cedarvale tradition. Pay a visit to Schacter's home on Glen Cedar Road in midtown Toronto this Halloween and you'll be greeted with close to 100 special displays, plus lights and other frightful touches. There's a band of the Grateful Undead, a murderers' row featuring famed horror villains, a life-sized corpse seated in an electric chair, and the spook goes on.
Looking at the professional-level quality of the setup, you might think Schacter does this for a living. But he built his collection in between a career as a lawyer and, at least in the beginning, with a few solid runs for the border.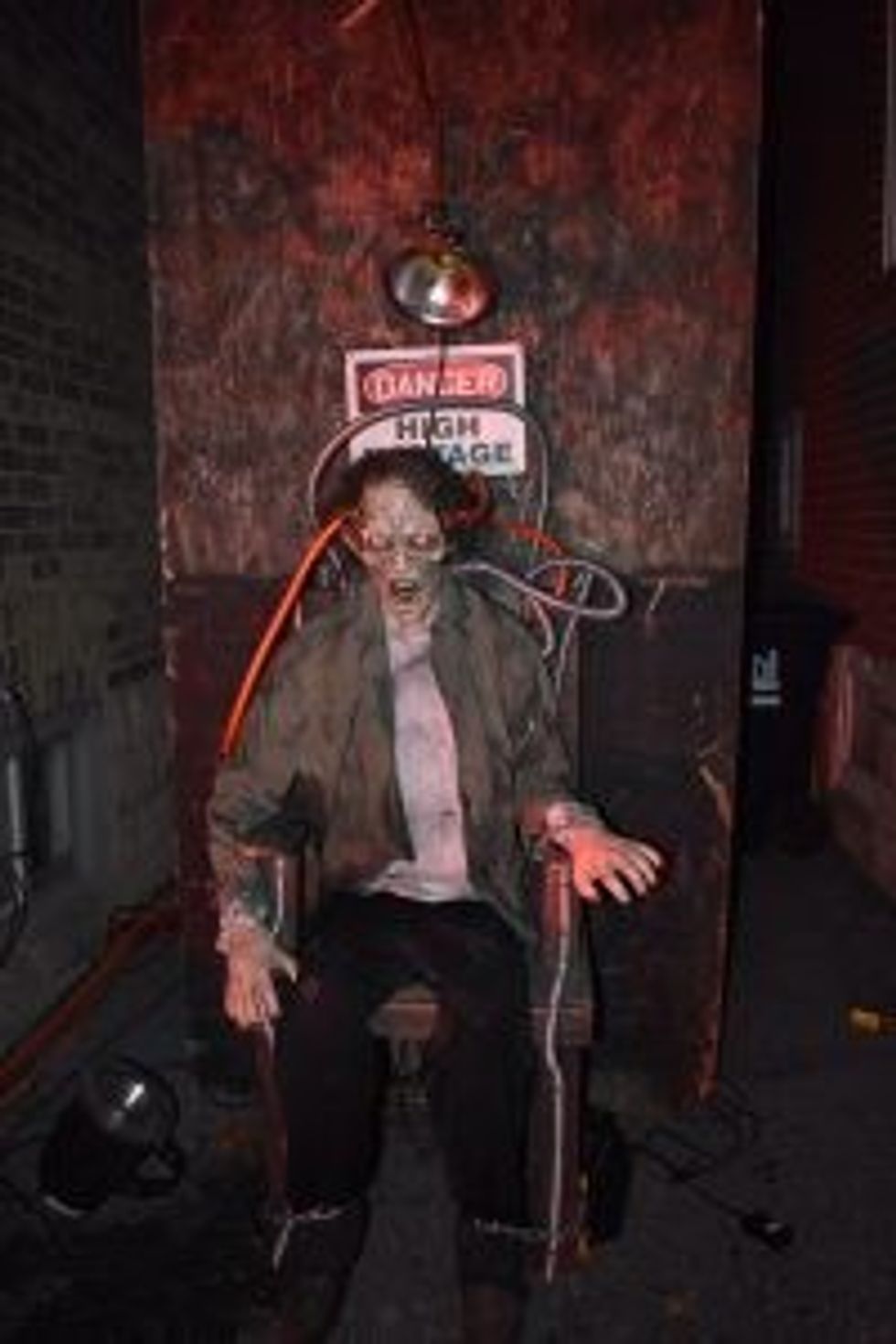 "When I started, Canada didn't have nearly the selection of decorations available in the U.S. While we were in line in Target with all of our Halloween stuff, someone said, 'Well, I'm sure you've been to the Spirit Halloween store.' And I said, 'I have no idea what you're talking about.'
"So we drove over to Spirit and well, talk about your kid in a candy store! I remember driving back across the border and having to declare that along with a whole lot of candy, we also had a corpse and a mummy."
From there, Schacter started adding to the collection each year, a few pieces at a time. He says he didn't set out to create a haunted destination or grow up in a home obsessed with Halloween. But he says it was always a fun holiday for his family.
"As a kid I liked Halloween. I loved dressing up. I'm one of four and one of my brothers was big into Halloween. He loved playing scary music when trick-or-treaters came to the door. I remember my aunt and grandmother would make caramel apples and give them out to the kids. So when we got our first house, I said, 'Let's throw something on the lawn."
That "something" now includes displays that rival what you might see in an actual haunted house. Schacter says they start getting ready the first weekend in October. His children, 11-year-old Austin and 14-year-old Sydney, love to help set up, as does his extended family and his neighbours, who don't mind sharing a little space with some ghosts.
Besides stringing hundreds of lights and cobwebs, they use four air compressors to make dogs leap, graves breathe, and the undead rise to greet guests. Schacter says he tries to buy higher quality products for longevity and if something less expensive catches his eye, he'll buy some backups in case the product breaks or is discontinued.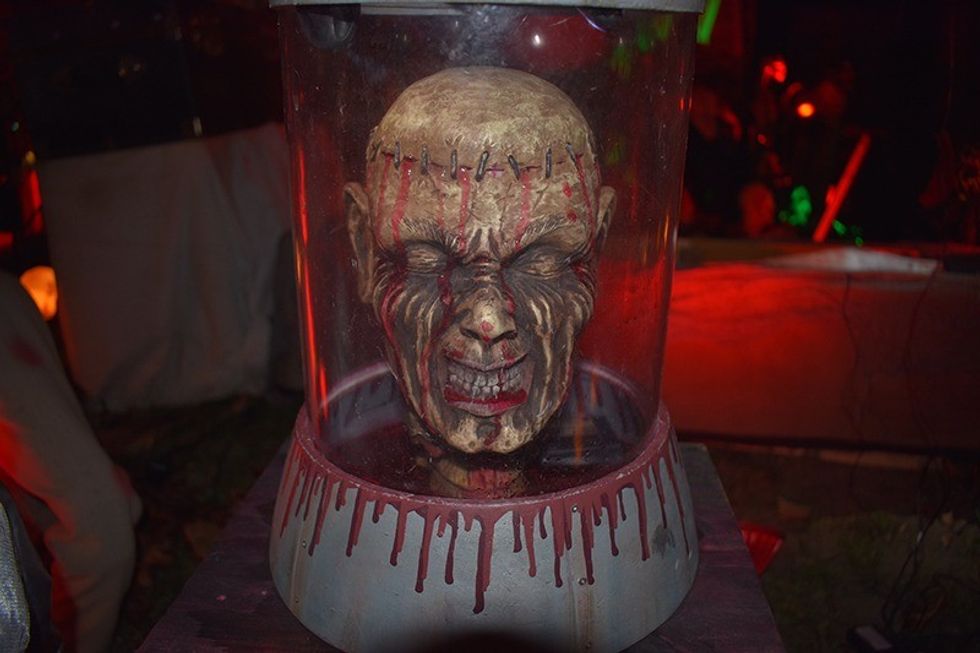 In the springtime, Glen Cedar Road is one of the prettiest streets in Toronto. But come October, the neighbourhood turns awfully scary. And the community appears to love it.
In all, Schacter estimates he's spent over $25,000 on his collection. However the investment of money and time, he says, is worth it.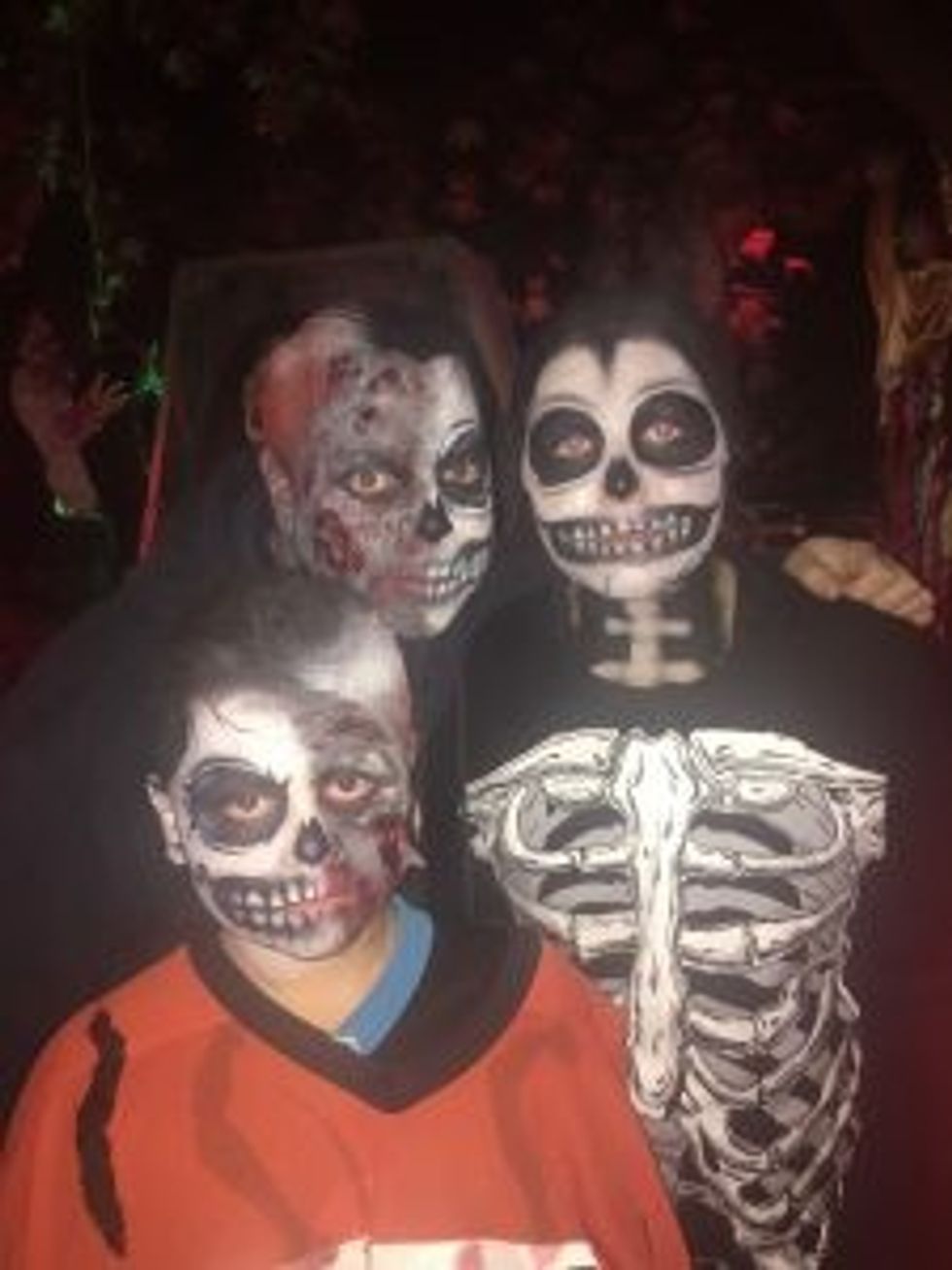 Jamie Schacter and his two children, Austin, 11, and Sydney, 14.
"We get people who are like, 'This is part of our tradition, we do it every year.' I know people who'll drive into the city just for this, or who'll bring friends from out of town," Schacter says. "I'll run into people and when they find out what street we live on they'll say, 'Oh, do you know the Halloween house?' and I'll say, 'Yeah, that's us.'"
Schacter doesn't charge admission, but in 2011 his wife suggested that since so many people were stopping by, why not throw out a bucket to raise money for charity? Schacter's firm, Zuber & Company , matches donations dollar-for-dollar. Each year the donations go to a different department at the Hospital for Sick Children and to a fund at Toronto Western Hospital started in honour of Schacter's father.
Schacter expects this year the total amount raised since they began will top $50,000.
"The reaction has universally been amazing. It's one of the reasons we do it. The neighbours are awesome, they think it's great for the community, so we do as well. It's about kids and families having fun and giving back."
With so much to see Schacter says there's always something new to find in the display, even if you've been there before. Everyone has a favourite, but for Schacter it's not the unique skeleton band depicting the Grateful Dead , or the electric chair, which is also the most expensive piece in the collection.
I think my favourite scare is the demon dog that jumps out at you. But my favourite thing is probably the breathing grave. It's a grave covered with leaves, and we put a headstone on the front of it. It rises and falls and looks like it's breathing. I like it because it's simple.
If you'd like to see the Schacters set-up for yourself, the address is 191 Glen Cedar Road , not too far from Eglinton and Allen Road. If you can't make it this year but would like to make a donation, email jschacter@zubco.com
Community