---
At the beginning of the pandemic, companies across the country abruptly shuttered their offices and instructed employees to work from home, while students were told to study virtually.
And, well over a year later, many workers and students are still working and learning remotely.
As a result, we quickly learned how important it is to have access to technology, especially as an educational tool. Unfortunately, we also learned that functioning computers and technology aren't as readily accessible to everyone.
With a growing digital divide, many people, especially young students were being left disconnected. But that's where Greenwin comes in.
READ: Over 2000 Desperately-Needed Affordable and Market Rental Housing Units Coming to Toronto
Amid the pandemic, Greenwin -- one of the country's largest privately-owned, full-service property management and development firms -- tried to continue as many of its social programs as possible, moving as much as it could online. However, many kids didn't have access to computers and thus were unable to access Greenwin's programs.
"We knew that we wanted to get technology into the hands of local youth," said Jessica Green, Director of Partnerships at Greenwin.
Noticing a similar digital divide was Mark Tenaglia, Civilian Co-Chair of Toronto Police 31 Division Community Police Liaison Committee (CPLC). Tenaglia explained to STOREYS that 31 Division CPLC has been active in the Jane and Finch community for years and has developed strong relationships with local residents.
"We know what they're going through, what their needs are... whether that's good or bad," said Tenaglia. "One thing we learned was that COVID showed the big divide in the communities that don't have a lot of money and access to resources like technology."
Understanding this disconnect, Tenaglia said that Greenwin and its community outreach arm Greenwin Cares teamed up with 31 Division CPLC to commit to donating 1,000 top-quality refurbished laptops to students in the Jane and Finch community through the program Laptops for Learning.
Tenaglia explained that in a lot of local homes, there is often one device shared between multiple kids and their parents.
"When we talked with Greenwin they were super excited to help out," said Tenaglia.
Together, 31 Division and Greenwin decided to hold a laptop drive at which they would give out the first batch of laptops to students in the community (this was not limited to residents living in Greenwin buildings).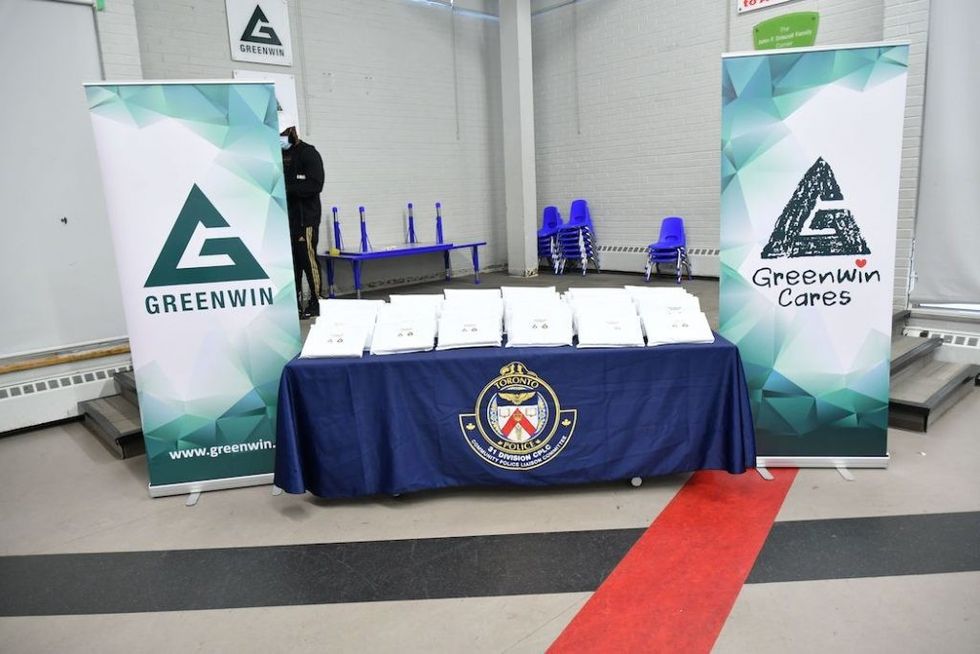 Laptops for Learning
On October 30, members from the Toronto Police 31 Division CPLC and Greenwin Cares distributed the first 47 laptops to students referred to the program through the Black Community Consultative Committee (BCCC), a volunteer-based organization that focuses on "strengthening community bonds, providing resources, and support to empower the black community to overcome systemic barriers to success."
"We are so excited to come together with the TPS 31 Division CPLC and the great people of this community to help support these students on their path to success," said Kevin Green, President and CEO, Greenwin Corp. "Having a laptop to call their own will give these students the necessary tools they need to get the education they deserve."
Based on the success and feedback of the event, Jessica Green said the hope is that more landlords and developers throughout the city will see the direct impact of a program like Laptops for Learning and get involved.
"Our sites are part of an ecosystem, so when the community at large is supported, our properties organically benefit. This has always been the thinking behind Greenwin Cares, which is to develop programs that address issues affecting entire neighbourhoods -- but always from the ground up and always in collaboration with local businesses, Toronto Police, councillors, and MPPS," she added.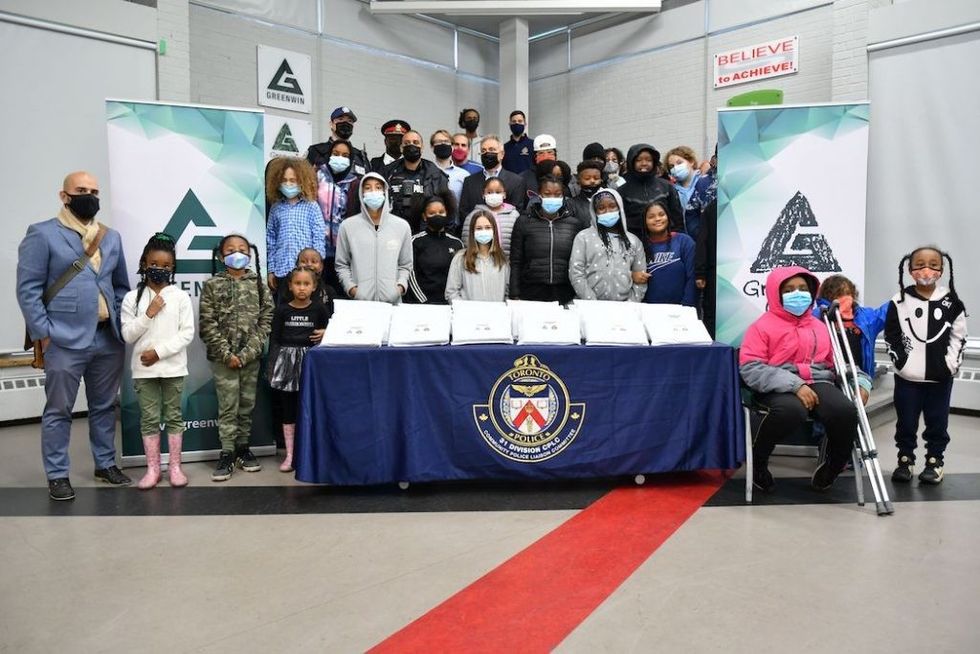 Laptops for Learning
As an active member of the local community, Tom Rakocevic, MPP Humber River--Black Creek, said he was very excited when he was approached and asked to be a part of the initiative.
Rakocevic told STOREYS he believes there should be no financial barriers to children's education and this initiative helps many youths and their families in this community overcome those obstacles.
"Laptops for Learning will ensure youth and families have the technology they need to succeed in today's educational environment. It was heart-warming to see the joy and appreciation on the faces of the youth as they received their new laptops," said Rakocevic.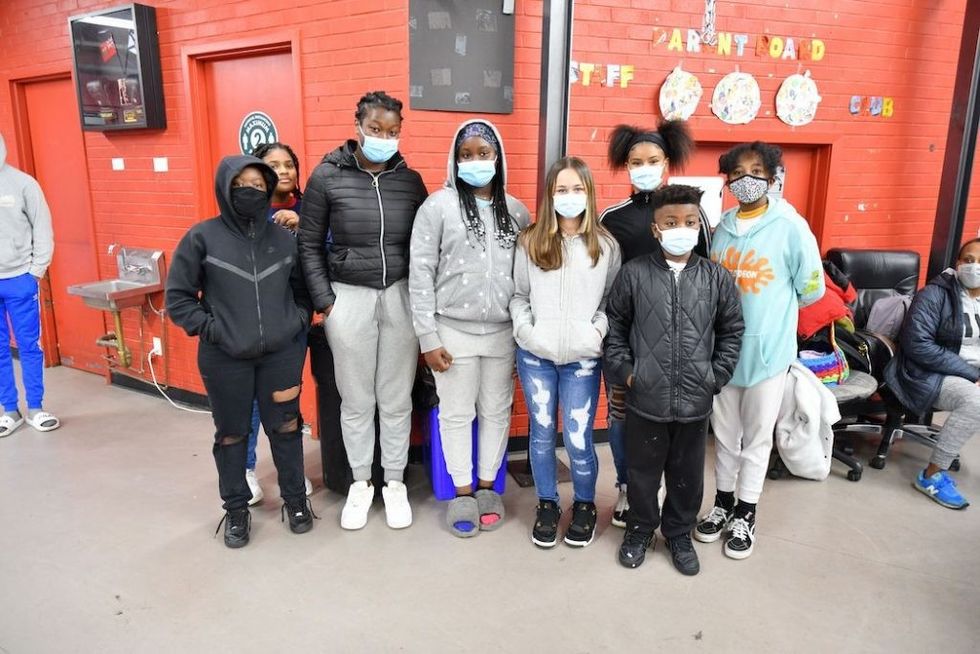 Laptops for Learning
Canada's largest city is home to some of the country's fastest internet infrastructure. Yet there is still a digital divide in Toronto separating people who do or do not have access to the internet at home. According to the reportMapping Toronto's Digital Divide from Ryerson's Leadership Lab, the Jane and Finch area is one of a number of parts in the city with lower rates of connectivity.
What's more, the report found that Toronto households earning under $50,000 have less than one computer for each person(average of 0.7 computers per person), which is lower than the national average of 1.0.
This is just one example of Toronto's digital divide and a reminder of why initiatives like Laptops for Learning are so important.
"I live in the Jane-Finch community, and one day I overheard a group of parents at a local park talking about how expensive things were heading back to school. I told them about the laptop program and asked if they would want to sign up," said Tenaglia.
"They were so ecstatic, it was like they won the lottery. Once we got the first shipment of laptops, I personally hand-delivered them to the families. Now their kids are able to go online do their schoolwork and connect with friends," said Tenaglia.
"Because of Greenwin's involvement in the community, they're neighbourhood heroes. They do so much good and they've helped so many people," Tenaglia added.
Greenwin's involvement stems well beyond Laptops for Learning. During the pandemic, Greenwin hosted a mobile vaccination clinic where 2,000 vaccines were administered to residents of 5, 10, and 25 San Romanoway through a door-to-door mobile clinic, and an onsite pop-up clinic open to those who live or work in the area over the age of 18.
The response to the initiative has been nothing but positive. As it stands, registration for the next round of laptops is full, but the goal is to distribute hundreds more in the coming months.
"I'm so happy to be a part of this. It's going to make a change. While it's not going to change the world, it's going to change this community," said Tenaglia.
Real Estate News