---
The wheels on the GO train will go round and round -- all the way to the Greater Golden Horseshoe. 
Today, the Ontario government announced it has awarded a contract to modernize and transform the GO rail network to bring frequent, two-way, all-day service to the Greater Golden Horseshoe. Not only will it add a newfound convenience factor to residents of the region -- especially those who work downtown -- the investment is said to generate thousands of new jobs and create economic opportunities in the Greater Golden Horseshoe. 
The project will include adding over 200 km of new track and electrifying over 600 km of track. A new electric train fleet will also be introduced that could reach speeds of 140 km per hour between stations.
"Building Ontario through critical infrastructure projects like GO Rail Expansion, will unlock the potential of the economic engine of our province -- the Greater Golden Horseshoe," said Caroline Mulroney, Minister of Transportation. "To keep up with population growth, our government is making historic investments in transit, roads, bridges and highways, including the Bradford Bypass and Highway 413. Together, these projects will help fight gridlock, make travel easier and boost Ontario's economy."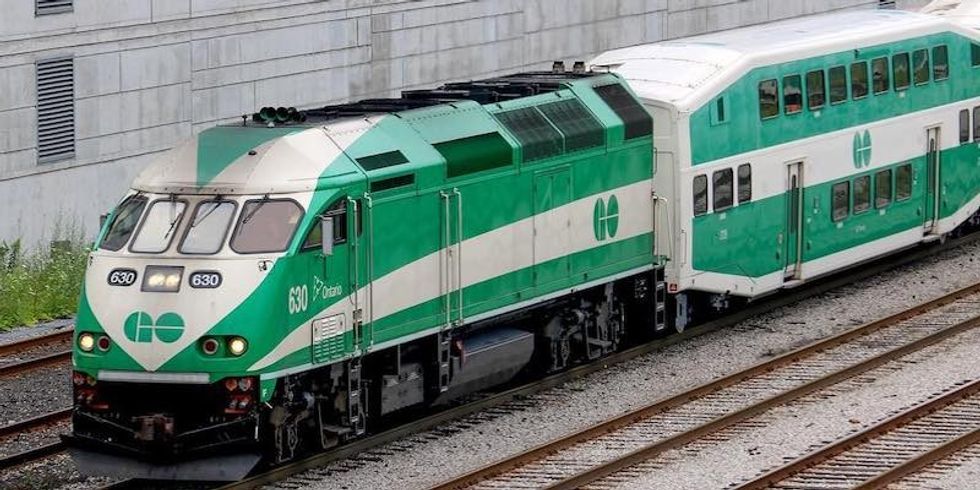 '@transit_hub/Instgram
Metrolinx and the winning proponent, ONxpress Transportation Partners, will enter a 24-month development phase to work collaboratively on design, early investigations, schedule optimization, and key initial construction work, according to a Province-issued press release. This will include the delivery of overhead electrification, a new electric train fleet, upgraded train control systems, and expanded tracks and structures along the corridors to allow for potentially significantly higher frequencies than pre-pandemic service. 
The project will also include the operations and maintenance of the GO rail network.
"Transforming the GO rail network and delivering two-way, all-day service will be a game-changer for the people of the Greater Golden Horseshoe," said Stan Cho, Associate Minister of Transportation. "With quicker and more convenient ways to get from Point A to Point B throughout the region, people will thrive with easier access to home, work and recreation."
Construction is expected to start in 2023 with incremental opportunities to add service starting in approximately 2025/26.
The province is also moving ahead with the remainder of GO Rail Expansion's Early Works as well as Off-Corridor Works projects, which include building new corridor infrastructure and improving and expanding existing infrastructure and stations. With this comes new opportunities for housing development.
"Our government is building Ontario. One of the ways we are achieving this is by delivering more public transit infrastructure to get riders to where they need to be, safely and on time," said Kinga Surma, Minister of Infrastructure. "Not only do we have a plan in place to enhance transit services in the Greater Toronto Area and beyond, but through our proposed transit-oriented communities, we are building vibrant and mixed-use communities that will bring more jobs, housing and community amenities closer to transit stations to make life easier for commuters for generations to come."
In other GO Transit news, the company recently announced it would end double fares for most GTA commuters.
Transportation