When it comes to buying a home, it's important that home buyers separate the features that they want from what they actually need.
While a sauna and a home gym might be nice features to have, having at least two bathrooms or a functioning dishwasher for a family of five is more of a priority.
---
The online national real estate marketplaces and the largest independent brokerage in the nation, Zolo, recently polled nearly 1,400 Canadian home buyers about what was important -- and not important -- when it came to buying a home and how these desires have shifted in a post-pandemic world.
The Home Buyers Survey 2021 revealed the most sought-after features today's male and female home buyers are looking for, and it turns out, buyers are a lot more practical than what you might expect -- especially now that we've been living with the pandemic for almost a year.
READ: Average Price for All GTA Home Types to Eclipse $1 Million in 2021
According to Zolo, the top three wants and needs did not include an updated kitchen or an open-floor concept — two features that are often highlighted in the descriptions of homes for sale. Though that doesn't mean that an updated kitchen isn't desirable, as 66% of buyers said this is still a "vital" feature, it's just that other needs took priority.
Not surprisingly, some of those needs were features that would help address the tighter social restrictions and continuing health concerns imposed by COVID-19.
Case in point, the top four features home buyers want in 2021 are a main floor bathroom (71%), a garage (70%), a master bedroom with an en suite (68%), and a private outdoor space (68%).
Zolo noted that while home shoppers were seeking these features in prior years, having more privacy and access to outdoor space appears to have taken on a higher level of importance among those shopping for a property amid the pandemic.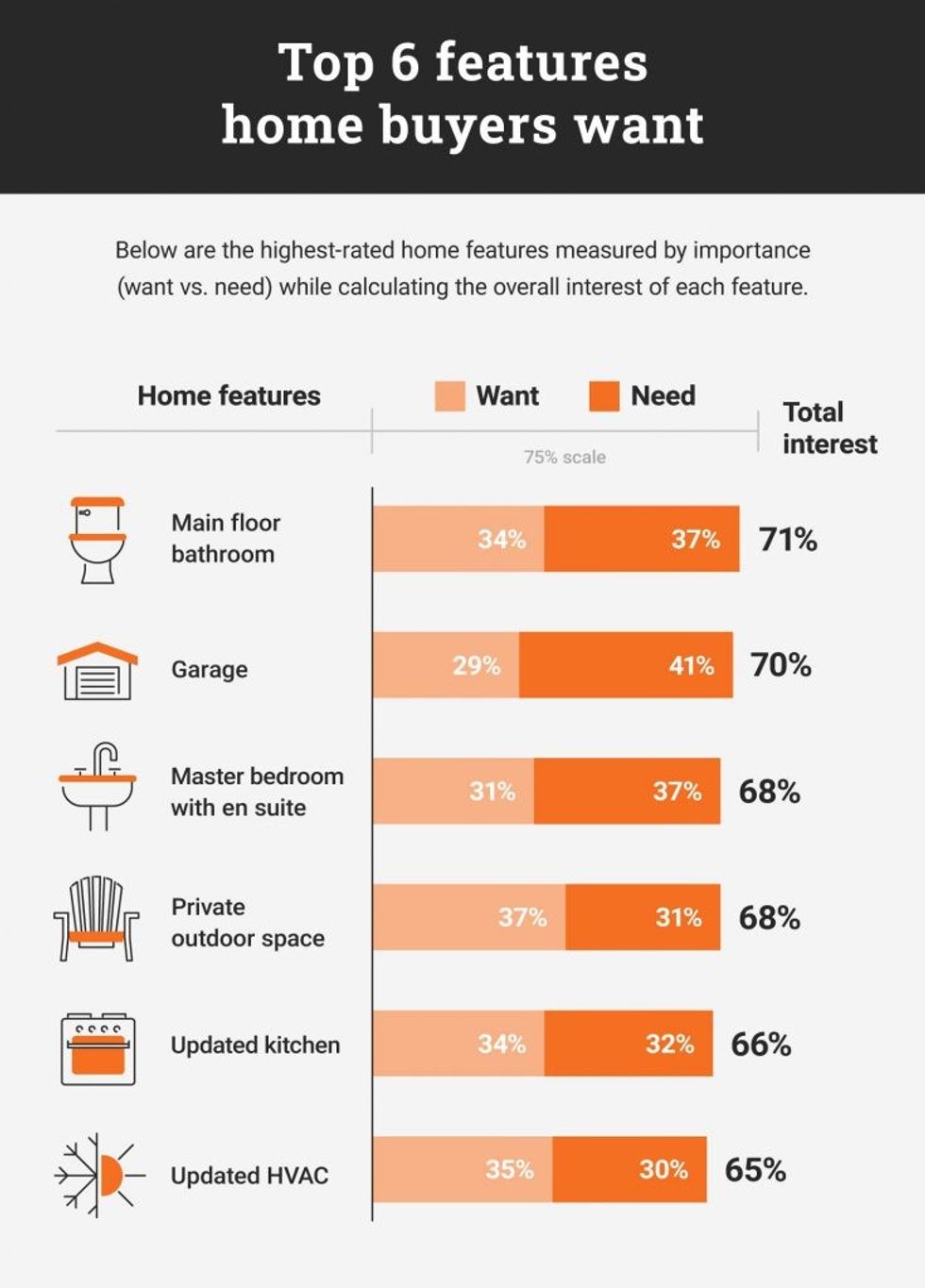 Zolo said trends show that more people made the decision to live with a significant other in 2020, compared to 2019. As a result, men and women appear to agree on some of the most desirable home features, but preferences start to shift once these short-listed items are met.
For example, Zolo says when shopping for a home that already includes a garage, a main floor bathroom, and a master bedroom with en suite, women then focus on whether or not a home has:
Updated HVAC (73%)
Patio or deck (65%)
Updated kitchen (64%)
Walk-in closets (60%)
Men, on the other hand, have a different set of priorities with a focus on:
Private outdoor space (71%)
Updated kitchen (67%)
Energy-saving appliances (60%)
Hardwood floors (57%)
As for what home buyers don't care about, while in-law or income-suite potential is often included in a home's selling description, almost half (42%) of home buyers consider this feature "not important" (down from 54% in 2019).
In 2021, the least desired features, where respondents rated the feature as "not important," the top six were:
Pool – 64%
Mudroom – 62%
In-law suite – 42%
A view (mountain, city, lake, water, etc.) – 32%
Accessible living features – 30%
Open-floor concept – 23%
Another notable trend from 2020, was seeing the home become more than just shelter, as it became an office, classroom, daycare, and primary entertainment space for most.
As a result, recent homeowners were asked whether or not the home they bought pre-pandemic was suitable for post-pandemic conditions. Turns out just over a third (34%) had difficulties with their new home. The biggest issues:
31% – Not enough space to create designated work/play zones
25% – No privacy for home office/school work
19% – No place to isolate/stay socially distant
12% – Too many communal contact points (such as elevators or stairwells)
Despite the differences between what men and women want in a home, and the shift in priorities from pre-and post-pandemic needs, the overall "ideal" home remains the same: home buyers want a 3-bedroom, 2-bathroom home with a garage.
As home-buying activity continues to remain strong, especially as the vaccine rolls out and consumer confidence strengthens, sellers need to consider where to spend their money when it comes time to update and remodel their property before listing it for sale.
According to survey results 50% of potential buyers "don't mind painting and completing small updates," which is down from 59% of buyers who didn't mind taking on these small upgrade jobs two years ago.
However, when faced with a choice between a move-in ready home and a property that requires major updates, most buyers would prefer the turnkey option (23%, more or less flat from 24% in 2019) to the more expensive renovation-required type of property (1%, down from 16% in 2019).
Real Estate News