---
Toronto is home to countless neighbourhoods, each boasting their own charms -- and the Junction Triangle is among the city's most unique and inviting pockets.
Striking the perfect balance between homey and eccentric, the scalene-shaped district is tucked between Wallace Emerson, Brockton Village, and Roncesvalles.
Surrounded on all sides by fresh-roasted coffee and small-owned shops, the Junction Triangle is home to a handful of the city's best restaurants, plus specialty grocers and a notable art scene -- not to mention many quiet residential streets and family homes.
Along the Triangle's north edge are an impressive count of must-visit eateries, including Farmhouse Tavern (seasonal farm-to-table fare), Gus Tacos (exactly as it sounds, and doing it right), and Defina's Wood Fired (some of the best pizza and flame-grilled octopus this side of the CN Tower).
READ: Chic Junction Triangle Build to Set Soaring Sustainability Standard
For those who prefer to chef it up at home, Mattachioni is sure to become a bodega of choice, while Osler's fish selection is swoon-worthy, and Boires has the specialty wine offerings covered. Morning (or afternoon) pick-me-ups from Wallace Espresso or Cafe Con Leche, meanwhile, promise to become routine.
Heading south towards Bloor West, the neighbourhood serves even more to explore: several parks, vintage shops, cafes and pizzerias, and of course, the West Toronto Railpath -- a biking and foot trail that runs along the Junction Triangle's west border. Near the path's south end is the Museum of Contemporary Art (MOCA), a leading international art gallery.
This neighbourhood caters to many a lifestyle, from the food driven to the ultra active to the artistically inspired. When an urban pocket is as diverse and coveted as this one, housing solutions -- particularly those that are sustainable, chic, and supportive of increased density -- are a necessity.
Now, Grain Lofts, rising in the neighbourhood's north end, is poised to check all those boxes.
Crafted with cross-laminated timber (CLT) -- an energy-efficient and sustainable alternative to traditional concrete -- the intimate, 28-suite building is coming to 1650 Dupont Street via Gairloch Developments, in collaboration with Gabriel Fain Architects and Unique Urban Homes.
"The promise of mass timber buildings," says Unique Urban Homes' Paul Johnston, "is that they can insert themselves into the dialogue of a neighbourhood with minimum disruption, a fairly quick construction schedule, and without stomping on the neighbourhood."
Concrete makes up approximately 8% of the world's carbon emissions, but timber removes carbon from the atmosphere -- this means CLT buildings boast a negative carbon footprint. (In fact, an 18-storey CLT build matches the eco impact of pulling 2,350 cars off the road each year.) What's more, CLT is lighter than concrete, which eases shipping costs and cuts construction time by up to 25%.
"These aren't buildings that redefine streets -- like the transformation at Yonge and Eglinton for example -- but rather help to articulate the future," says Johnston. "The people who live in these buildings do so because they value the neighbourhood they are located in, and don't want to be involved in overwhelming it."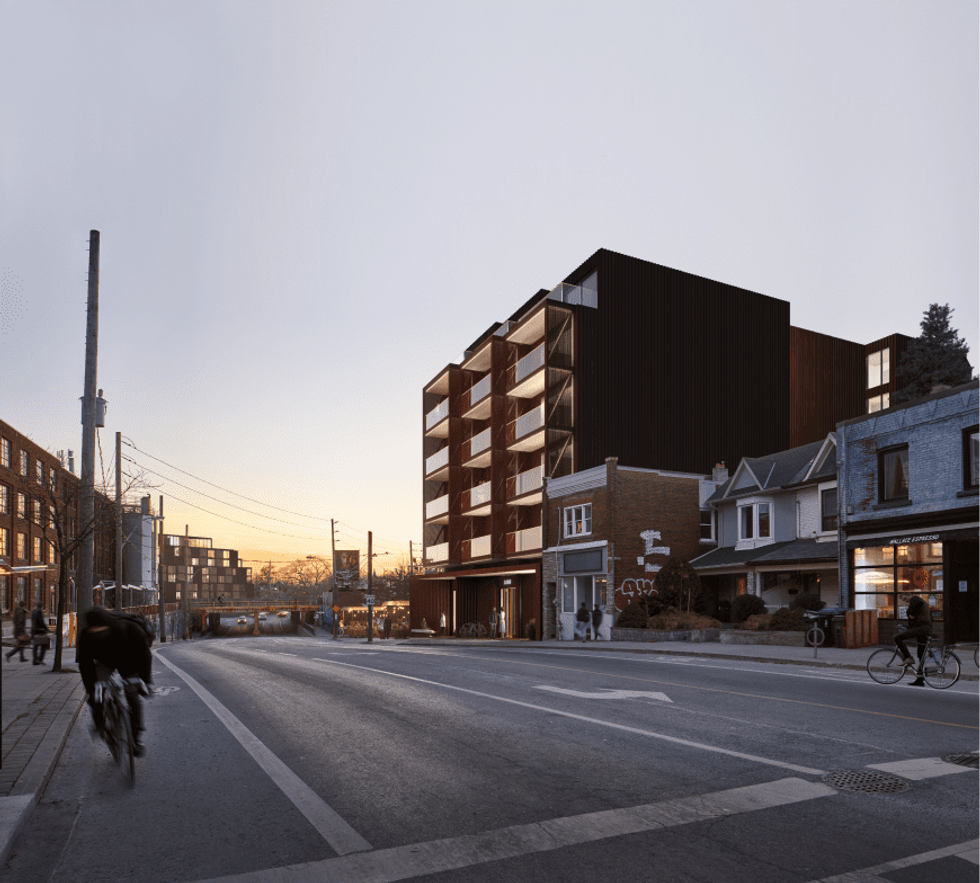 Grain Lofts (rendering)
Indeed, beyond sustainability in its form, Grain Lofts embodies another type of intentional and conscious growth: gentle density. Similar to the much-discussed "missing middle," gentle density helps meet housing needs while respecting and honouring a given area's established integrity.
"I think [gentle density and missing middle] are both terms that address the same needs, meaning this magnificent space between single-family homes and high-rise condos," Johnston explains. "Where I think there's a nuanced difference is that the missing middle is really about intensifying density within our protected neighbourhood designation, while gentle density is about improving the realm on our main streets."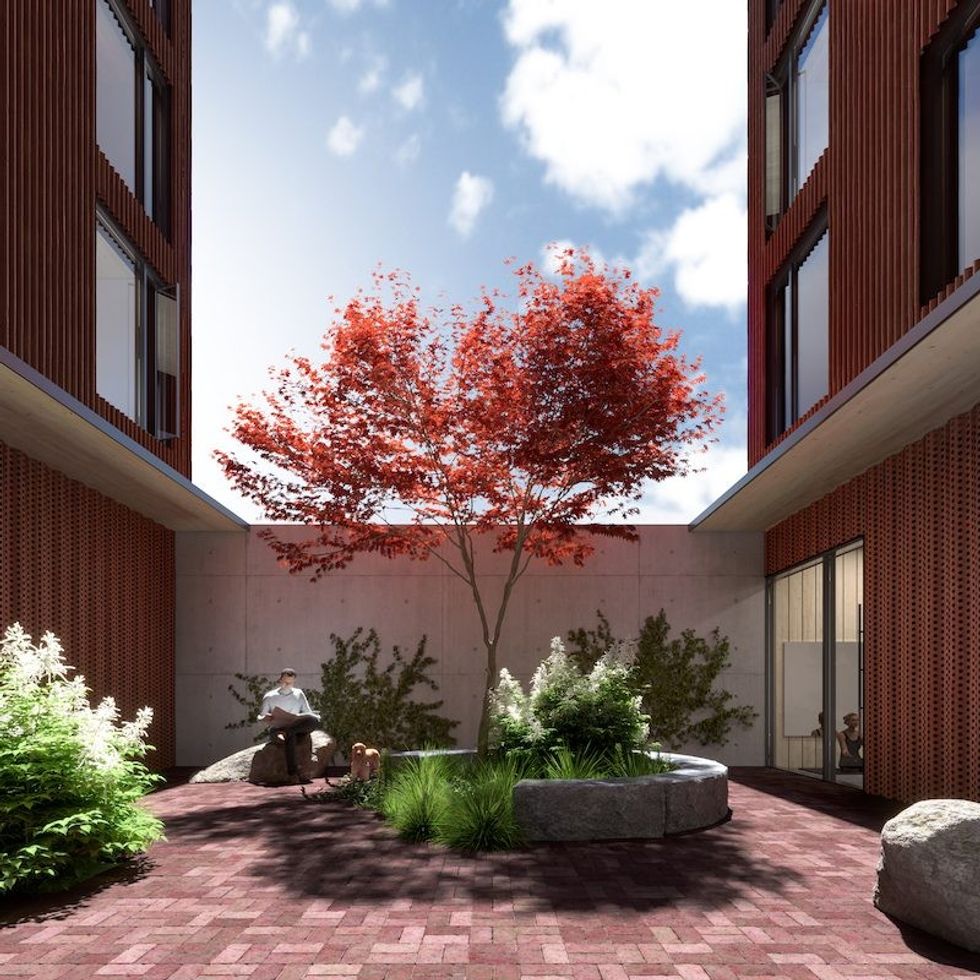 Grain Lofts courtyard (rendering)
Johnston describes gentle density as fully replacing the "outmoded" two-storey builds that line many of Toronto's main streets -- naming Bayview, Leaside, and vast swaths of St. Clair as examples -- with buildings of four, six, or eight storeys, as their plots can "rightfully accommodate" such heights.
"The greatest aspect of these buildings is they insert themselves into existing neighbourhoods," Johnston says. "I remember when we sold our first two developments on Ossington -- the strip was far from vibrant, but here was a neighbourhood that was perfectly poised to develop into the vibrant and dynamic stretch that it has become. The Junction Triangle isn't much different. A wide and eclectic range of building types, emerging uses by both creatives and entrepreneurs, and a great sense of community history. This is a neighbourhood not only with great soul, but with incredible promise for the future."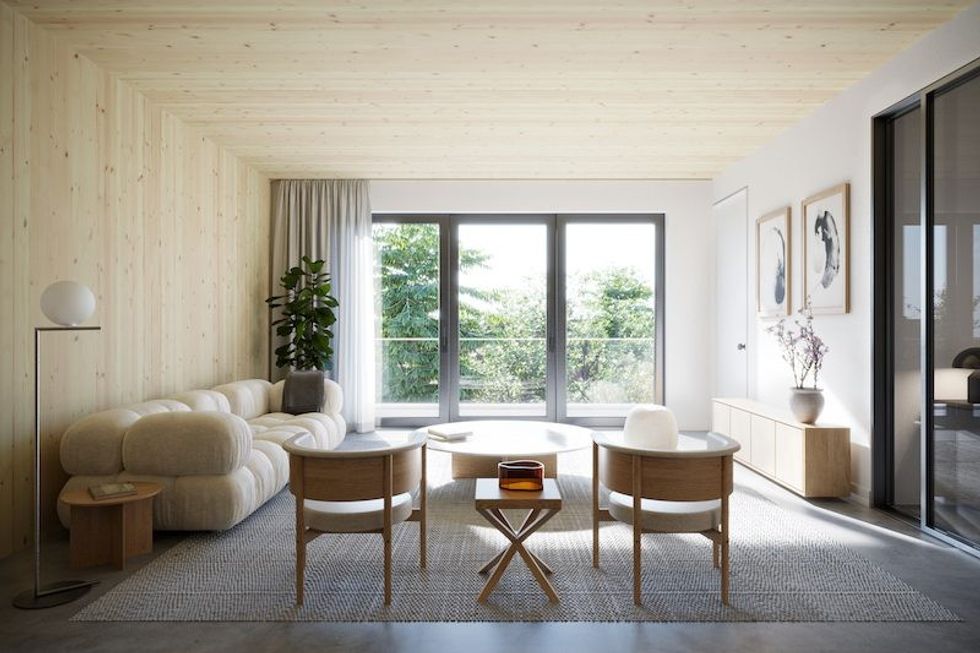 Grain Loft interiors (renderings)
Beyond sustainability and a crisp, chic aesthetic, Grain Loft suites serve majorly in the realm of "space". With only 28 units in the building, each abode boasts a larger-than-typical floor plan, the average being just under 900 sq. ft.
"Toronto continues to struggle to provide enough housing, not just for current residents, but also for projected new comers -- 2.9 million additional residents are expected in the GTA in the next 30 years," Johnston says.
"While some will find their way to quieter single-family neighbourhoods, the rest won't all want to live in 40-storey condos. So, here's an opportunity to introduce buildings of the right scale in existing areas -- the kind of "built form" that we all enjoy when we wander the streets of Paris or Barcelona or New York. Handsome buildings, of the right scale, that reinforce and elevate the vibrancy of neighbourhoods."
To learn more about Grain Lofts, click here.
---
This article was produced in partnership with STOREYS Custom Studio.
Future Developments