Toronto
Commercial
The Core is Calling Companies Back As Downtown Toronto Reawakens
Cities have always attracted the best and brightest — that's how they became centres of technology, finance, arts, and culture. When brilliant minds bump into each other, it's a particle accelerator of innovation.
But something is lost if everyone is Zooming through the day, working from bedrooms and basements. The pandemic threatened the greatness of cities with a great exodus — but even amid this migration, many are eager to get back in.
"Our stance is that there's just so much happening downtown that, you know, the city can't die — urbanism can't die," says Riel Sammy, partner of creative strategy at Channel 13, a specialized agency with a focus on branding. 
"People moved away and went further out, basically saying that the city is dead. But the city is coming back to life, companies are going back to office, retail is coming back."
READ: How One Branding and Design Agency is Making its Mark on GTA New Builds
Pre-pandemic, Channel 13 kept traditional in-office business hours in a space in Vaughan — and the area was a good fit at that time, Sammy says. They pivoted to remote work like many other industries, picking up staff in Vancouver and Europe, but the agency is now ready for a big move: they're taking a WeWork space downtown at 240 Richmond.
It's the right fit for Channel 13, Sammy says — as creatives, they trade in ideas and culture, strategy and vision. Toronto's core, he says, is both the inspiration and audience for such an industry.
"I think you need to see what's going on in order to be part of the conversation, right?" Sammy says. "You can't work in a vacuum and produce something that resonates, and is of the time — or is timeless. You need a point of reference to what has happened and what is happening. And that's really the idea — we'll be in the core of what's going on."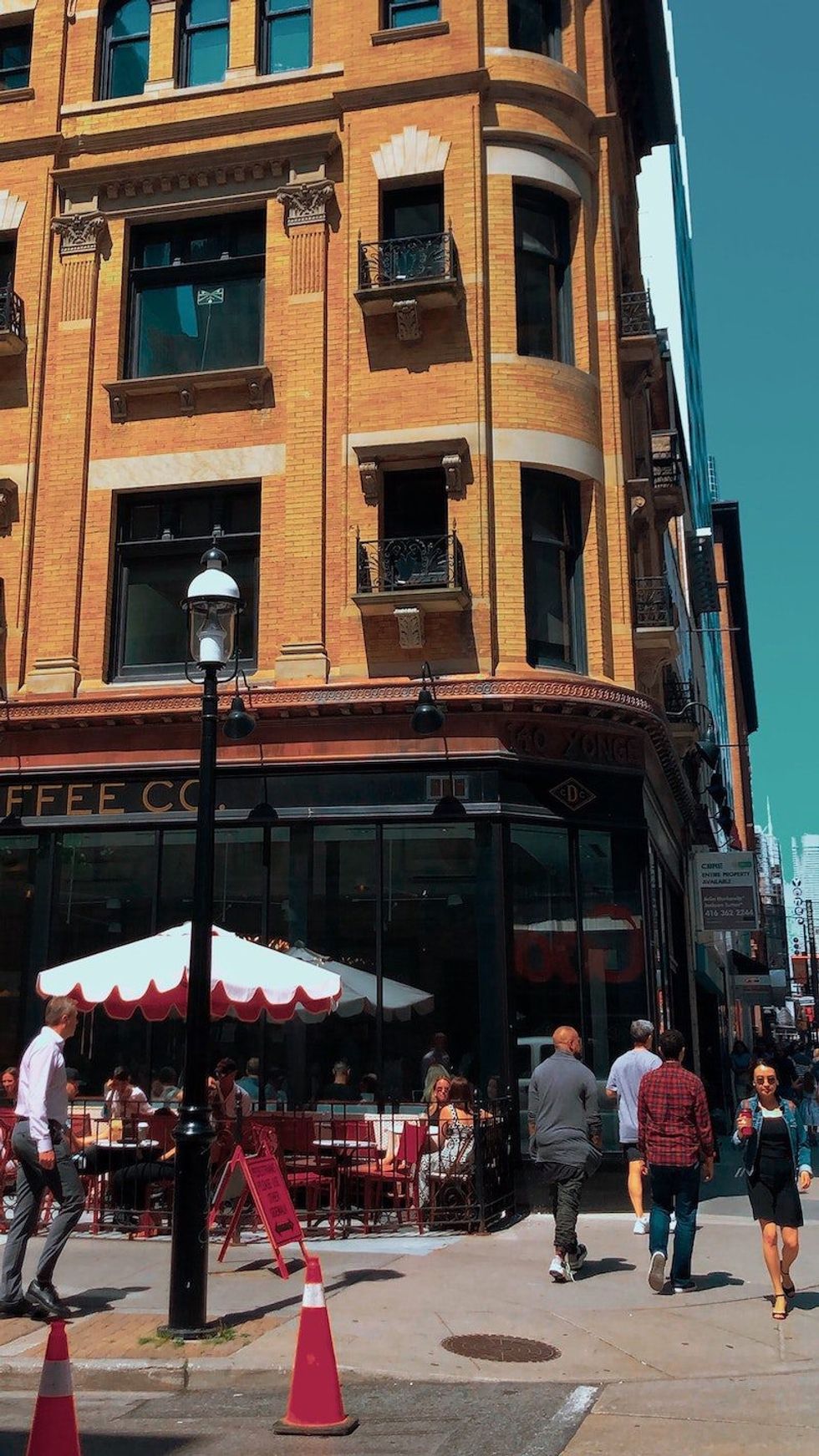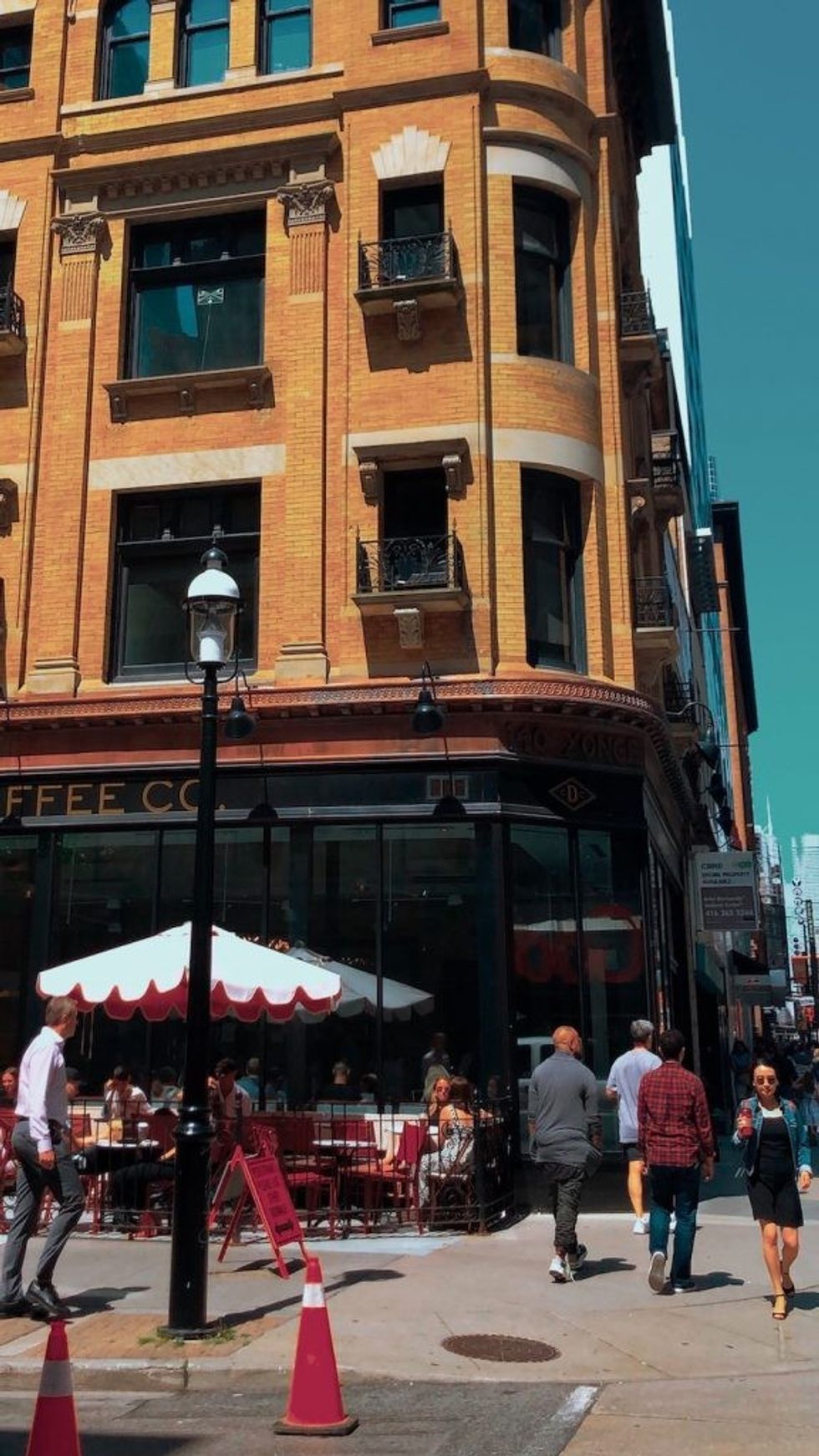 'More to be inspired by'
Some of us are lucky enough to call our coworkers a "work family" — these are the people we spend half our time with, through good times and bad. Slacking GIFs to a colleague is amusing, but doesn't replace some of the great communal traditions of great teams; it doesn't create memories.
"We just recently did this before we got our office full-time," Sammy says. "We had a collaborative team brainstorm, we worked through a couple of projects, and then close to the end of the day, we were able to just walk down Queen and get into a great restaurant. And we all shared a meal at the end of the day — together."
Although Channel 13 lives and breathes in the digital realm, he adds, there's something to be said for these strolls through the city's great neighbourhoods.
"There's just more to be inspired by, there [are] more people, there [are] all walks of life — and restaurants and retail [are] inspiring to us," Sammy says. "Just a wide variety of things that we pull inspiration from. In my school days, in university, that's what I would do — after a class I'd take a walk and that would clear my head, it would help ideas flow. I don't think it's as inspiring to have to jump into a car and sit in traffic to drive somewhere for 15 minutes to grab a bite to eat."
'Wow, it feels almost like how it used to'
Returning to the core brings people back to the services and shops that relied on this daily influx of customers — reviving local economies and keeping street life interesting and bright. It supports small business; no one likes a string of empty storefronts in their neighbourhood. It keeps the "sights and sounds" alive.
But remote work also brought unprecedented flexibility, the ability to hire global talent, and more hours in the day without a commute, Sammy points out. Channel 13's new downtown arrangement will be a hybrid model for its staff, recognizing the "ebb and flow" of solo work and collaboration.
Sammy's optimistic for 2022; he thinks as more companies make similar moves, there will be a resurgence of energy and creativity in the core. Even with a "soft" opening ahead of their formal June move-in date, there have been pleasant surprises from Channel 13 staff.
"Funny enough, recently, a whole bunch of us just showed up to the office without it really being planned," Sammy says. "It was like, wow, it feels almost like how it used to."
"And we have a team member, she lived in Barrie when the pandemic happened. She moved further north and she loves the country, she loves being in nature. We thought, 'she's never going to come to the office downtown.' And she came yesterday; just like, 'Hey, I want to collaborate. I have work that I want to get people's opinions on. I want to talk about it.' And it was just exciting that she was back with the team — she came, she showed up. And so it's cool to see that."
---
This article was produced in partnership with STOREYS Custom Studio.