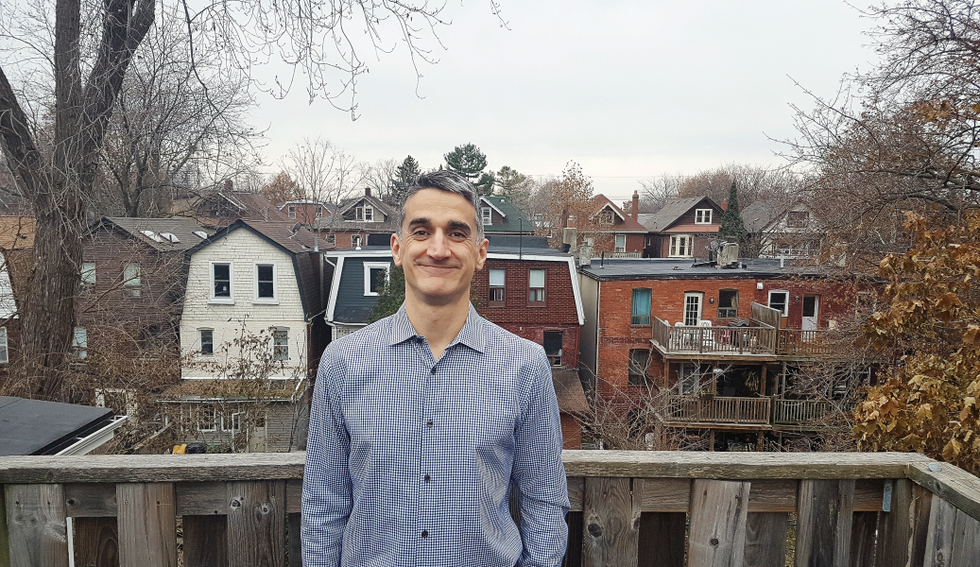 David Coffey is a TV-producer-turned-real-estate-agent. His preview for Toronto real estate could be a docu-series.
After producing reality shows and docu-series for MuchMoreMusic and CityTV, David Coffey wanted to do something more entrepreneurial. And so began his real estate career in 2010.
---
But how is TV production similar to helping clients buy or sell a home? The Bosley Real Estate representative shares his made-by-TV story, as it were. He also tells us how the way we live in the "mini-city-state" of Toronto is about to change, and how the city – and real estate industry—will need to adjust.
While this could be the makings of another interesting docu-series, it is all part of our interview with Coffey. 
How did you find yourself in real estate?
I started at MuchMoreMusic and CityTV. I worked as a producer there. Then I went freelance and worked as a producer, director, and story editor. I started working on a lot of real estate shows, and I think that's where I got a bit of the bug, I guess.
But it was a funny transition. And I was a bit hesitant at first because my idea of a real estate agent was like a used car salesman. I thought, "Oh my god, I don't know if I could be that person." So, it was a bit of a slow evolution.
What is it about the real estate that compels you and keeps you in the business?
I was working on a development show called Selling New York, and I got to learn quite a bit around that. And at the same time, I bought my first property in Leslieville. I was between gigs on television thought, "You know what? I'm going to get my licence and try it out. I'm going to quit TV for a year and just do real estate and see how it goes."
That's what I did. I shut everything else down and just did real estate. I think it scratches that entrepreneurial itch I had—and I wanted to do something where I get out what I put in.
What is it about assisting clients and the way real estate works that you really "Jones" for?
When you're working with people, you really get to know them and you really want them to win. So, I think there's a certain satisfaction when that pays off. It's similar to television in a way, where you're making a product … where you're starting off with raw footage and you have to mold it into a product that works.
That sort of trajectory was very familiar to me. And that's the kind of stuff that I like. And when things get difficult, because they can from time to time, television is a good training ground. And you have to work through those tougher times with a calm mind.
So, negotiation happens in both places?
Negotiation—and I think there's a certain creative aspect going on. You're problem-solving. Someone will come to you and say, "I want X." But you have to say, "Actually, you can't afford to buy here, but here are some options for you."
Where you start and where you finish in real estate can be two completely different places. It's like a television show: you'll have an idea where you want the show to look like this and unfold like this, but because I've worked in more reality-based or documentary-based programming, it doesn't always turn out the way you want.
Do you miss TV at all?
I liked TV when I was there, but I don't miss it. I like what I do now more. It just feels like it's more my own and something that I can create. With real estate, what you put in is what you get out. In more corporate structures, some people just go along for the ride, but they still get paid. In real estate, you have to get information from people. You have to work for them. You have to be an asset. Or else they will go with somebody else.
Now that you've been in real estate for a while … If you could create a future for the real estate industry, how would you want it to look?
There are too many agents in Toronto. I think when I'm working on a lot of transactions, it's tough to get people who know what they're doing because there's a lot of agents who only do one transaction a year. You have a lot of people who are inexperienced. I hope that changes in the future.
I was very lucky to land at Bosley Real Estate, because the agents there are very helpful. Sometimes they can be very competitive with you and are not really keen on newcomers.
Futurewise, I'd say everyone points to new technology. And I'd say that would be true. But, I think what we really have to look for is how Toronto is going to change. I think the change so far in the city has been very quick, and some people believe we will come to the end for that. And I'm not sure that's the case. Other cities like Denver, New York, LA, and Vancouver are also changing and becoming mini-city-states. I think the way people live is going to change and we're going to have to adjust to that as an industry.
What changes are you alluding to, in terms of what Toronto has become, and in terms of what will change about the way people live?
When I started off, I was working in places I tagged as emerging neighbourhoods. In the beginning, those were places like Leslieville, The Junction, and Ossington Avenue. But very quickly those places became expensive. You really have to stay on top of it to know where those changes are going to happen.
We're really getting into a housing crunch – and I think that will continue in the next 10 years – unless the government does something. We really have to work on planning and transportation.
You're going to see a lot more growth. Toronto will have to look at itself more as a region than a city and we will have to connect all of these pieces together. Instead of having several different transit systems, we should have one transit system for the whole area.
The average person may not have the money to afford to live in Toronto, but they may work in Toronto. So, we have to make sure people can get in and out of the city quite easily, and that the places out of those cities are more livable and walkable.
Industry Profiles